"The bat hanging upside down laughs at this topsy-turvy world" Proverb
I have written recently about the curious situation facing the ECB, deflation, negative interest rates, low lending and an abundance of cash. But the situation is no less twisted on the other side of the Atlantic. Here, in the US, it seems that while we're facing low inflation, rather than outright deflation. But it may come to that soon, and in any case, when inflation itself is so low, we're not far from a deflation. Further, the link between inflation and money supply growth seems to have been lost. (Graph below). Not only is money growth more volatile than changes in the inflation rate (standard deviation of 2.8% for money growth versus .45% for inflation), the normally positive correlation between the two variables seems to have disappeared (-.075 in the sample). This may be due to many reasons. An economist at the St. Louis Fed (Yi Wen) has identified two possible sources for this puzzle. One would be a decline in money velocity, which would compensate for the overall increase in money supply (average growth of 6% in the sample). This would lead to a decline in inflation, if not an outright deflation, if growth is more or less static. The other, more interesting and hidden reason for the disappearing link is that credit lending has been taken over by broker-dealers, with banks abandoning their traditional role as conduits between money growth and credit growth. In that scenario, the traditional link between money creation by the central bank and inflation depends crucially on banks translating money growth to credit growth. If banks hold most of the money growth as excess reserves, while market-based intermediaries step into the role of banks, the link between money growth and inflation gets attenuated.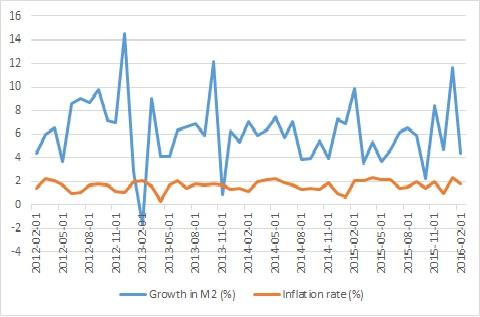 Source: federal reserve bank of St. Louis
Of course, the above graph might provide an even greater rationale for unconventional monetary policy, which is defined as a focus on anything but the short-term interest rate. The problem is that by directly targeting liquidity shortages, credit spreads, or even directly the long end of the yield curve, central banks (and the Fed in particular) facilitate the very non-bank based players and the growth in securitization which made the unconventional measures necessary in the first place. Hence the Fed would create a vicious spiral, where unconventional measures diminish the role of banks, making even future unconventional measures more necessary. In a sense, it would be even better if decreased velocity were the source of the disappearing link. Is that the case?
Money velocity and Federal funds rate part ways.
The most optimistic assessment about the efficacy of unconventional monetary policy would be to examine the correlation between money velocity and the key federal funds rate. Of course, there are many determinants of money velocity, including diverse factors that determine money demand. It is clear from the graph below that velocity has been declining, confirming Yi Wen's analysis about the effect of quantitative easing. The volatility of velocity is approximately two times that of the Federal funds rate, with a small positive correlation in sample, and a negative correlation over the last two years. So, velocity is far from being stable. Further, since it is not only uncorrelated with the federal funds rate, but negatively correlated, this is evidence that the factors that determine the real economy and overall velocity are decoupled from the primary factor that determines bank lending-the Federal funds rate.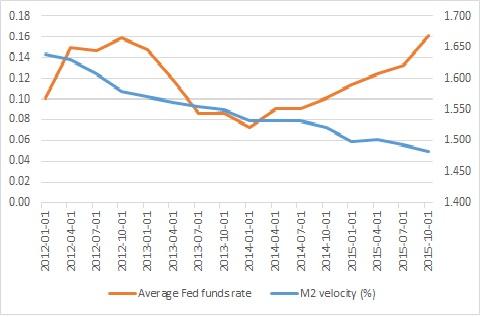 Source: Federal Reserve Bank of St. Louis
| | | | | |
| --- | --- | --- | --- | --- |
| | Standard deviation of money velocity | Standard deviation of federal funds rate | Correlation between federal funds and money velocity (2012-2014) | Correlation between federal funds and money velocity (2014-2016) |
| Variable | .047 | .03 | .14 | .95 |
Source: Federal Reserve Bank of St. Louis
Increasing role of non-bank lending.
A warning signal for the efficacy of unconventional monetary policy is the increasing role of non-bank lending, including that of broker-dealers. Broker-dealers tend to fund themselves with short-term debt, including repo agreements. To the extent that primary dealers in US securities engage in repo agreements and then turn around and reverse repo them, the role of these dealers increase and banks decrease. This can be seen in the following graph, where the correlation between primary dealers repo and reverse repo agreements is .85.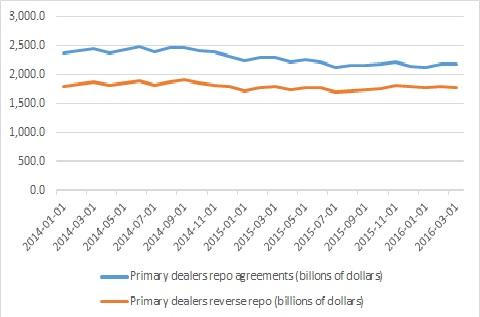 Source: sifma.org
Another warning signal is the increasing role of revolving credit owned and securitized in the graph below that. Recently that percentage change had reached an all-time high of 10%, but always in positive territory in recent years.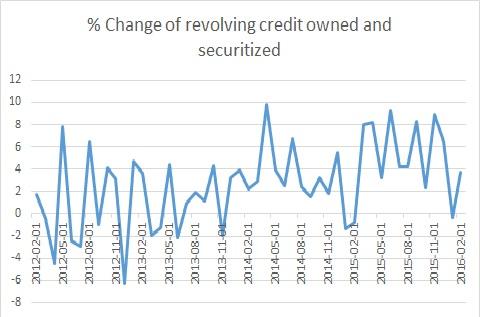 Source: Federal Reserve Bank of St. Louis
The third graph is even more interesting. It shows trends in the spread between agency and MBS GCF repos with Treasuries. The GCF market is a specialized repo market for securities dealers offered by the Fixed Income Clearing Corporation. The spread indicates the index with respect to the repo market when MBS securities or agency securities are used as collateral with respect to Treasury securities as collateral. In later years, the spread has declined when these riskier securities are used as collateral. The spread could decline for a variety of reasons, but most probably, it is an indication that these securities are considered more acceptable in terms of collateral-again a measure of the more widespread use of these securities.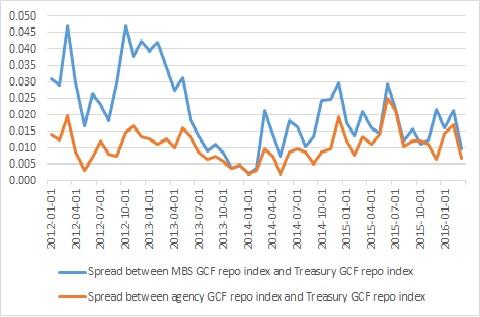 Source: sifma. org
Flashing red lights for the effectiveness of future unconventional monetary policy?
If the above analysis shows anything, it is that to some extent the "real" economy is becoming increasingly decoupled from the traditional tools of monetary policy, which works through bank lending and the traditional yield curve. Velocity seems to be affected by a number of imponderables difficult to control, while increasingly broker-dealer or primary dealer lending is becoming increasingly more acceptable. It would seem that unconventional monetary policy is starting to chase after more ephemeral credit spreads and liquidity indicators. No wonder that the link between monetary policy and inflation is becoming looser and looser.
Disclosure: I/we have no positions in any stocks mentioned, and no plans to initiate any positions within the next 72 hours.
I wrote this article myself, and it expresses my own opinions. I am not receiving compensation for it (other than from Seeking Alpha). I have no business relationship with any company whose stock is mentioned in this article.