One topic that inspires, enrages, energizes and challenges Americans more than perhaps any other this day and age is the issue of gun ownership and gun control. Engrained in the American psyche is the 2nd Amendment, which has been broadly interpreted to imply that citizens in this nation have the right to arm themselves and, as a result, companies like Smith & Wesson (NASDAQ:SWHC) and Sturm Ruger (NYSE:RGR) have thrived. In what follows, I will dig into an interesting quandary that has the potential to forecast (assuming that current trends do not change) what the future will look like for the companies and more like them.
Inspiration and disclosure
I do not write to any real degree about politics or political ideas but I do research political topics to a large extent as a hobby, just like my work here on Seeking Alpha. You see, growing up in an apolitical atmosphere has given me the mindset of utilizing data to form my decisions as opposed to relying on preconceived notions given to me by others. This led me to tackle the topic of gun control in my own free time and what I discovered was quite fascinating.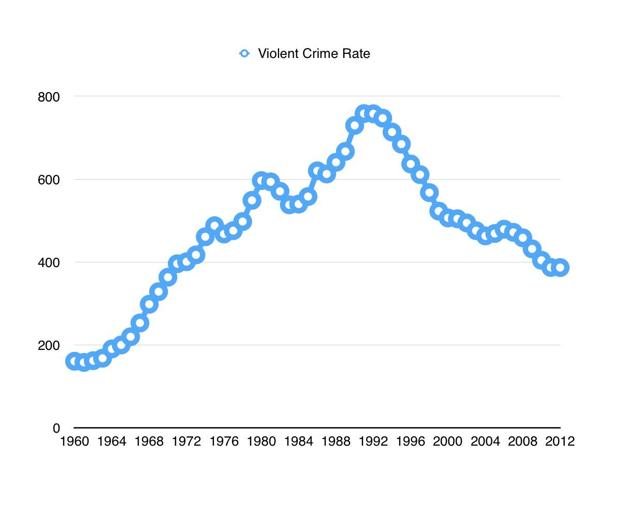 In the graph above, you can see the violent crime rate of the U.S. during each year dating back to 1960 (measured as offenses per every 100,000 people). This data has been used in the past by gun advocates to argue that the recent decline has been driven by a greater rate of gun ownership but it has also been used, when accompanied by data suggesting lower gun ownership (measured differently) to argue the exact opposite point. Before I continue, I must disclose, though, that this piece is not geared toward making a political argument for guns or against guns and, while I have my own leanings, I do not pollute business with politics. Rather, this snippet should serve as the starting point of my argument about what the future of the aforementioned gun companies may look like if something doesn't change.
A look at the players and the industry
The two big players in the gun business that are publicly traded are Smith & Wesson and Sturm Ruger. Over the past several years, times have been fairly good for both companies in this space as uncertainty surrounding gun control laws has helped to push up sales and profits for them. In the graph below, for instance, you can see that each company has seen its sales and net income rise over the past decade.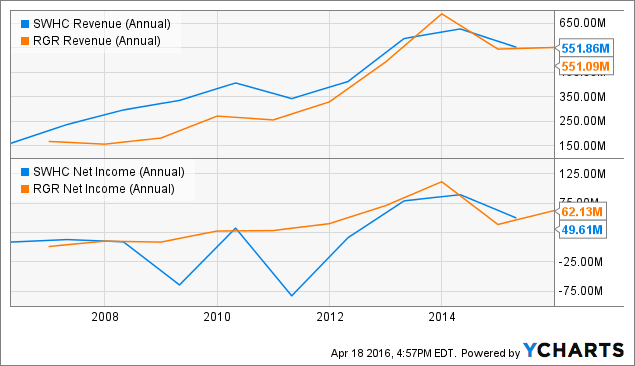 SWHC Revenue (Annual) data by YCharts
Looking solely at this data, however, can be somewhat deceptive. The reason being that it would suggest one of three scenarios is taking place; 1) slightly higher unit sales with stable or falling prices and growing economies of scale, 2) stagnant or falling unit sales with rising prices, or 3) a combination of higher unit sales and higher prices, potentially accompanied by greater economies of scale. What we will see is that the first point is actually correct but the composition of gun ownership is changing significantly.
Based on the data provided by the Washington Post, which can be seen in the graph below, the number of unit sales of guns have certainly increased by a large margin in recent years. By their estimate, there were about 357 million guns in the U.S. in 2013 (the most recent data they offer). With a population of 317 million people, this brings the number of guns per capita in the country up to about 112.6 per every 100 people, the largest measurement compared to any year prior to that.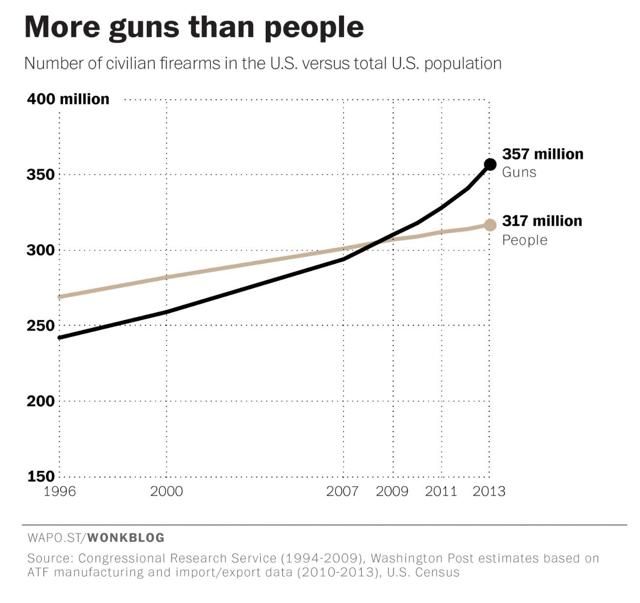 At first glance, this may seem like conclusive evidence that the gun business is going great, and it certainly is near-term. However, to fully comprehend the implications of what is happening, we should look at one other piece of data. In the next graph below, you can see the historical trend of gun ownership on a household basis between 1973 and 2014 (as a note, the survey provided by the University of Chicago does skip certain years and data is provided consistently every other year beginning in 1994). What this shows is that the actual number of households owning one or more guns is falling at a nice clip. In 2014, just 31% of households (the lowest on record) had a gun, down from the peak seen in 1977 when the rate was an impressive 50.4%.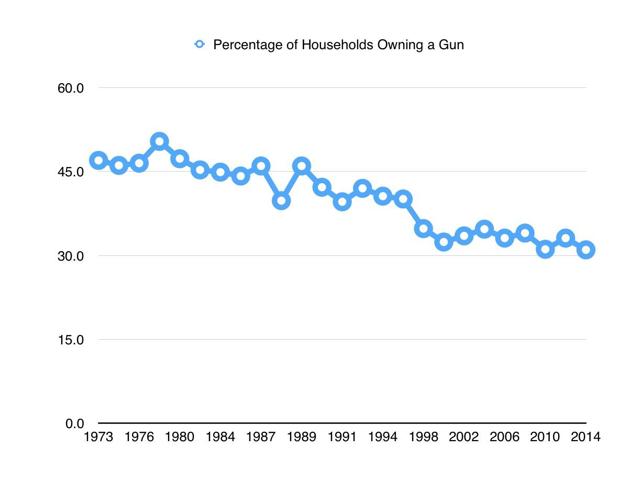 What this data suggests is that the number of households owning guns is falling quickly but that those households with guns on hand own far more than they ever did before. While in 1996 (the furthest back the Washington Post's data goes and when household ownership stood at 40.1%), there were nearly 37.4 million households with guns in them, the average number per gun-owning household was about 6.4 guns. Recent data points to about 38.2 million households owning guns and having over 9.3 guns apiece. This implies a growth rate of over 45% during less than 20 years. While the number of households that own guns have grown by 0.8 million (or 2.1%), the number of total households has risen by 23.6 million or 23.7%.
Takeaway
By looking at the data, it's clear that gun sales are rising but this is driven almost entirely by more gun owners owning more guns as opposed to the adoption rate of gun ownership rising materially. In fact, it can be concluded from this that the base of gun owners is very small and shrinking as a percentage of the population but that it is, on the whole, rising very modestly on an absolute basis.
Absent some major change in this trend, it appears as though strong sales growth (and probably strong earnings growth) for gun companies is out of the question and it's even very likely that, once those households that do own guns cannot reasonably afford more and/or do not want or feel the need for more, that sales growth will grind to a halt or even decline somewhat in the long run (depending on competitive pressures and ownership trends). With this kind of outlook, along with the fact that shares of Smith & Wesson are trading at 24.6 times earnings as of the time of this writing and Sturm Ruger is going for 20.5 times earnings (with yields of 0% and 2.2%, respectively), it's difficult to see a clear reason behind investing in these entities.
Disclosure: I/we have no positions in any stocks mentioned, and no plans to initiate any positions within the next 72 hours.
I wrote this article myself, and it expresses my own opinions. I am not receiving compensation for it (other than from Seeking Alpha). I have no business relationship with any company whose stock is mentioned in this article.