By Contributing Analyst Peter Inman
Panera Bread Co. (NASDAQ:PNRA) operates retail bakery cafes under the names of Panera Bread, Saint Louis Bread Co. and Paradise Bakery & Café. It operates through three major business segments: Company Bakery-Cafe Operations, Franchise Operations, and Fresh Dough & Other Product Operations. The Company Bakery-Cafe Operations segment offers fresh baked goods, made-to-order sandwiches on freshly baked breads, soups, and salads, custom roasted coffees, and other complementary products through on-premise sales, as well as catering. The Franchise Operations segment is comprised of the operating activities of the franchise business unit which licenses qualified operators to conduct business under the Panera Bread or Paradise Bakery & Cafe names. The Fresh Dough & Other Product Operations segment supplies fresh dough, produce, tuna, cream cheese and indirectly supplies proprietary sweet goods items through a contract manufacturing arrangement, to company-owned and franchise-operated bakery-cafes. The company was founded by Ronald M. Shaich and Louis I. Kane in March 1981 and is headquartered in St. Louis, MO. (Description via MarketWatch)

Panera Bread Co. is currently trading above $200/share, off of its highs of $220.40, which is noticeably above its recent lows. It is currently valued at $5.1B, which we do see an upside to in the near future. We see majority of this upside in its recent implementation of Panera 2.0 as well as its new delivery hub. In recent quarters same store sales as a whole were up 1.8% as compared to the previous year without Panera 2.0, same store sales for its bakery café were up 2.4%, and same store sales for its franchised restaurants were up 1.1%. Ron Shaich, Panera's founder, CEO, and chairman stated in his most recent earnings call that the effects of Panera 2.0 will not be fully realized and demonstrated immediately. He believes that over time its true effect will be realized. He also stated:
…Panera 2.0 doesn't drive demand, but rather, reduces friction. Thus, its impact is felt over time. Sales in Panera 2.0 cafes gain momentum three to four quarters after conversion. [Source: Nation's Restaurant News]
There are a countless amount of benefits that Shaich sees from the recent implementation of Panera 2.0 and its new delivery hubs, but there are a few additional benefits that were brought to our attention. Most simply, a number of companies within the industry suffer from increased minimum wages state to state and federally. Although Panera 2.0 does not completely eradicate the need for hourly employees and staff, it helps maintain a frictionless staff and streamlined in store process. Growth in terms of same store sales was previously mentioned, but growth in Panera's financial strength and profitability ratios will be a key aspect of Panera on our radar in the coming quarters.
Panera has an incredibly strong gross margin of 61.00%, which towers that of its peers and of the industry as a whole. Although its net profit margin and operating margin lags that of its peers, Panera is still outperforming the industry as a whole.

We are expecting growth in these lagging margins as well as Panera's current and quick ratios due to decreasing its net liabilities by continuing to build out Panera 2.0 and its delivery hubs. Panera's current ratio of 1.0 does lag its peers, but is strong on an absolute basis. Its debt to equity ratio of 0.1 also puts it in an excellent position. This allows Panera to comfortably issue more new debt in the future without it significantly damaging its financial position.

Although Panera does not offer a dividend to its investors, it has proven itself to be one of the industry leaders as it recently outperformed Darden (NYSE:DRI), Dunkin' Brands (NASDAQ:DNKN) and Cracker Barrel (NASDAQ:CBRL). Although it did not outperform Dominos Pizza (NYSE:DPZ), which we believe to be an industry leader as well based on our analysis here, we do see its margins and fundamentals to be up to par with DPZ. Panera's P/E ratio shows that it is setting up as a growth play when compared to the industry, while also getting more value when compared to names like DNKN.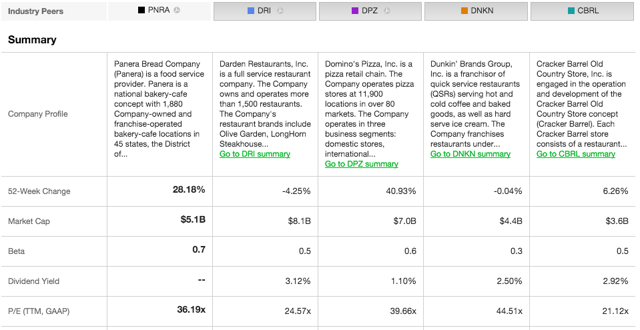 Panera recently traded off of its lows of $175 to $180/share this past January, and rallied up to its all-time high of $220.44/share. This was an outstanding run on strong volume as well. It currently is trading above a significant level of support between $200 and $205/share. On strong enough volume we see the potential for Panera to trade through its highs of 220.44 after its upcoming earnings announcement.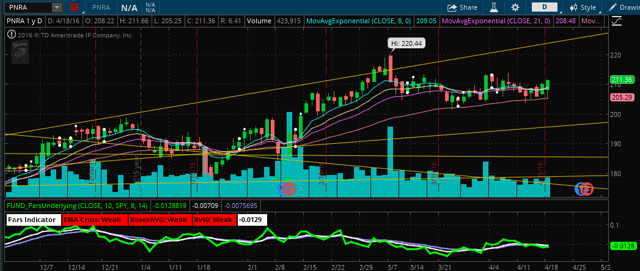 In terms of fundamental risks, we do see the upcoming earnings report to be a short term risk to Panera. Given the recent volatility and overall market uncertainty, any earnings reports for the remainder of the fiscal year we are going to view as a considerable risk. Panera is expecting to report an earnings per share of $1.50. We do have our doubts on Panera meeting its $1.50 earnings per share estimates , however we do not see its revenue estimate of $674.05mm to be an issue. If Panera decreases in value due to its earnings report, we would only view this as having a short term effect.
This being said, we will be looking for strong comments on Panera 2.0 and its progress from the CEO in its upcoming conference call after earnings. Into the future we will also be looking for growth in Panera's financial strength in terms of its overall profitability margins as well as its current ratio and debt to equity ratio.
Disclosure: I/we have no positions in any stocks mentioned, but may initiate a long position in PNRA, DRI, DNKN, DPZ over the next 72 hours.
I wrote this article myself, and it expresses my own opinions. I am not receiving compensation for it (other than from Seeking Alpha). I have no business relationship with any company whose stock is mentioned in this article.