In a previous article on Exxon Mobil (NYSE:XOM) last week, I had focused on why the company is set to benefit from an improvement in its upstream operations and looks set to beat the bottom line forecast when it releases results later this month. But, apart from an improvement in upstream operations, Exxon Mobil should also benefit from its focus on the LNG market as demand in this segment is expected to outpace supply in the long run, leading to favorable pricing.
So, in this article, we will see how Exxon is focusing on its LNG business and what the prospects in this market are.
Exxon is ramping up LNG infrastructure
Exxon Mobil is currently focused on bolstering its LNG infrastructure to that it can make the most of the opportunity that the end-market offers. In fact, on a global basis, Exxon has stake in 65 mtpa of liquefaction capacity on the back of its business interests in Indonesia and Qatar. What's more important to note here is that Exxon Mobil has been working on increasing this capacity further by starting four new LNG trains in Qatar, which are the largest in the world.
Additionally, Exxon Mobil is currently working on the development of the WCC LNG project in British Columbia. This project is expected to process "15 million metric tonnes of LNG per year for shipment to international markets, with potential to expand to approximately 30 million tonnes per year." On the other hand, Exxon announced late last month that it is looking to buy a stake of around 20% in a gas project offshore Mozambique, which is good news as this project might hold enough gas to provide for residential consumption in the U.S. for 20 years.
More importantly, apart from its focus on increasing liquefaction capacity, Exxon Mobil is also looking to reduce costs as this will help the company improve its margin profile in the longer run. As a part of this initiative, Exxon recently collaborated with Mitsubishi to work on an advanced gas turbine that will reduce costs by finding new applications for the H-100 gas turbine. According to a report by Rigzone:
"The overriding aims of the collaboration are to reduce the complexity of LNG processing plants, lower their lifecycle costs, and cut plant emissions through enhancements to MHPS's existing two-shaft gas turbine technology. Benefits of two-shaft gas turbines for LNG mechanical drive are reduced footprint, broad variable-speed operation, and full-pressure start-up."
Thus, by focusing on technology development to reduce costs of processing LNG and putting in better processes to generate more production, Exxon Mobil is moving in the right direction in this market that's expected to boom going forward.
A closer look at LNG prospects
The moves being made by Exxon Mobil to tap the LNG market does not surprise me considering the prospects available here. As compared to the current oversupply situation prevalent in the global LNG market, things are going to change in the coming 15 years. According to Cheniere Energy (NYSEMKT:LNG), an exporter of LNG from the U.S., the demand for LNG will double on a global basis. However, there won't be enough supply of LNG to meet the increase in demand. This is evident from the chart given below: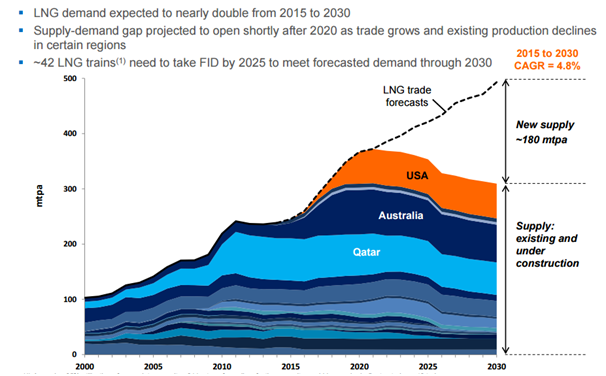 Source: Cheniere Energy
As shown above, an additional supply of 180 mtpa is needed to satisfy the growing LNG trade in the long run, which is why Exxon is busy developing more projects and entering into deals to acquire stakes in more gas fields. Now, as a result of this demand and supply gap, LNG prices should ideally pick up pace going forward and this will help Exxon benefit from its growing LNG footprint.
Conclusion
Exxon Mobil is pulling the strings in the right areas to benefit from an improving end-market such as LNG, where the company can achieve both volumes and stronger pricing. As such, I think that investors should not miss the opportunity in the LNG business and Exxon Mobil looks like a good bet to tap the same due to its efficient upstream operations.
Disclosure: I/we have no positions in any stocks mentioned, and no plans to initiate any positions within the next 72 hours.
I wrote this article myself, and it expresses my own opinions. I am not receiving compensation for it (other than from Seeking Alpha). I have no business relationship with any company whose stock is mentioned in this article.