This is a quick update. I wanted to bring it to readers' attention that Peabody Energy (NYSE:BTU) 6% 11/15/2018 bonds have doubled since they filed bankruptcy on April 13, 2016. Lo and behold, the low watermark for the bonds was made on February 25, 2016, when the 2018s traded a block of 5MM bonds as low as $2.375. Now remember, in late February, the bonds were trading with accrued interest then, so the buyer would have had to pay approximately $1.78 in accrued interest. So net-net, someone sold a block of 5MM bonds at an all-in price of $4.16.


Fast forward to April 13th 2016, the day of the bankruptcy filing, a block of 5MM bonds traded at $6. These bonds have been trading flat, without interest, since the March 15th interest payment was missed.


As of yesterday, and contrary to popular opinion and conventional wisdom, the 2018 bonds have doubled since April 13th. The 2018s traded as high as $12.25 and traded in fairly brisk volumes, so the move is confirmed by the volume.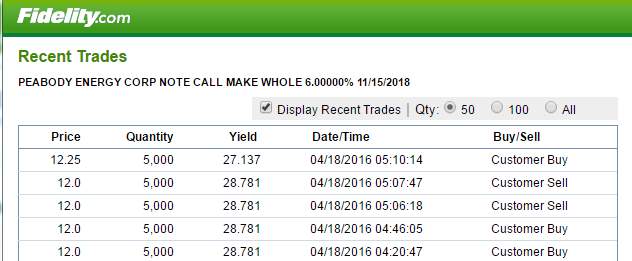 Essentially, I think market participants were on the sidelines due to the bankruptcy threat, which created an absence of buyers. With no buyers and lots of hedge funds long a lot of CDS, there was a strong incentive to push the bonds as low as possible. The bankruptcy occurred and now the bonds have caught a sharp bid.
Candidly, I am not exactly sure why the bonds have doubled so quickly, post-bankruptcy, but I will propose a few theories. Given my limited bandwidth, I don't have time to precisely model the cash flow but I will at a later date. Also, I freely admit that there is still lots of uncertainty and moving pieces. However, remember that not paying the interest on the unsecureds and 2nd Lien debt saves $370 million in annual interest expenses.
I would argue that the true 1st Lien debt is closer to $1.6 billion (the $1.2 term loan plus a portion of the revolver) if you back out the net cash drawn from the $1.65 billion revolver. Yes, and of course, I am aware of the $800 million of DIP financing, but I would also argue that this is just extra liquidity to manage through this process. Peabody isn't burning cash with 2016 U.S. thermal prices locked in at attractive prices. So, and this is a big so, if the equity and junior convertible debt are wiped out, then the unsecureds and 2nd Lien debt could convert to equity. The 1st Lien term debt could stay in place and there are dynamic market forces in place for a promising recovery.
The high level bullish thesis.
The sharp falloff in U.S. thermal production, with the lowest production level since 1983 in 2015 coupled with the incredibly low Q1 2016 production run rate should work its magic for re-balancing elevated utility inventories.

Source: EIA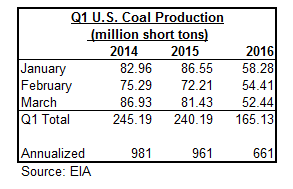 More interestingly is the noticeable move up in the back end the natural gas curve. As of today, January 2017 natural gas crossed the pivotal $3 level. The market is looking past the 1,000 Bcf of excess inventories (seasonally adjusted) and projecting a sharp decline in natural gas production. Let's face it, no producer can make money on an all in sustaining cost of capital basis producing gas at levels in the low $2 mm/Btu. I don't care what the Power Point presentations say. Essentially, the shadow gas from DUCs and backlog is getting eaten up and producers can't justify the CAPEX to increase production (notwithstanding the core of the Marcellus and Utica). With Cheniere's (NYSEMKT:LNG) two LNG trains coming online, higher Mexican exports, and higher industrial demand, we only need a hot summer for prices to threaten $3 mm/Btu in the front month. Everyone knows that Peabody's PRB 8,800 Btu coal is amongst the lowest cost in the world. At 2.50 to $2.75 mm/Btu natural gas, PRB coal is very competitive.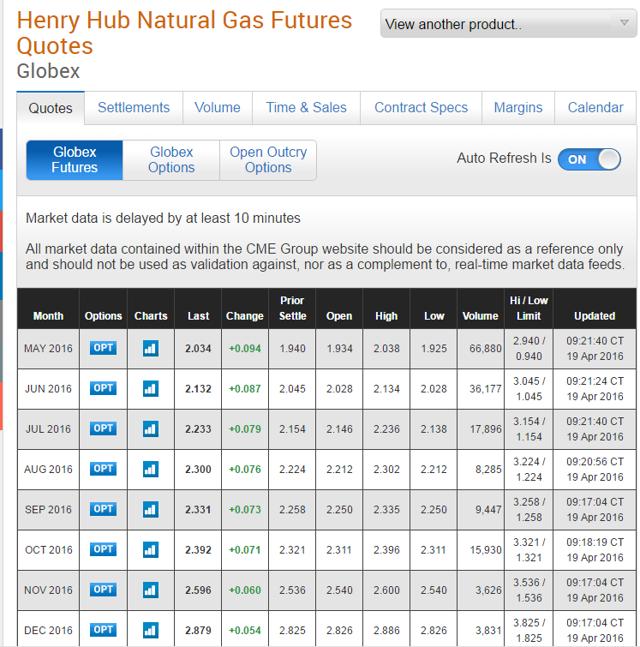 Source: CME Group
Next and perhaps tracking iron ore's rebound, met coal has firmed for the first time since 2013. The volumes and price transparency is much lower in met coal, but this is shift in price trajectory is welcoming.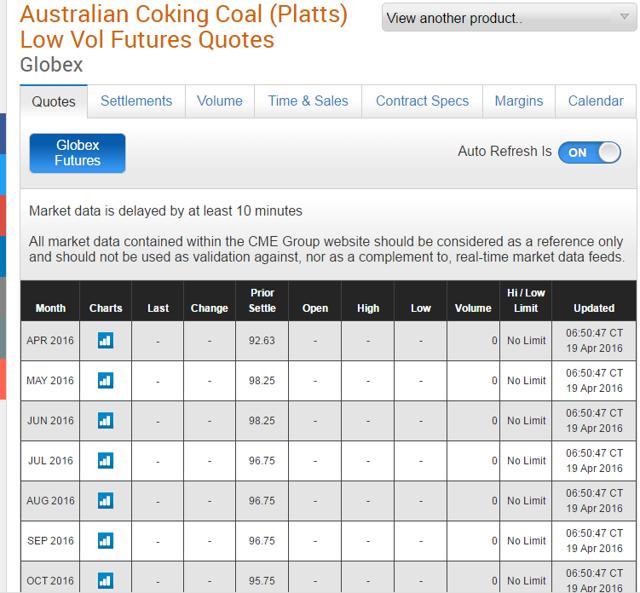 Source: CME Group
Finally, Capital Group, amongst the largest money managers on the buy side still owned 447 million face value of 2018 bonds (at least as of late March 2016). They are going to fight for their best recovery options in court.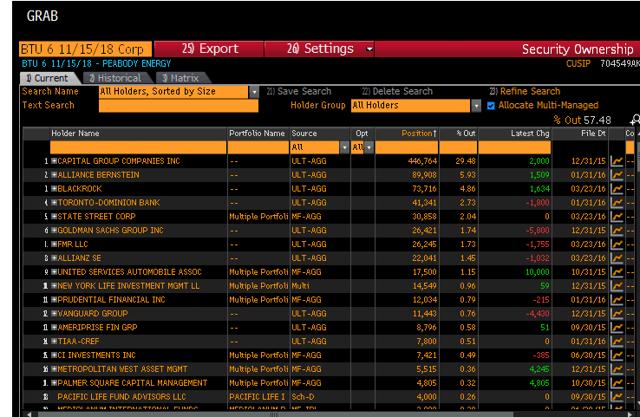 Source: Bloomberg
Finally, I haven't sold any of my bonds. I bought a ticket to the show, and despite my unrealized losses, I am waiting for my thesis to take shape.

Disclosure: I am/we are long PEABODY BONDS.
I wrote this article myself, and it expresses my own opinions. I am not receiving compensation for it (other than from Seeking Alpha). I have no business relationship with any company whose stock is mentioned in this article.