What happens when a former high-flying momentum stock crashes? Such is the case for 3D printing stocks. Their valuations peaked a few years ago, but these companies kept making acquisitions and growing their patent portfolio. Fortunately, 3D Systems (NYSE:DDD) and Stratasys (NASDAQ:SSYS) have no debt, but they do face obstacles. 3D Systems may pique investors seeking deep value. The stock price multiple may still compress as markets price in lower growth, but it might prove itself as a survivor in a competitive field.
3D Systems rose another 25% in the last month after reporting fourth quarter revenue that were not as weak as feared. Expenses flattened, while sales grew 21% sequentially. Favorable timing of orders from industrial and healthcare customers helped 3D Systems' revenue in the quarter. The company's headline GAAP loss of $5.85 per share, or $655.5 million, is due to massive one-time charges. The company booked goodwill, unsold inventory, amortization, and intangible impairment charges. This should mean 3D Systems should not make any more major write-downs in the future.
Just as Nuance Communications (NASDAQ:NUAN) is banking on revenue acceleration through the healthcare and related applications market, 3D Systems is doing so too. The risk for this strategy is low, but investors should expect deal closings taking time. In the last two quarters, business from the healthcare segments actually dropped. Delayed orders may also result in uneven revenue growth from quarter to quarter.
The revenue figures have yet to prove 3D Systems will succeed in health care. Still, the healthcare technology center it opened in Denver, Colorado is the right step. The center will showcase Direct Metal Printing, Stereolithography, Selective Laser Sintering, ColorJet Printing and MultiJet Printing.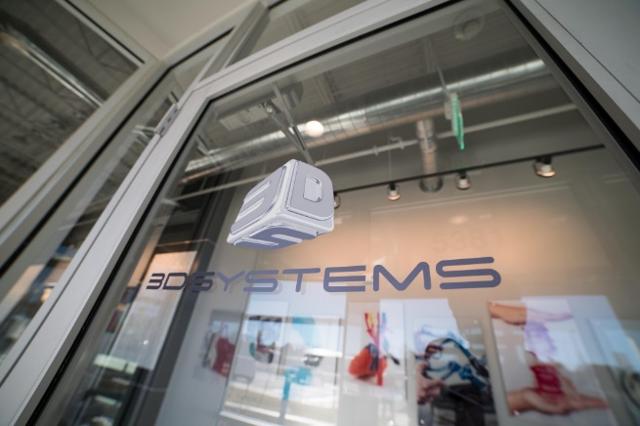 A focus on the engineering and educational market should yield better results. As adoption for 3D printing improves over time, sales from these areas will go up, too.
After doubling from its yearly lows, investors should hardly expect more upside in the stock. Revenue growth is not a sure thing. 3D Systems may cut its operating expenses if it needs to, next fiscal year. By defocusing on the consumer and targeting businesses, profit margins might hold the non-GAAP 45% and above.
The outperformance of 3D Systems over Stratasys may revert to Stratasys holdings its gains and investors taking profits in 3D Systems.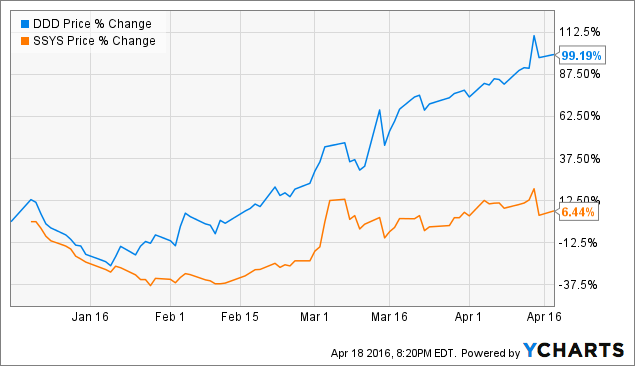 Stratasys trades at just over two times sales, compared to three times for 3D Systems. Earnings growth expectations are higher for Stratasys than for 3D Systems. Stratasys also anticipated some business contraction after 2014 after demand for smaller machines grew and profit margins fell. Stratasys adjusted its strategy by bracing for a drop in the rapid prototyping business, Stratasys' main business. As markets consolidate, Stratasys will strengthen its niche in the prototyping market:
We have the intention to keep our leadership position in prototyping, and we have more than a few product in the high end of prototyping, and of course, for MakerBot as we believe, it will help us to keep this position. We believe that the prototyping market still has a great potential and the penetration is relatively low.
Source: Stratasys Q4 2015 Earnings Conference Call Transcript
Your takeaway
Expect profit-taking in shares of 3D Systems, while Stratasys may not fall as much. If that happens, both companies are still ideal for value investors. The market may improve as the economy improves and industrial spending in R&D picks up.
Disclosure: I/we have no positions in any stocks mentioned, and no plans to initiate any positions within the next 72 hours.
I wrote this article myself, and it expresses my own opinions. I am not receiving compensation for it (other than from Seeking Alpha). I have no business relationship with any company whose stock is mentioned in this article.