It has been slightly over two months since uranium miner Cameco (NYSE:CCJ) released its fourth-quarter results, and the good thing is that the company has gained impressive momentum since then. In fact, Cameco has gained close to 18% in just under 10 weeks, driven by its handsome top line beat, though the drop in uranium prices this year has indeed taken a toll on the company's bottom line. However, the end market opportunity for Cameco is strong, which is probably one of the reasons why the company has gained impressive momentum of late.
In this article, we will take a closer look at the reasons why Cameco is set for impressive growth in the long run and why the rally in the stock seems sustainable.
Improving electricity demand will be a growth driver for Cameco
The demand for electricity on a global basis is anticipated to grow significantly in the long run. In fact, as shown in the chart below, electricity consumption across the globe is set to increase close to 55% in the next 20 years. Now, to power this increasing demand for electricity, more uranium will be needed in the long run to harness electricity from nuclear energy.

Source: Cameco
More specifically, of the total uranium demand that's needed in 2025, 10% will have to be fulfilled by new supply. However, due to the lack of investment in new uranium mines, there will be a shortfall of uranium supply going forward, which is good news for Cameco since it controls 30% of existing uranium mines.
Now, as a result of an increase in demand and a shortfall in supply, the price of uranium will improve in the long run and help Cameco improve the bottom line performance. In fact, the consumption of uranium has already started outpacing production last year, as shown below, and in the long run, the gap will continue increasing:

Source: Cameco
As seen above, the gap between consumption and production of uranium is expected to widen a lot in the next decade. This will act as a growth driver for Cameco since a favorable demand-supply dynamic will lead to an improvement in uranium pricing and help the company improve its gross margin profile.
More importantly, an improvement in uranium prices will help Cameco outperform the market since the company's average realized price for uranium is higher than the market spot rate. This allows Cameco to do better than its rivals even in a lower pricing environment, as shown below: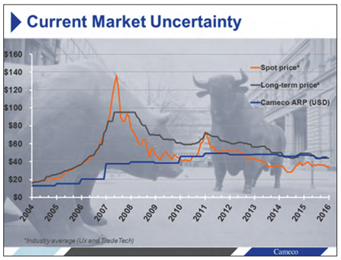 Source: Cameco
A robust asset profile will drive growth
The good thing about Cameco is that it has a robust asset base to tap the growing end-market demand for uranium. For instance, Cameco is witnessing impressive growth in production from its four key assets -- McArthur River/Key Lake, U.S. in situ recovery (ISR), Rabbit Lake, and Cigar Lake. The important part about these assets is that they are low cost in nature and carry robust grades at the same time.
For instance, the Cigar Lake production site delivers high-grade ore at an average ore grade of over 18%. The site produced a total of 5.7 million pounds in 2015 and is projected to deliver approximately 8 million pounds of production in the current year, with an estimated complete annual production rate of 9 million pounds per year.
In all, Cameco believes that its production will grow just under 6% this year to a range of 30 million to 32 million pounds. Now, this increase in production will happen at higher margins, which will allow Cameco to further improve cash flow. In fact, in the past six months, Cameco has managed to increase its margins and cash flow due to its focus on higher margin assets despite lower uranium pricing: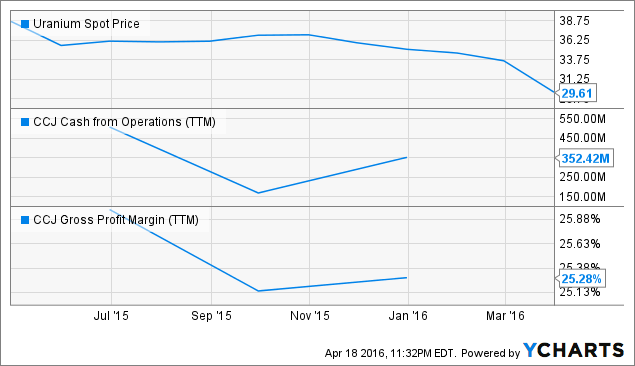 Uranium Spot Price data by YCharts
Thus, it is commendable that Cameco has done well despite weak uranium pricing on the back of the strength in its asset base. Now, looking ahead, things should get better for Cameco on the back of an improvement in uranium pricing and demand and a favorable asset base, which will lead to higher margins and better cash flow.
Conclusion
Cameco shares have gained impressive momentum in the past couple of months and it is likely that the stock will be able to sustain its momentum in the future due to the points discussed above. Hence, investors should remain invested in Cameco as it is on track to deliver more gains in the long run.
Disclosure: I/we have no positions in any stocks mentioned, and no plans to initiate any positions within the next 72 hours.
I wrote this article myself, and it expresses my own opinions. I am not receiving compensation for it (other than from Seeking Alpha). I have no business relationship with any company whose stock is mentioned in this article.