Qualcomm (NASDAQ:QCOM) is set to release its second quarter fiscal 2016 earnings on Wednesday, April 20, after the closing bell. Analysts on average expect that the company's EPS will come in at $0.96 on revenues of $5.34 billion. In the year-ago period, the company's EPS was $1.40 on revenues of $6.9 billion. This implies that analysts are modeling more than 30% YoY decline in EPS and more than 20% YoY decline in revenues.
Snapdragon 820: Qualcomm's Key Revenue Driver
2015 was a difficult year for Qualcomm, as it was facing antitrust regulations across the world. The company's high-margin licensing business suffered the most due to these antitrust issues. The problem got bigger in China, where Qualcomm failed to sign new licensing deals.
In addition, its Snapdragon 810 chip was an utter failure. Samsung (OTC:SSNLF) ditched Snapdragon 810 and started using its own Exynos chips for Galaxy S6 smartphones. However, what some analysts failed to understand is that Qualcomm remained the top smartphone chip seller even during this difficult time. Its market share reached 42% in 2015.
Qualcomm is finally out of the woods. Although the company has projected softer revenue and profit guidance for the fiscal second quarter, it has successfully managed to stabilize its international operations. The company officially launched the Snapdragon 820 chip in November 2015. Since the chip is thermally more efficient compared to Snapdragon 810, smartphone OEMs are rapidly adopting it. HP (NYSE:HPQ), Sony (NYSE:SNE), LG, HTC, Xiaomi and Letv are all embedding Snapdragon 820 in their latest smartphones.
Even Samsung has chosen Snapdragon 820 for its US and China versions of Galaxy S7 and S7 Edge handsets, leaving its own Exynos 8890 chip (which is the only competitor of Snapdragon 820 as of now). For other versions though Samsung has selected Exynos 8890. Qualcomm's fiscal second quarter revenue will certainly get a boost as a result of Snapdragon 820 launch. If the company can remain the top seller of smartphone chips during its crisis period, it could easily sell its best smartphone chip by huge volume.
Then Why The Company Has Given Softer Guidance?
Well, that's a valid question. The answer is global smartphone shipments won't see much growth this year. In addition, Samsung is becoming a tough competitor for Qualcomm.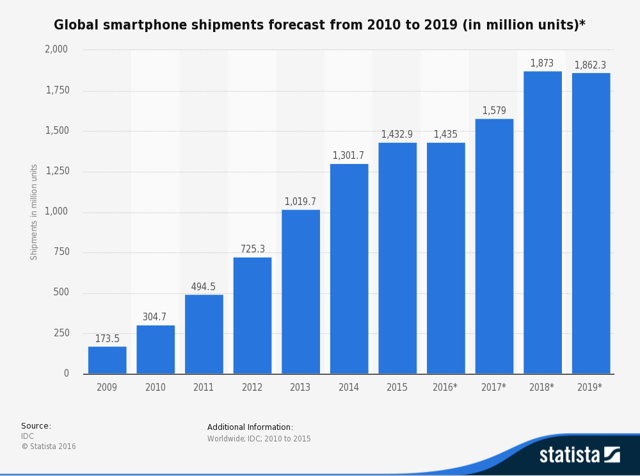 Image Credit: Statista
Although Snapdragon 820 will help Qualcomm garner more revenues in the rest of 2016, I believe Qualcomm won't be able to bounce back to 2014 level in terms of revenue this year or even next year. Investors have to wait until 2018 for a substantial bounce in Qualcomm's revenues, when smartphone shipments will rise significantly, as projected by Statista (please see the figure above).
Licensing Business Gradually Bouncing Back
QTL's (Qualcomm Technology Licensing) licensing business, which suffered the most due to antitrust issues, should bounce back to the pre-crisis level this year. The March quarter has seen a significant development in this front. The company has signed a new 3G and 4G patent license agreement with Lenovo. The deal covers devices marketed by Lenovo and Motorola in China.
Qualcomm CEO Steve Mollenkopf said during fiscal first quarter earnings release that the company has signed several new license agreements in China. Royalties from these license agreements should be reflected in the most recent quarter revenues.
Revenue and EPS Estimates
Qualcomm has guided that fiscal second quarter revenue will be between $4.9 billion and $5.7 billion, and EPS will be in the range of $0.90 - $1.00. In the fiscal first quarter, its revenue came in at $5.8 billion. I expect second quarter revenue will be greater than first quarter revenue, driven by Snapdragon 820 adoption and new license agreements (which were absent in the first quarter).
Since Qualcomm is well known for providing weak guidance, its March quarter revenue could easily exceed the top end of the guidance range, and cross $6 billion. For simplicity's sake, I'd assume its revenue will be $6 billion, a round figure. Now applying a net margin of 20.75% (average of past four quarters) on the revenue figure, I get $1.25 billion as Qualcomm's net income, which translates into a GAAP EPS of $0.84. Non-GAAP EPS could be closer to analysts' estimates.
Conclusion
Per my estimates, Qualcomm will beat analysts' revenue expectation. The stock has rallied meaningfully during the past few weeks and could be due for profit booking post earnings, unless Qualcomm beats analysts' estimates by a significantly wider margin. Any drop in the stock price post earnings should be considered a golden buying opportunity.
Disclosure: I am/we are long QCOM.
I wrote this article myself, and it expresses my own opinions. I am not receiving compensation for it (other than from Seeking Alpha). I have no business relationship with any company whose stock is mentioned in this article.
Editor's Note: This article discusses one or more securities that do not trade on a major U.S. exchange. Please be aware of the risks associated with these stocks.