Eddie Lampert has always put his money where his mouth is, and his position in Gap (NYSE:GPS) is no different. The founder of RBS Partners and Chairman of Sears Holdings (NASDAQ:SHLD) bought 4.26 million of the leading apparel retail company for a total of $105.22 million as shares crumbled 40% over the last 12-months. The weakness in Old Navy stores have weighed on shares the past few months.
After peaking at $46 per share in late 2014, shares of Gap have fallen to less than $25 by the beginning of 2016. Lampert responded by purchasing 2.06 million shares in Q2 2015, 1.87 million shares in Q3 2015, and another 332,946 thousand in Q4 2015. That brings the total shares bought to 4.26 million at an average price of $36.29 per share based on the average price of the quarter during the purchases. We would not be surprised to see him add more shares when the 13-F filings begin to be announced for Q1 2016.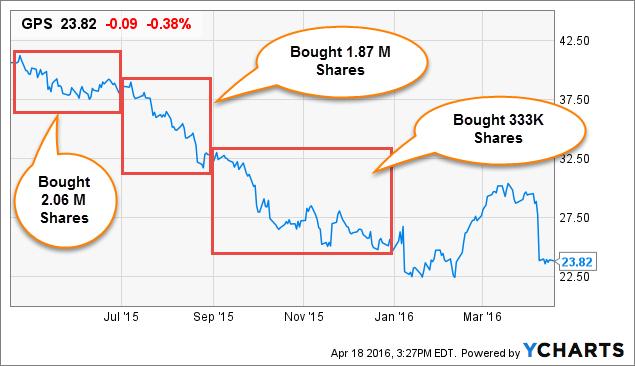 GPS data by YCharts
This is one of the reasons it's impossible not to admire the 53-year-old executive. Throughout his entire career, Lampert has consistently invested large portions of his portfolio into contrarian ideas when it matters most.
Lampert is known for taking extremely concentrated positions in his favorite investments. Typically, he'll hold no more than 15 positions in his portfolio at any one time. Over the years, his investment style drew comparisons to the legendary Warren Buffett. In 2004, Lampert's earnings were estimated to be $1.02 billion, which made him the first on Wall Street to make over $1 billion in a single year.
Let's see why he likes Gap so much.
Global brand recognition in apparel
The company operates 3,346 stores and 448 franchise units. The company ended Q1 2016 with 3,794 company-operated and franchise store locations with almost 38 million square feet of retail space. Brand names include Banana Republic, Old Navy, Gap, and Gap Kids. These brands are very well-known throughout the U.S. and the company continues to make inroads abroad.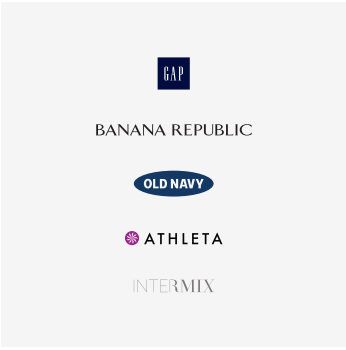 This is evidenced by the strong track record of a company that has generated over $3 billion in free cash flow the past three years. 2015 free cash flow of $870 million accounts for 10.87x the current market cap of $9.46 billion. As CEO Art Peck said, "Our brands are strengthening their connections with customers through digital, and especially mobile, enhancements that create richer experiences whether shopping online or in stores, or any combination of channels."
Franchise model is lucrative
Gap's franchisees now represent 10% of Banana Republic and Old Navy stores, as well as 20% of Gap stores. The franchise operation is a high margin business and expected to grow throughout Asia, Australia, Europe, Latin America, the Middle East, and Africa.
They sell merchandise to the franchises under multi-year franchise contracts and revenue is recognized once the merchandise is transferred to the franchisee. The company now has 448 franchised stores across the globe.
Management is shareholder friendly and competent
Management has been extremely shareholder friendly, having returned $1.4 billion to shareholders in the form of dividends and share repurchases in the last year alone. Overall, management has repurchased 22.5% of the shares outstanding since 2012. In addition, management has been able to generate returns on capital of over 29% each year during the same period, which shows its ability to allocate capital effectively.
Management has increased the dividend from $0.45 to $0.92 per share over the past five years and has repurchased over $6 billion worth of stock at reasonable prices. I expect management to continue to its focus on returning excess capital to shareholders, which should help put a floor underneath current share prices.
Bottom line
CEO Art Peck expects Gap and its brands to show improvement in the coming quarters. Revisions to merchandising in the Gap and Banana Republic brands, as well as a drop in the increased clearance sales over the past few quarters should help bolster revenues. The number of international franchisees should also continue to drive earnings in the coming quarters.
It's difficult not to see the value in Gap's shares at current prices. The company appears attractive with an FCF yield of 9.19%, EV/EBIT of 6.40, and a dividend yield of 3.87%. The market may be underestimating the low cost nature of Gap's business model and looks like it is offering an opportunity at current levels. I, for one, will not be betting against the company, or Lampert for that matter.
Source of Figures and Stats Above: 2015 Annual Report, Q4 2015 Report
Disclosure: I/we have no positions in any stocks mentioned, and no plans to initiate any positions within the next 72 hours.
I wrote this article myself, and it expresses my own opinions. I am not receiving compensation for it (other than from Seeking Alpha). I have no business relationship with any company whose stock is mentioned in this article.