What's the buzz about chat bots?
Since Facebook's (NASDAQ:FB) F8 developer conference, the company's new chat bots have been stealing headlines. The new feature will allow any institution to offer services through messenger, including alerts, searches, support, and booking services. The catch? You better have some serious programming knowledge or development budgets. The complexity of developing a good chat bot increases quickly, which will create substantial growth and monetization issues for Facebook, a fact largely ignored by most analysts.
As a company that specializes in designing natural language processing (NLP) algorithms, we understand the complexity and development efforts that go into such endeavors. The market largely underestimates the difficulty of Facebook building such an NLP bot, which creates a serious entry barrier for any smaller player interested in capitalizing on this new feature.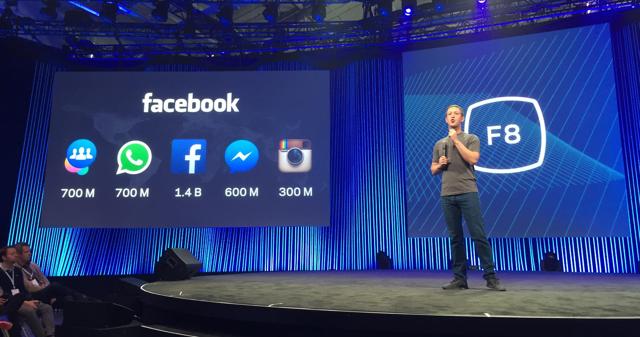 This is not the first e-commerce attempt on Facebook
In 2011, Facebook experienced a rather large failure in bringing e-commerce into the platform (yes, Facebook stores actually exist). Analysts reasoned that since users are spending time on Facebook with friends, and are not interested in shopping on the site, the two models have little synergy. However, most marketing experts argue that this notion is false. They believe that companies who already reach their client on Facebook would much rather send the traffic directly to their website (where their conversion is much stronger) rather than to their Facebook store/page/chat. The current notion that Facebook will be able to monetize e-shops via chat bots doesn't bode well with past experience.
To simplify, an app developer is more than happy to take his or her product, say a game, and sell it to as many people as possible on a 3rd party distribution platform. The variable costs are generally little to none, and thus the developer is willing to pay the Apple App store or Android Play store a hefty commission for hosting, processing sales, and managing integration into users' phones. Unlike the App developer who has no variable cost or distribution platform, current sellers on Facebook likely have very tight margins and optimized web platforms, thus adding another agent to their sales chain are fundamentally against their interests.
Niche sellers and small businesses are perhaps best positioned to take full advantage of Facebook's bot service. For example, a user asking a small comics store "do you currently have (comics name) in stock?" In this case, Facebook offers the comics store a strong secondary platform to communicate with established customers. Unfortunately, For small businesses, building and maintaining a chat bot, let alone a checkout process, is an extremely complex process. Unless Facebook offers the complete solution (not an API), their chance of attracting people are little to none.
CNN or 1-800-Flowers (NASDAQ:FLWS), which already has a very strong online presence, don't have a strong reason to increase their Facebook social presence. I wanted to amplify this by demonstrating just how complex it would be to take a classical checkout-form and convert it to a bot managed one. How long would a company like 1-800-Flower's keep spilling resources into chat bots? They are not a tech firm and it shows, which is this application's biggest obstacle.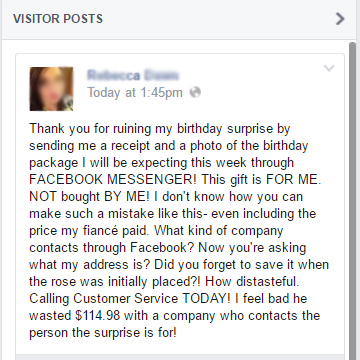 Source: 1-800-Flowers on Facebook
Making a bot is hard - even for the largest players.
Below, you can see an attempt to order from 1-800-Flowers via Facebook. It was chosen because it was one of the original companies to go live with the feature, and as you can see, the attempt didn't get too far. The first question is your address, rather than a humanized "Hello Daniel, thank you for choosing 1-800," typical bot-like thinking. I liked, however, that my address input returned a clear confirmation. Next is the flower selection, where you better hope you fall in love with the first bouquet you see, or else good luck squinting through hundreds of tiny images. If you survived this, get ready for the onslaught of questions with no reference to where you are, what question comes next, or how close you are to finishing your checkout.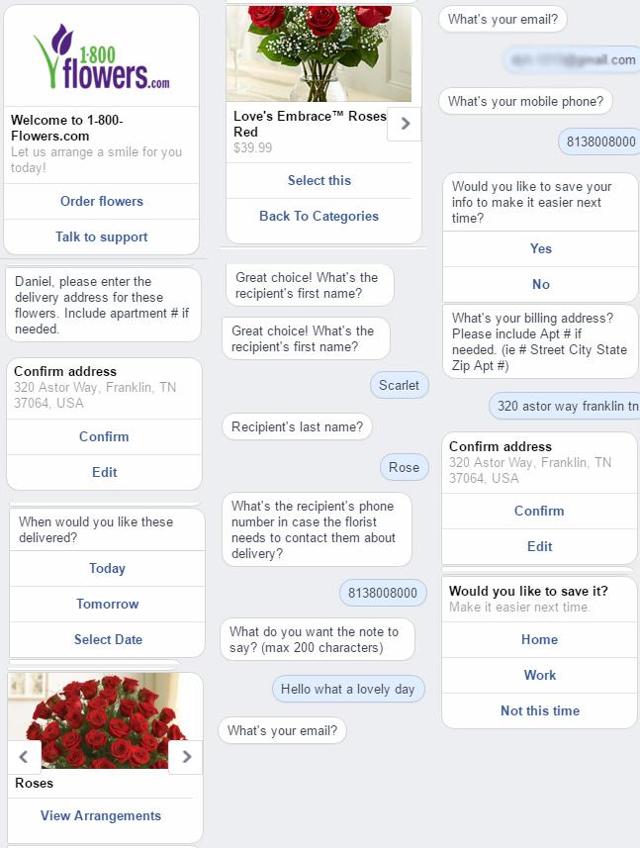 At this point, I decided to stop, as the lack of added value given here by Facebook to 1-800 was clear. As you can see, the only input offered here by the service to the retailer was my name.
In order to make it attractive, and profitable, for firms to use chat-bots and pay the commission fees, Facebook will have to streamline the checkout process for vendors in a similar manner the app stores do for Apple and Android retailers. While it still does not solve 1-800-Flower's problem of browsing the product, FB having the user's address, phone, email, and credit card on file would allow any vendor to create a simple one-click checkout process.
For example:
User: Do you have the Avengers comic book in stock?
Bot: Yes, here it is below (with image below). Would you like to use Facebook one click checkout to order it?
User: Yes, please send it to me
Order Confirmation
Here one can sense the added value of Facebook. The comic book purchaser might be willing to sacrifice his brick and mortar buying experience for the time saved and convenience/security of the Facebook purchase. On the other hand, at this time, the flower purchaser receives absolutely no added value by purchasing through Facebook messenger, and might as well go directly to 1-800-Flowers and fill out the forms in a more user-interface friendly manner.
But bots can do a lot more than sell you stuff!
What about non-checkout bots? Well, from what we hear they are seriously lacking in personality. The one attempt at achieving a non-robotic conversation was by Poncho, the weather bot. However, just 24 hours after launch, Poncho's CEO Sam Mandel already admits that there are unanticipated problems. He noted that Facebook needs "to add more natural language processing, and that's what we're working on right now." Further, he notes that "tolerance for a mediocre bot is much less than for a mediocre app." Below is a short conversation with Poncho, and you can see it might be funny for a bit, but that's about it.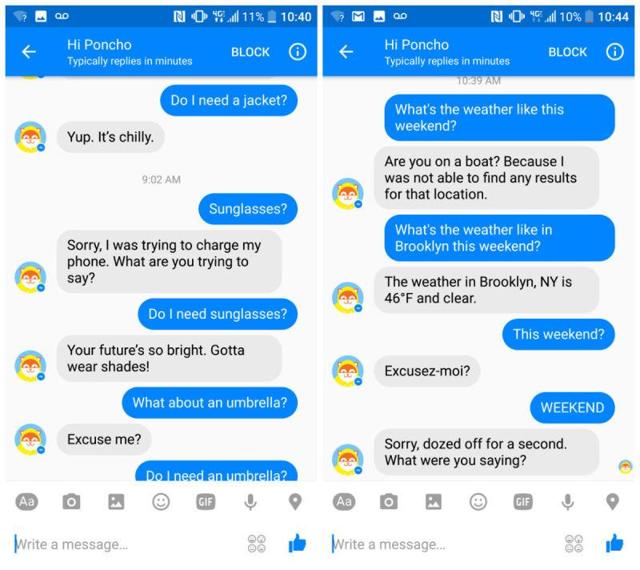 Despite this, an overwhelming majority of analysts are bullish.
With all the chatter about Facebook bots, is it a good time to invest? The company is scheduled to report its 1Q16 results on April 27, and the anticipation has many analysts speculating on the company's success.
Shares of the social media giant already declined about 5% during the first week of April. The company is currently facing some problems, which undoubtedly plays a role in certain bearish outlooks for the stock. Some negative indicators include delayed shipping of Oculus Rift VR, a report claiming Facebook users are sharing less on the platform, a report showing that Facebook publishers had recorded traffic declines of a whopping 20% from January through March, and finally, a warning by Deutsche Bank analyst Ross Sandler, who claims Facebook's Q1 revenue is probably going to come in far below the high set expectations.
In light of this recent dip in market price and less than positive news, sidelined investors may be curious to know if this provides an opportunity for long-term buyers.
The most bearish outlook for the stock (from an analyst) is held by Societe Generale analyst Simon Baker, who has a Sell rating on Facebook with an alarming price target of $71 (the stock is currently trading at ~$110). According to Baker, the stock faced serious risk from new applications competing for user time. He further explained, "We reiterate our Sell rating on Facebook and preference for Alphabet in this space."
UBS analyst Eric Sheridan has also given some input on this issue. On April 12, 2016, the analyst reiterated a Buy rating for the stock with a price target of $130. He states, "Given the scale of Messenger (900mm MAUs) & key advantages vs. other forms of customer service/communication (instantaneous, personal, scalable, etc.), we believe Messenger can play a disruptive role in the worlds of eCommerce & local commerce in particular - effectively serving as an 'app store' for B2C interaction."

Source: TipRanks
Youssef Squali from Cantor Fitzgerald has also reiterated a Buy rating on Facebook, with a $140 price target on April 14. In spite of this rating, Squali has expressed some concern regarding Messenger. He commented on the app, explaining, "If successful, Messenger has the potential of becoming a material third leg of the 'monetization stool' for Facebook, a potential not reflected in our estimates currently." He adds, however, concern that "lines may get blurry between Facebook and Messenger, and there may very well be some cannibalization between the two platforms since both are competing for our time."
It seems as though even analysts offering bullish outlooks on the stock have some prevailing concerns regarding the ultimate long-term success of the company. Another example is Goldman Sachs analyst Heather Bellini, who maintained a Buy rating for Facebook with a price target of $130 on April 14. Bellini notes however, that although "revenue is expected to beat consensus," the company will most likely be "witnessing a 10% year on year decline" in its next earnings report.
Analysts will rarely dare speak negatively about the big tech players; however, between the lines and amongst bloggers we can detect a reasonable doubt in Facebook being able to justify its 84 P/E ratio. Hedge fund activity suggests larger stock selling than buying volume and insiders have not made any significant purchases of the company in over a year.
As of today, based on 40 ranked analysts offering 12-month price targets for FB in the last 3 months, the average price target is $135.27, with a high estimate of $170.00 and a low estimate of $71.00. Hedge funds decreased holdings by 4.2M shares in the last quarter and corporate insiders sold shares worth $65.9M in the last 3 months. We also identified 105 opinions published by experienced bloggers of which 82% were bullish to a mere 18% bearish.
Disclosure: I/we have no positions in any stocks mentioned, and no plans to initiate any positions within the next 72 hours.
I wrote this article myself, and it expresses my own opinions. I am not receiving compensation for it (other than from Seeking Alpha). I have no business relationship with any company whose stock is mentioned in this article.