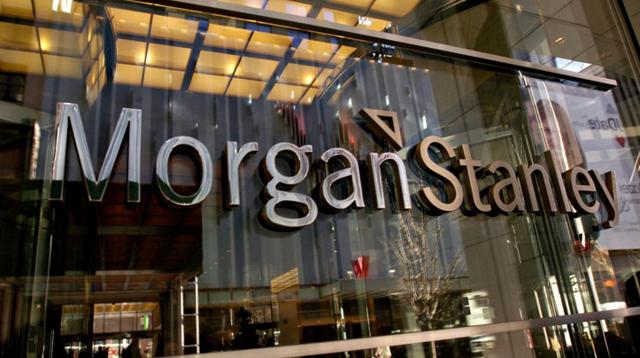 Back in January, after Morgan Stanley (NYSE:MS) reported very strong Q4 earnings, I based my bullishness on the bank's projected growth and its ability to return capital in 2016. Indeed, MS has long been overshadowed by Goldman Sachs (NYSE:GS) as the 'other' investment bank on Wall Street, but in many ways, MS is a much more attractive stock. After Q1 earnings failed to produce a catalyst for buyers, what will drive MS shares higher this year?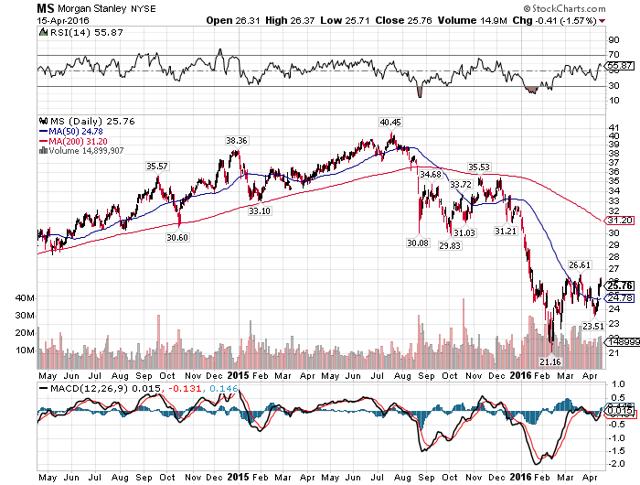 MS is suffering from the same very weak environment as every other financial so weak results in Q1 were expected. In particular, GS and MS are obviously heavier on trading revenue than some other, more 'bank-like' financials, and the malaise that hit us in January/February was tough to contain. But does that derail the longer term bull case for MS?
MS' Q1 profits fell precipitously as revenue did the same against a very weak macro backdrop. Indeed, weakness was very widespread throughout the business for MS as advisory revenue was the lone pocket of strength. The banks' institutional securities revenues fell enormously as FICC was crushed, marking the largest single loss on the top line. Trading revenue actually wasn't bad, dropping under 10% in what I'd characterize as a positive surprise given the expectations of additional weakness. But on the whole, Q1 was a very weak quarter for MS, as expected.
MS also saw its compensation expense fall from $2B to $1.4B Y/Y in Q1, helping to keep its profit level somewhat intact against last year's stronger showing. Virtually all financials have been hard at work reducing expenses in the uncertain revenue environment and MS' showing here in Q1 saved the quarter. Compensation expense is fairly volatile for MS so we'll have to keep a close eye on it as the year rolls on.
But to be fair, investors are really interested in the coming three quarters because we all knew Q1 was going to be weak. Management was careful on the earnings call to make sure they touted the fact that weakness in Q1 was due to the macro environment and not company-specific issues. This is an important distinction although on the bearish side, the environment is not something MS can control and it could certainly get a lot worse. That simple idea is why financials on the whole are trading as if a dreadful 2016 has already come to fruition but therein lies the opportunity, as they say.
Is 2016 going to be the land of milk and honey for financials? Almost certainly not. There are plenty of headwinds for any kind of company in 2016, but for financials, the headwinds are more pronounced. Rates are still terribly low and could go lower. M&A activity was gangbusters last year so comparables in 2016 will be tough. The IPO market is on life support right now. The Fed seems confused and unsure of what to do, driving general market turmoil. One could go on and on regarding the headwinds facing an investment bank right now but all of that stuff is old news; it's already priced in.
With MS at just 85% of tangible book value, the firm is still being valued as though it has a shot at a major liquidity crisis or similar downdraft in earnings. I simply don't believe that is possible at this stage when regulators have exponentially increased the amount of scrutiny around big financials' holdings and activities and at a time when MS has reinvented itself to be a less risky, service oriented firm.
In addition to a very low P/TBV that is undeserved, MS continues to hold ludicrous amounts of excess capital which I believe is the single largest catalyst for shares to move higher. MS has already submitted its CCAR, and I sincerely hope it asked for an enormous buyback. The stock is far too cheap to bump the dividend significantly as that money would be wasted when it could be better spent buying a dollar for 85 cents.
MS' fully phased-in CET1 ratio is 14.5% and its SLR is 6%. Both of those numbers - particularly the former - are well in excess of required minimums, and as MS continues to build capital, they will only go higher. This is why MS should ask for a huge buyback as nowhere near that much capital is needed to run the business. It's just sitting there, and with the stock at 85% of TBV, it should be put to use. I think the Fed will be more accommodating with buybacks this year because the sector as a whole has generated so much capital in the last couple of years that there is simply no reason to withhold it any longer.
Estimates continue to come down for MS this year as analysts become more and more pessimistic. However, MS' long-term growth trajectory is still intact despite the weakness in Q1. If you believe management that the temporarily weak environment is to blame for Q1 - and I do - MS is still very cheap here. I don't know how much cheaper it will get considering it continues to build TBV and capital quarter after quarter, but the stock doesn't budge. At some point, shares will have to move higher.
Disclosure: I am/we are long MS.
I wrote this article myself, and it expresses my own opinions. I am not receiving compensation for it (other than from Seeking Alpha). I have no business relationship with any company whose stock is mentioned in this article.