It is not surprising to see that oilfield services company National Oilwell Varco (NYSE:NOV) has performed weakly on the stock market in 2016, dropping almost 20%. In fact, last week, National Oilwell Varco had to slash its quarterly dividend by 89% as its revenue is expected to drop at an alarming rate in the first quarter.
National Oilwell will see a sequential drop of 20% in its revenue from the $2.7 billion that it had generated in the fourth quarter of last year, greater than the consensus estimate of 12%. Meanwhile, on a year-over-year basis, the drop in revenue will be even more severe at 55%. Now, considering the fact that National Oilwell Varco's operating cash flow is already on the decline over the past year, as shown in the chart below, further weakness in the company's revenue will lead to more cash burn: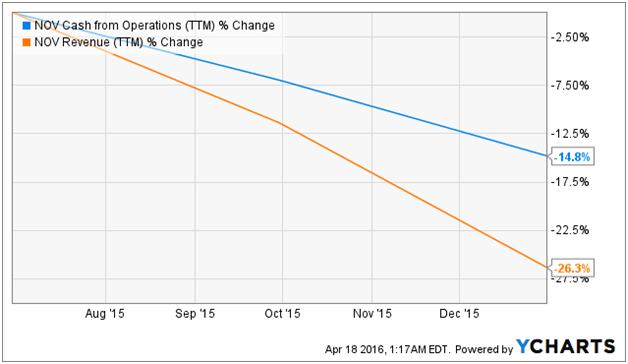 As such, it is not surprising to see why National Oilwell Varco has slashed its dividend by such a huge margin as the company needs to preserve its balance sheet now. However, expecting a turnaround at National Oilwell Varco is not a good idea as the weakness in the company's business is set to continue going forward. Let's see why.
A declining rig count will diminish demand for oilfield services
The latest rig report released by Baker Hughes (NYSE:BHI) on April 15 does not paint a pretty picture for National Oilwell Varco. As compared to the prior-year period, the rig count was down by 514 in the U.S., 40 in Canada and 266 across the world. What's more alarming to note is that the rig count decline has continued and there has been no turnaround of late. For instance, on a weekly basis, the U.S. rig count was down by 3 units and the Canadian rig count was down by a solitary unit. Meanwhile, the global rig count fell by 33 units in just a month.
As a result of the decline in the rig count, National Oilwell Varco has been witnessing an increase in net order cancellations on the back of a reduction in capital expenditure by exploration and production companies. This has hurt the company's backlog and revenue-generating potential by a substantial margin. For instance, National Oilwell had order cancellations worth $1.19 billion during the fourth quarter of 2015. Moreover, National Oilwell's net new orders dropped to just $89 million in the fourth quarter of 2015 from $366 million in the preceding quarter.
Thus, on one hand, National Oilwell Varco is losing revenue due to weakness in the oil pricing environment, and on the other, the company is also seeing its backlog decimated as oil exploration companies are scaling back investments. Now, the bad news is that the weakness in the end market is set to continue going forward and this will continue to act as a headwind for National Oilwell.
More weakness ahead
Looking ahead, the rig count is expected to continue on the downward trajectory. According to Genscape, the U.S. rig count will drop to 384 active rigs in July 2016 as compared to 440 last week. This means there will be a reduction of another 70-odd rigs that will weigh on National Oilwell Varco's backlog and revenue.
On the other hand, along with the declining land rig count, continued weakness in the offshore segment will also crush National Oilwell Varco. For instance, in 2016, it is expected that offshore oil production will go down by 10% and drop to 13.5 million barrels per day. This is because oil operators are no more intent on spending more capital to reduce the base decline rates, thereby reducing infill drilling. This is shown in the chart given below:

Source: Reuters
In all, investments in the oil and gas space are set to go down by $320 billion in 2016 as against a drop of $250 billion in 2015. Thus, as a result of consistent weakness in the end-market, I won't be surprised if National Oilwell Varco witnesses further weakness in its backlog and revenue.
Conclusion
National Oilwell Varco is facing a difficult task going forward as the company's business will continue to remain weak in light of the challenges in the end-market. In fact, going forward, investors should not rule out more downside, which is why it will be a good idea to stay away from the stock.
Disclosure: I/we have no positions in any stocks mentioned, and no plans to initiate any positions within the next 72 hours.
I wrote this article myself, and it expresses my own opinions. I am not receiving compensation for it (other than from Seeking Alpha). I have no business relationship with any company whose stock is mentioned in this article.