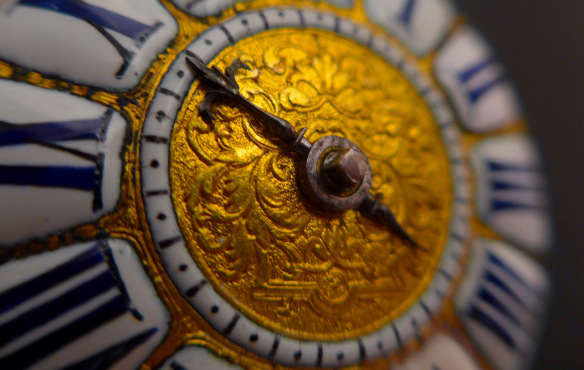 Gold pendule. Mousset, Paris, ca. 1690
Introduction
Every week, we closely monitor net speculative positions on the COMEX as well as ETF holdings inasmuch as the historical economic behavior of gold prices suggests that over a short-term horizon (<3 months), gold prices are largely influenced by changes in the forward fundamentals, reflected in changes in net spec length and ETF holdings.
In order to analyse more clearly the changes in net speculative positions on the COMEX and ETF holdings, we have decided to standardise the data by showing those changes in tonnes.
Speculative positioning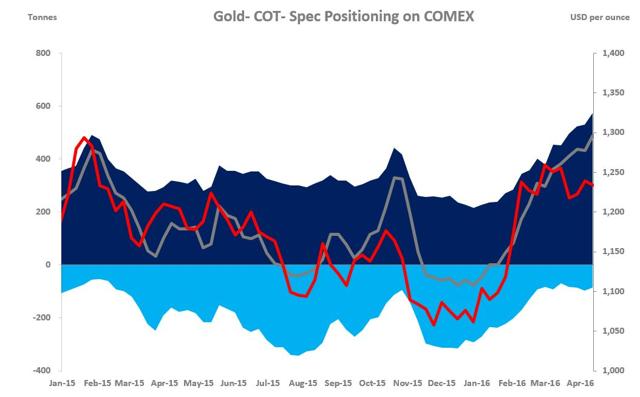 Source: CFTC.
Gold. According to the latest Commitment of Traders report provided by the CFTC, money managers, viewed as a relevant proxy for speculators, raised sharply their net long position in the week ending April 12. Over the period covered by the data (i.e. April 5-12), gold prices climbed 2.15 percent.
The net long fund position now stands 489.33 tonnes, up 56.33 tonnes or 13 percent from 433.06 tonnes last week.
The improvement in spec positioning was mainly the result of long accumulation (+44.75 tonnes w/w) and further reinforced by short-covering (-11.58 tonnes w/w).
The net long fund position is now at its highest year-to-date level and at its highest level since February 28, 2012 when the net long fund position was at 502.19 tonnes.
Gross longs: in line with our expectations, longs have continued to extend their bullish bets in light of their tendency to overshoot. While we believe that further increases are possible in the near-term, we understand that the level of complacency is at a high level, suggesting that a deflation of the gross long position could emerge at some point in the second quarter. The speculators' tendency to overshoot leads us to understand that further increases in bullish bets are possible in the near-term horizon.
Gross shorts: short-covering resumed last week for the first time in four weeks. At 84.69 tonnes, the gross short leg is still above its previous low of 69.24 tonnes set on March 15. But given that it remains extremely low judging by historical standards, we believe that the risks are more on the upside rather than the downside in the next few weeks.
Finally, we are worried to see that gold prices have not managed to strengthen sharply since March despite the sharp increase in the net speculative length. Indeed, while net speculative long positions rose massively by 193.51 tonnes or 65 percent since the start of March, gold prices have been broadly unchanged.
Looking ahead, we expect the net spec length to start falling at some point in May because the speculative positioning is clearly overstretched on the long side. In this regard, a consolidation in gold prices seems to be likely as weaker hands will probably take profit. Having said that, we think that the upward trend could remain intact because net long speculative positions could remain at an elevated level through the second quarter of the year, reflecting brighter fundamentals in the gold market.
Investment positioning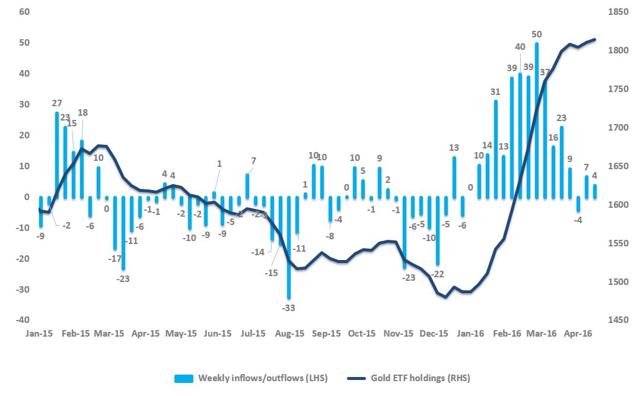 Source: FastMarkets.
Gold. ETF investors bought gold at a modest pace last week (April 8-15) for the second consecutive time. Total ETF holdings stand at 1,815 tonnes as of April 15.
ETF investors bought a total of 3.87 tonnes of gold over April 8-15 after buying 6.65 tonnes in the previous week. As a result, they have accumulated only 14 tonnes of gold in April, which is considerably smaller than what they bought in March (+61 tonnes), February (+185 tonnes), and January (+74 tonnes).
In the year-to-date, investors are net buyers of 334 tonnes of gold, in sharp contrast with their net selling position of 118 tonnes in 2015.
ETF buying continued over April 8-15 despite an unsupportive macro environment for gold. Despite the fact that the IMF cut its global growth forecast by 20 basis points to 3.2 percent in 2016, risk-appetite surged last week, partly driven by encouraging Chinese trade data. Chinese imports and exports both increased more than expected in March, suggesting that on the one hand, Chinese demand remains healthy, and on the other, global growth is not slowing as fast as initially feared. Against this backdrop, broad equities were stronger, with the S&P rising 1.62 percent, US nominal and real interest rates rebounded, while the dollar remained broadly unchanged. Having said that, the sharp appreciation in oil prices, mainly driven by expectations of a production-freeze agreement at a Doha meeting on April 17, created some positive spillovers to other commodities, including gold.
The fact that ETF investors continued to accumulate gold last week amid a risk-on environment is encouraging. The resurgence of a risk-off environment could prompt ETF investors to buy gold at a stronger pace looking forward. We think risk-aversion could re-emerge in the second quarter because the macro backdrop will be challenged by growing political uncertainty in Europe with the unsustainable situation of the Greek debt and the British referendum as well as in the US with the election year. This growing uncertainty will probably push investors to unwind risk-friendly positions and seek safe-haven assets. Under this scenario, gold ETF demand should be strong.
Looking ahead, we expect ETF investors to continue to boost their holdings over the coming months, although we acknowledge that the pace of their buying should be 1-smaller than in the first quarter of the year and 2-highly dependent on the degree of risk-aversion.
Spec positioning vs. investment positioning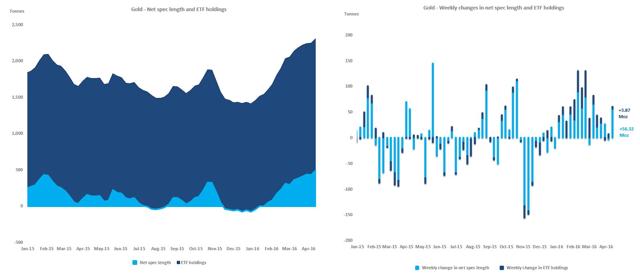 Source: MikzEconomics.
SPDR Gold Trust ETF (NYSEARCA:GLD) positioning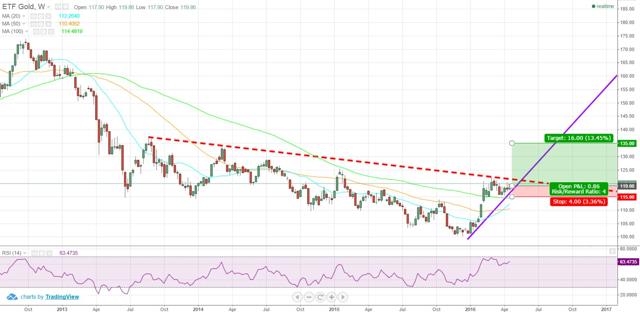 Source: TradingView.
GLD finished slightly in negative territory in the week ending April 15, down 0.44 percent. But it is off to a very good start to the week, up 1.58 percent at the time of writing.
We maintain our short-term bullish bias, arguing that GLD could push further higher in the second quarter.
As seen in the chart above, we decided to implement a potential trading idea by going long GLD at current price level (119), set a stop-loss slightly below the recent low around the 100 DMA (115), with a target profit at 135. Such a trade would provide a reward-to-risk ratio of 4, which is greatly skewed in our favor.
Alternatively, some traders could wait a little further that GLD breaks clearly above its downtrend line (red) to play a potential breakout.
Having said that, we continue to expect some weakness to re-emerge in the second half of this year and we believe that great short opportunities may arise from the third quarter of the year.
To sum up, we are bullish in the near-term and in the second quarter but bearish the second half of 2016. Over the long-term (i.e., 5+ years), we remain friendly toward GLD due to its healthy fundamentals, as we wrote in The Rational Reason to Be Bullish on Gold back in October 2013.
About: SPDR Gold Trust ETF, Includes: PowerShares DB Gold ETF (NYSEARCA:DGL), VelocityShares 3x Inverse Gold ETN (NASDAQ:DGLD), DB Gold Double Long ETN (NYSEARCA:DGP), DB Gold Short ETN (NYSEARCA:DGZ)
Disclosure: I/we have no positions in any stocks mentioned, and no plans to initiate any positions within the next 72 hours.
I wrote this article myself, and it expresses my own opinions. I am not receiving compensation for it (other than from Seeking Alpha). I have no business relationship with any company whose stock is mentioned in this article.