I want to go on record and say I am not a "chaser". I would rather err on the side of caution when a stock moves a good amount in a short period of time. In this case I am breaking out of my zone and going to fill your minds with a Brazilian company whose stock may have some legs still underneath it. Take a look.
Cosan Limited (NYSE:CZZ) ($5.25), together with its subsidiaries, engages in sugar and ethanol, fuel, logistics services, lubricants, and piped natural gas businesses primarily in Brazil, rest of South America, Europe, the Middle East, Asia, and North America. The company's Raízen Energia segment produces and markets various products derived from sugar cane, including raw sugar, and anhydrous and hydrated ethanol. This segment is also involved in activities related to energy cogeneration from sugarcane bagasse; and holds interests in companies involved in research and development on new technology. Its Raízen Combustíveis segment distributes and markets fuels, primarily through a franchised network of service stations under the Shell and Esso brands in Brazil. The company's COMGÁS segment distributes piped natural gas to customers in the industrial, residential, commercial, automotive, thermogeneration, and cogeneration sectors in part of the State of Sao Paulo. Its Cosan Log segment provides logistics services for transport, storage, and port loading of commodities, primarily for sugar products. The company's Radar segment is involved in buying, managing, selling, and leasing agricultural land. Its Lubricants segment produces and distributes lubricants under the Mobil and Comma brands. Cosan Limited operates a network of approximately 5,356 Shell service stations and 944 convenience stores.
First of all the stock is up around 25% over the past month. I "hate" that, not because I missed it for all of you, but because I feel like I am chasing. However after reading about the sugar cane/ethanol/energy sector, I think there is a long way to go with this position. Cosan currently trades at $5.25, off of the 52 week high of $7.60 so there is still that gap to fill in the near term.
The earnings report for 2015 which I have linked below was strong.
Highlights
Revenues of USD $878.37 million
Net Earnings of USD $101.16 million.
Gross margins widened from 26.93% to 29.69% compared to the same period last year.
Operating (EBITDA) margins now 28.95% from 16.64%.
Year-on-year change in operating cash flow of 26.14% is about the same as the change in earnings, likely no significant movement in accruals or reserves. Earnings growth from operating margin improvements as well as one-time items. Now understand they have just under $1 billion in cash ($3.50 a share) and over $6 billion in debt, which is high. $800 million in operating cash flow is attractive on revenues of $3.25 billion.
There are two main reasons for my willingness to go long on this stock. The anti coal revolution in South America, and the JV with Sumitomo who invested $130 million to develop a pelletized sugar cane biomass, which was created to serve the low carbon economies. Biomass pellets can be burned to produce electricity.
Sumitomo Corp. will acquire as much as 20 percent of Cosan Biomassa SA, a subsidiary of the world's largest sugar company Cosan SA Industria e Comercio. Cosan Biomassa, based in Sao Paulo, Brazil, produces and distributes sugarcane biomass pellets for power generation. Sumitomo's investment will help Cosan Biomassa expand exports to Japan and Europe as well as sales in Brazil. That is huge, as Europe and Japan along with South America make it a global product development project.
The powers that be, on a global level are trying to curb the use of coal-fired power plants. This will help the beaten down Brazilian sugar cane industry.
Power generators are already expanding their use of biomass pellets made from wood to displace coal in thermal power plants. Cosan expects global demand for pellets to increase 60 percent over the next five years, creating a huge market for Brazilian pellets made from bagasse, the fibrous by-product of sugar-cane processing that usually ends up as waste.
Biomass pellets made of wood dominate the industry, and almost all of them come from forests in Europe, the U.S. and Canada. Cosan and Sumitomo expect the global market to jump to 40 million metric tons in five years, from 25 million tons now. The European market has huge potential, as utilities and customers are seeking to reduce emissions in residential boilers.
Brazil, the world's biggest cane grower, may be able to produce as much as 80 million tons a year from bagasse, enough to supply the entire industry, according to Cosan.
I believe this is the reason the stock jumped the way it has. Once this JV starts to grow roots and revenues are accreted to the bottom line, there is no reason the stock cannot trade up to $8 or $10. Keep in mind the US is trying to get away from coal, making it a potential market for Cosan. If the US increases its use of biomass by a mere 5%, it would boost pellet demand by over 28 million tons, and move from an exporter to an importer.
Here is a chart of the global pellet production for your review.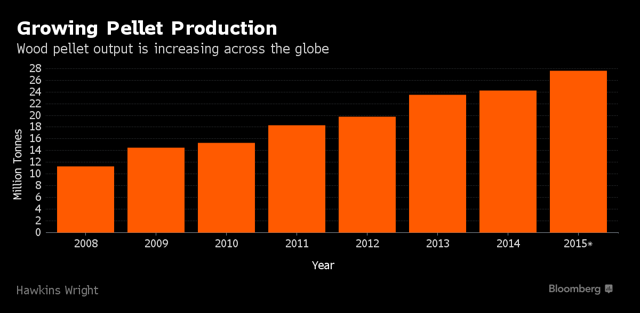 Perhaps the best way to position this stock is to buy half of what you would ordinarily buy and see if it breathes a little bit back under $5. I like the model, the future potential for global growth in a "greener" alternative. Good luck.
Disclosure: I/we have no positions in any stocks mentioned, and no plans to initiate any positions within the next 72 hours.
I wrote this article myself, and it expresses my own opinions. I am not receiving compensation for it (other than from Seeking Alpha). I have no business relationship with any company whose stock is mentioned in this article.