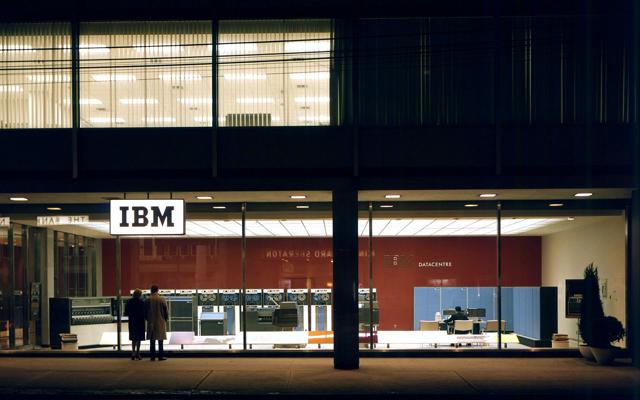 IBM Datacenter in Toronto
In Part 1 of my interview with Dr. James Comfort, IBM's (NYSE:IBM) Chief Technology Officer for Cloud, he spoke about how the company was positioning itself in the industry as a leader in hybrid cloud and how that approach was the one that many enterprise customers would be open to. Click here to see Part 1.
In this segment, I ask him about IBM Cloud's competitive advantages and how they are responding to the competition's approach to the market.
In order to help follow the thread of the conversation, I have interspersed the interview with my own thoughts, opinions and analysis.
Shudeep Chandrasekhar:
So, moving on to data centers, over the last 12 months, IBM has been aggressively adding data centers - about five additional data centers in the last one year alone. This is quite an aggressive move. How exactly is IBM leveraging that presence? Is it something for the future that you're planning for now, or is there something specific around that?
Jim Comfort:
We are building out the distributed model because our model allows us to do that and bring the economics into multiple regions. We were convinced early on that regulatory compliance and data privacy and other enterprise factors would gravitate toward a local model. Local might be within the EU or in the Americas or Canada, so our strategy has been to open multiple datacenters in various regimes that have strong regulatory compliance requirements.
Our network is unique in the industry in that it interconnects all of the data centers and it allows clients to be in control over what does or doesn't move. When we sit down and go through with the CSO of a large financial institution or other regulated industry, that difference becomes very, very clear.
Microsoft (NASDAQ:MSFT), AWS (NASDAQ:AMZN) and Google (GOOG, GOOGL) have a degree of opaqueness. They'll tell you, they'll promise me, you know, "trust me," but you can't really verify. In SoftLayer, we can expose and give them visibility so they can be assured that once the devices are theirs, we - IBM - no longer have access. They have total control, they can audit that control, they can verify it - and that's a very powerful element of helping clients through that.
Again, three or four years ago, security was a reason not to move to cloud. Now, it's an engineering problem to be solved. What we're doing with the build-out is that we're making it easier to address compliance and regulatory concerns, as well as performance and other factors. By being able to have the services that need to be local "local," and being able to aggregate data faster across the network, there's a lot of benefits.
You've now seen that Amazon did not open new regions in the past - they've now opened or are planning to open five or six new regions this year. Microsoft has been pretty aggressive - they had to come up with a strategy to enter into Germany, for instance, with partners. So, quite frankly, we've been leading in this space, and they are recognizing the same thing we saw three years ago, when we acquired SoftLayer.
My Commentary
The data center element is a crucial one for cloud operators targeting the enterprise segment. Local compliance and regulatory restrictions are often prohibitive for large companies with sensitive data attempting to move to the cloud.
But the real question is: do they actually have an advantage with only 47 data centers against Microsoft's 100+? The answer here may not be in absolute numbers. As Dr. Comfort points out, IBM does take the effort to showcase the transparency and control that highly regulated industries can rely on. If you go to the SoftLayer web page about their data centers, you'll see that each data center's capabilities are laid out individually and can even be tested by potential users.
So it looks like IBM wants to challenge their competitors to follow suit and make things as easy as possible for potential customers to understand the breadth and depth of the cloud data center footprint around the world - which is good for the industry as a whole.
In addition, the number of regions where these data centers are currently in operation provides a moat for IBM, albeit a temporary one that the competition will eventually catch up to. IBM will need to move quickly to take advantage of their position now and highlight this in their marketing message to enterprises and other potential clients.
To elaborate that point, based on what Dr. Comfort shared with me, I was curious about how they were actually leveraging their data center advantage to approach local companies in the countries that span their data center footprint.
Shudeep Chandrasekhar:
So, specific to the compliance issues you mentioned, has there been any increase in business development because you have overcome those issues? For example, domestic companies looking for cloud solutions approaching IBM, or IBM soliciting domestic businesses?
Jim Comfort:
Oh, absolutely. We've had businesses tell us "we absolutely want to go to cloud, we need to transform, we will not do it in the model that some of (your) competitors have." They are comfortable, and we have worked this through with the CSOs of many major institutions. So it's absolutely a differentiator.
Now, people claim similar things, but there's a difference between doing some work and actually betting the franchise.
My Commentary
Although Dr. Comfort did not divulge specifics about these companies, I did some research on a few companies they've partnered with. Box (NYSE:BOX), Inc. is one that I'd like to highlight here. The company, in a bid to offer local data storage for its users, is looking to IBM and Amazon for solutions. IBM already is a partner with Box on several cloud initiatives, so it's easy to see why IBM would be the ideal partner for companies that face what are known as "data residency requirements" that countries and industries use to control where certain types of data are physically stored.
Although Amazon, Microsoft and Google all have the ability to provide local data storage options for such industries, you can see why Dr. Comfort's claim of transparency and control would be a significant deciding factor for companies in these regulated industries looking to move into the cloud.
On another note, if you've read my earlier articles on IBM, you'll know of my concerns about IBM not having a strong enough or clear enough marketing message despite having more robust cloud capabilities than many of their competitors.
For quick reference, here are some link to those articles, if you're interested:
Cloud Investing: Buy The Space, Not One Company
IBM Cloud: Can It Save Second Place?
IBM: 2 Important Verticals To Watch
IBM Exclusive Interview Series 1: Inhi Cho Suh On The Future Of Analytics As A Service
So, I asked him about that.
Shudeep Chandrasekhar:
So is there a perception, Dr. Comfort, that maybe IBM is not presenting their holistic cloud offering to the market? You know Amazon is being aggressive about - even Google for that matter - highlighting their price advantages, for example. Microsoft is now value bundling it with Office 365 - they give free Azure credits with Office 365 signups. So, are the others pushing too hard or is IBM not pushing hard enough into the market? What are your thoughts on that?
Jim Comfort:
Well, I think everyone is trying to use their comparative strengths as an advantage. You can argue both sides - if Microsoft has to bundle Azure free when they're selling Windows, why is that? If Amazon is doing deep discounts, their deepest discounts are if you pay two or three years in advance, you get a deep discount. That's not really a cloud model (laughs). Having said that, relative to Amazon, again going back to the 24/7 (applications), for many, many cases, when you look at their real TCO (total cost of operation) inclusive of network charges and data charges and all of this, a SoftLayer solution can be twenty to thirty percent cheaper - on a TCO basis - than Amazon. So we have no cost disadvantage.
There are certain areas, something they're particularly good at, object storage, for instance, historically was a gap. We did an acquisition of Cleversafe, and Cleversafe allows us to do - in our hybrid model - either a dedicated or a shared object store. In the dedicated case, you can get superior economics even to Amazon for an individual client so they can control the security.
I think that the challenge that we still have is, certainly, to talk more simply about our portfolio, and to recognize that it's the idea of the cloud. We knew this was coming since 2008 - we knew that cloud was a huge opportunity but wouldn't present itself to us in a way that fits our mold. But we started it within the context of the businesses that we had. As it got large enough, we've now created a cloud unit, but there's still different pieces that have some affinity to the cloud unit and some to the original IBM structure - so that's what we need to get rid of. It's the IBM Cloud, and it does the things I talked about - it gives you choice, it gives you DevOps productivity, you have access to analytics and cognitive capabilities that are unique, and you can use this as an integration point for your hybrid cloud deployments.
Our problem - the blessing and curse of IBM - it's a breadth of our portfolio. It's what allows us to do large transformative projects, but it tends to appear more complicated than it should.
So what I would say is that we need to do a better job of having a simpler message without pretending that simple things solve complex problems. I'm playing with words, but you understand the difference.
Shudeep Chandrasekhar:
Yes, I do. I agree that the messaging needs to be simpler because at the end of the day, your buyers are looking for advice and recommendations from the experts rather than having to make the decision themselves. You may need to hand-hold them to the right solution, and with such a large portfolio, it's quite possible that it overwhelms them.
Jim Comfort:
This is why what we need to focus on is "what is the business problem, what is the transformation required, and then let the right elements of the portfolio be brought into that." If, when we approach it that way, we're highly successful, and I think the clients appreciate that.
Shudeep Chandrasekhar:
So is there an active training program around this for the cloud marketing people?
Jim Comfort:
We're constantly evolving our messaging, and I think that we have very clear messaging on the four points of view that I walked through with you. And the portfolio will continuously evolve, so this is an ongoing journey. But there is a very clear value proposition on each of the primary entry points and themes that I talked about, so we're always doing that.
My Commentary
So there's a definite shift toward the way IBM is talking to their clients on the cloud side of things, but the bulkiness of their portfolio might be preventing them from actually effecting that shift quickly.
I still see this as a weak point with IBM, but they seem to be aware of the issues there. In Amazon's case, the messaging is fairly simple - just move everything to the cloud. For Microsoft, it's more of a "try us and see" approach that focuses on Azure above everything else. Google is still going with the "we're the cheapest" model, and that may well work out to their advantage in the small- to mid-sized business segments.
All four companies - what I call the Cloud 4ce companies - have strengths that they are playing to. With IBM, it's hybrid solutions for large enterprises and superior analytics and cognitive SaaS portfolio; for AWS, it's about the flexibility and scalability attraction; in Microsoft's case, it's their suite of powerful SaaS offerings; for Google, it's pricing, for now.
Each company has an advantage in at least one area, as you can see. The important part is how these advantages are highlighted to the market that they're all attempting to woo.
As Dr. Comfort said in the first part of this interview, it's about how quickly each company's share can move from the $1 to $10 billion range and tap into the $800 million to $1 trillion opportunity that currently lies beyond the reach of them all. The key is about how effective their messaging is and how that message is perceived by the market at large. From that perspective, each of the Cloud 4ce companies needs to keep working on that messaging and get it "just right" for the segment they hope to serve.
At this point, the only tangibles in this industry are absolute numbers on the revenue and user base front and large client acquisitions on the marketing front.
In the next section of the interview, I dive deeper into the developer side of things. Every one of the Cloud 4ce knows that to effectively penetrate the market, they must address the needs of the developers and CTOs that are ultimately driving the decisions for their companies to move to cloud and choose one provider over the other.
Please follow me so you can get a real-time alert when the final part of this series is published.
Disclosure: I/we have no positions in any stocks mentioned, and no plans to initiate any positions within the next 72 hours.
I wrote this article myself, and it expresses my own opinions. I am not receiving compensation for it (other than from Seeking Alpha). I have no business relationship with any company whose stock is mentioned in this article.