Building permits were expected to hit 1200K in March. Up from 1177K in February. Permits not only missed estimates but declined and ended at 1086K. It is still a year-on-year increase of 4.62%.
Housing starts however were expected to drop towards 1170K units. The number came in lower than expected at 1086K. The year-on-year increase is a remarkable 14.15%.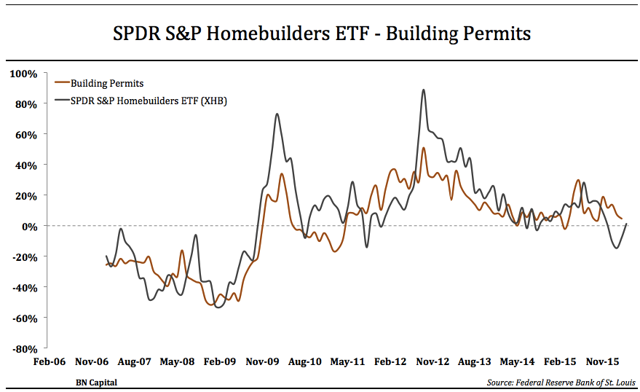 Homebuilders looked really cheap in February and March. Since then, the SPDR S&P Homebuilders ETF XHB has rallied over 24%. In other words, homebuilders soared twice as much as the S&P 500.
Now it looks like the party is about to come to an end. At least on the short term. Building permits indicate that there is about 1-4% upside on the short term. I won't take that risk after a huge rally and sell my D.R. Horton (NYSE:DHI) shares.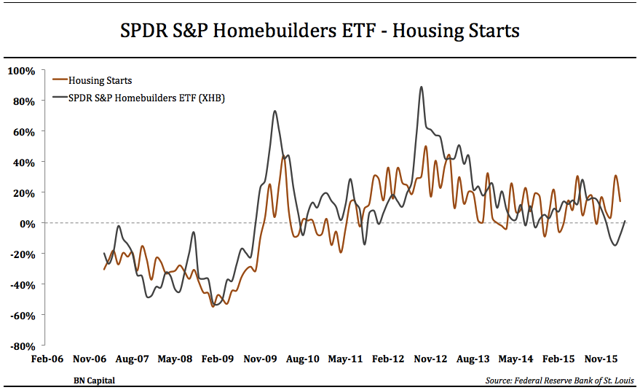 Housing starts are a bit more optimistic. Homebuilders have about 10-15% more upside on the short term. However, housing starts are far more volatile and less reliable on the short term. A reason might be that every single apartment counts as a 'house' in these statistics.
Another thing I wanted to share with you is the ratio spread between the SPDR S&P Homebuilders ETF XHB and the SPDR S&P 500 ETF SPY. Homebuilders do not significantly outperform if building permits are strong. However, they underperform in times of declining growth.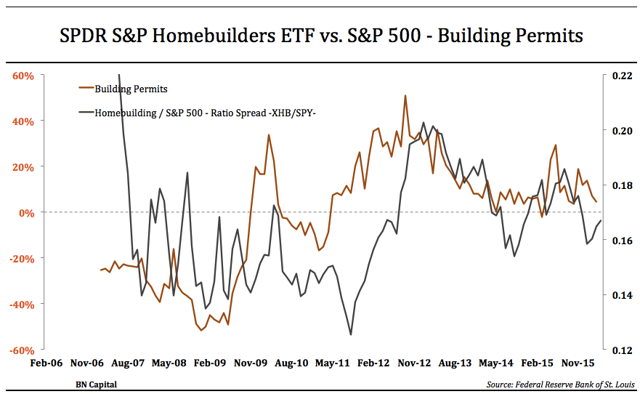 I am not interested in another long position in homebuilders at the moment. My time horizon is 3-6 months and therefore no indication for the long term. Is doesn't look like the long term picture is in distress. However, I don't see any short/mid term alpha performance if I buy homebuilders. The rally was amazing after a 25% sell-off from the all time high. And fundamentals are not strong enough to confirm a strong bull case.
Disclosure: I/we have no positions in any stocks mentioned, and no plans to initiate any positions within the next 72 hours.
I wrote this article myself, and it expresses my own opinions. I am not receiving compensation for it (other than from Seeking Alpha). I have no business relationship with any company whose stock is mentioned in this article.