Introduction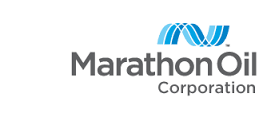 Now that Oil has had its best hope shot down like a sun-destined bird with wax wings, I expect general sentiment surrounding the commodity to return to very bearish levels.
I counter this expectation with all the good news I see coming out of Marathon Oil company(NYSE:MRO). The company has taken great steps to shore up their balance sheet with equity offerings in Q1 and asset sales that had the stock roaring +12% after it is announced.
So with this neutral or seemingly positive mix of company news and data, why am I shorting Marathon Oil Corp here?
Q1 earnings - all about the headlines
If you have been investing for any length of time then you have likely seen how headlines and the way they are written can have a huge impact on stocks. Many investors and more machine based traders will focus on this headline, failing to see what is really underneath.
The consensus estimates for Marathon's Q2 results, which they are expected to release on May 5, 2016, are for a loss of -$.48 per share. The range of estimates I found went from -$.28 to -$.89 per share.
What I am interested to see is how the recent asset sales affect this. Companies do count sales of assets as part of their income as they rightly should but that data is usually segmented off as a different type of income so that we can see clearly into the regular income(or loss) from continued operations.
Another interesting thing will be to see if the company adjusts for those asset sales and therefore adjusts their own EPS downward.
Most of the time companies will "adjust" their earnings to make them look better, why do it they other way?
What number makes it into the headline will be important. Will it be the likely hideous GAAP EPS that shows the company is still losing buckets of money even after oil has gone from $26 to $40, or will it be the much improved, maybe even positive, adjusted number?
Actual, real oil data remains bearish
A case could be made that the recent run in Oil was driven mostly by speculation and fueled by speeches and other rhetoric from important Oil producing countries.
The IEA released their latest report on April 14 and cited demand growth in 2016 will be only 1.2 mb/d versus 1.8 mb/d in 2015. They cited a slowdown in the US, China, and most of Europe as the reason.
Global supplies did tick down in March with a decrease of .3 mb/d but that is one of the few bullish data points I could find.
OPEC production actually fell in the month because of outages in places like Nigeria and Iraq but considering these are temporary outages that will certainly be fixed and Iran continues to increase their production, albeit slower than expected, I can't see this data as anything but a temporary boost and OPEC production should certainly increase looking out further than a few months.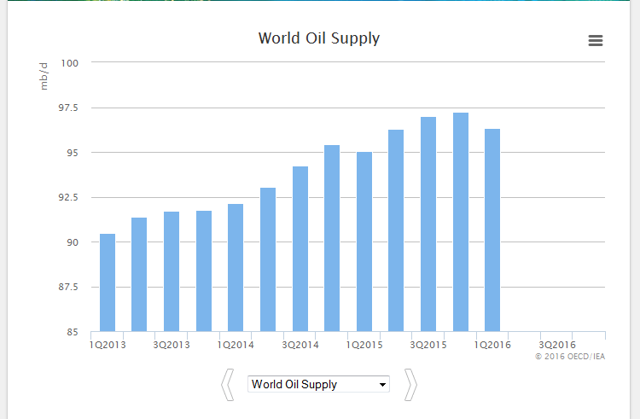 US production is dropping but very slightly. EIA said their production estimates for the US were 9.0 mb/d in March 2016, 90,000 below February. This 9.0 million number is still far above their 8.4 million expectation for 2016 and their 8.0 million number for 2017.
Clearly, despite all the CapEx cuts and bankruptcies among smaller oil companies, US production remains resilient.
Going against the Smart Money
A recent Reuters story released just today detailed how the "smart money", big companies like T Rowe price, Fidelity, and American funds, were throwing money hand over fist into oil firms. The article states that they are convinced that oil is bottomed here.
But Greg, doesn't taking the opposite side of the trade against such big players make you scared? They have to be right, right?
If I have learned anything in my investing career it is that no matter how big a firm might be, no matter one's reputation, no matter how much money or assets under management they have, they can still be wrong.
Frankly, this is probably what keeps investing exciting. It is a constantly evolving challenge that is particularly difficult to master.
Examples abound but one could note Bill Ackman's terrible 2015 year, not to say that he can't bounce back, or simply look at how many hedge funds or active mutual funds disappear into the quiet night every year.
When you go against the grain there is more money to be made. Sure, it is risky, but without the possibility of getting trampled by the herd you will never learn to survive in the jungle.
Another note should be mentioned that this is likely a fairly unique trade in that many assume someone negative on Oil would not short MRO here and prefer to target the dying independent E&P MLPs or something to that effect.
The problem with that trade is it has already been played out long ago and will be difficult or even impossible to execute.
How to execute the short
For investors interested in a trade like this, there is an alternative to simply borrowing shares from your broker, selling them and then hoping the price goes down so you can return them.
The alternative is to use puts. The risk profile of using puts is different than a normal short and may be more suitable.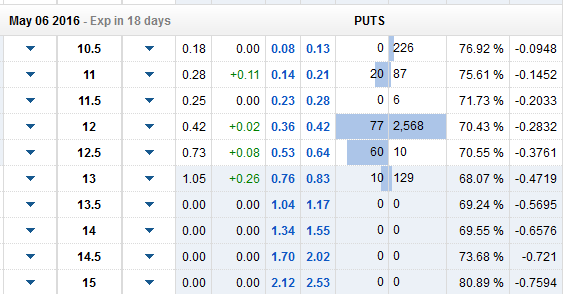 I won't got into much detail about how this options strategy works as I am by no means an expert. An introductory guide to put options can be found here.
(Disclaimer: Options are complex and risky and may not be suitable for all investors.)
What could go wrong?
Since this trade is essentially a trade on oil using MRO as a proxy, any reversal in the direction we expect oil to go will likely drag MRO with it barring any company specific bad news.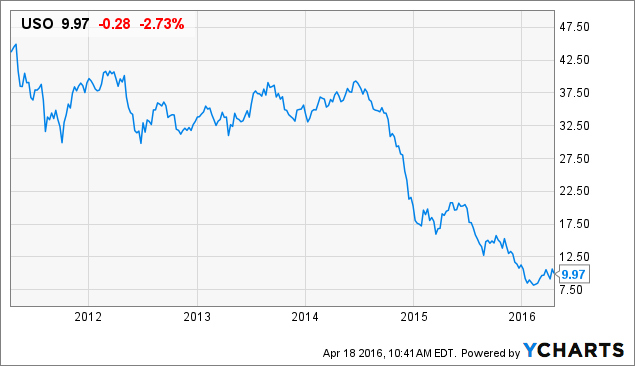 The company could report better earnings from asset sales and this could cause investors to ignore the underlying money losing. This could cause the shares to jump as investors pile in to what they think is a safer energy name, working against your trade.
An option would be to cover before then or use options that expire before the earnings call or long after if you outlook on oil is bearish for the rest of the year.
An unlikely buyout could appear out of nowhere. I don't think a buyout of Marathon is on anyone's radar especially ever since Exxon Mobil(NYSE:XOM) said that they were not interested in buying companies, only great assets.
I haven't seen many whispers of M&A in the oil patch since then other then the continued troubles from the Williams(NYSE:WMB) merger with Energy Transfer Equity(NYSE:ETE).
Conclusion
I believe a short position on MRO has a great risk/reward profile as my outlook for oil has turned decidedly bearish after Doha. Saudi Arabia originally caused the oil sector mess after they started defending their market share and I continue to believe they possess the most power to fix if they so choose.
While some smart money may be working against you and believe Oil has bottomed, this makes this short trade more contrarian, cheaper to execute, and has big potential should you be right.
Disclosure: I am/we are short MRO.
I wrote this article myself, and it expresses my own opinions. I am not receiving compensation for it (other than from Seeking Alpha). I have no business relationship with any company whose stock is mentioned in this article.