We might be only a short time away from finding out the fate of Yahoo's (YHOO) core business. Will it be sold to Verizon (NYSE:VZ), speculated to be one of the most likely outcomes? And will it attract a winning bid of up to $10 billion, as some believe to be possible?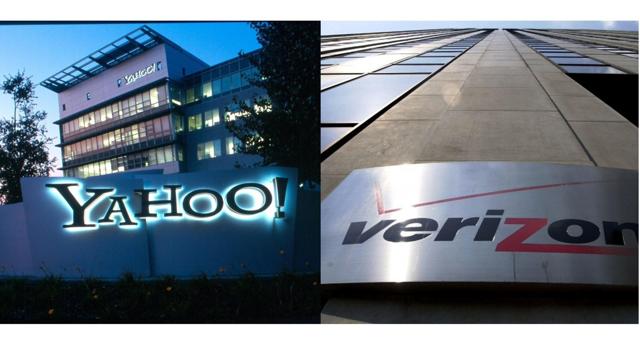 Credit: Breaking News USA and PC Games Hardware
I have recently shown that mega mergers and mega acquisitions tend to be value destroyers to shareholders over a five-year period, in most cases. When the subject is the acquisition of a declining business estimated to be worth around $5 billion for a price tag that could be twice this large, I become more skeptical.
In this article, I explore three ways that VZ could deploy its resources in a way that I believe would create more value to the company's shareholders. This short list, of course, is not meant to be all-inclusive, but hopefully long enough to start up a debate.
Number 1: wireless densification
VZ takes pride in being recognized as a best-in-class network service provider. CFO Fran Shammo stated that "national studies recognize Verizon as the overall 4G LTE network performance leader, leading in categories of overall performance, network reliability, network speed, data performance and call performance." Mr. Shammo complemented by saying that, even in a highly-competitive environment, "the network is a differentiator" for the company. In addition, 5G may be on the verge of commercial availability in the U.S., pending spectrum free-up from the FCC, as the technology is already delivering speeds of over 1 gig. VZ will likely want to lead the introduction of the new technology in the U.S.
So to remain competitive as data consumption for applications like video and the IoT (Internet of Things) skyrocket and as wireless technology evolves, VZ needs to continue to deploy resources into network densification. To be clear, the company already invested a sizable $17.5 billion in capital projects in 2015, up 3.4% from the previous year (or $30 billion, if I include the acquisition of businesses and wireless licenses). But these investments did not come without a cost, as cash outflow from investments in 2015 represented nearly 80% of the company's cash flow from operations (vs. 52% in 2014 and 38% in 2013).
Having ended 2015 with $110.2 billion in debt and only $4.5 billion in cash and equivalents, VZ could funnel the resources otherwise directed to a YHOO acquisition towards network densification without having to rack up additional debt or compromise as much of its future cash inflows.
Number 2: international expansion
VZ produces nearly all its revenues domestically. The top 6 western carriers outside the United States (America Movil, Deutsche Telekom, Orange, Telecom Italia and Vodafone) generate an average 63% of their revenues from operations outside their home country. In some cases, these revenues come from emerging markets that may be currently underserved by fast, reliable wireless services.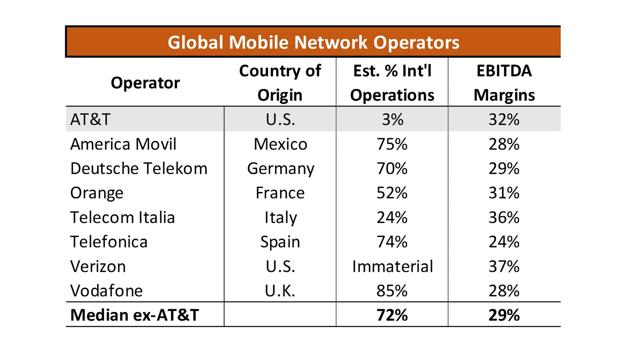 Source: DM Martins, using data from multiple Company Reports and online sources
I have recently argued that, "despite the possible negative impact that being spread out thinly across different countries may have on profitability (possibly due to higher overhead and fewer synergies), going global is crucial in a sector as competitive and mature as telecom." AT&T has recently entered Mexico through the acquisition of Iusacell, Nextel and Unefon, and the company seems to be satisfied with its performance in the country so far.
One possible move for VZ, one that would expose it to a nearby emerging market with growth potential, is to enter Central and Latin America through the acquisition of Cable and Wireless. The Miami-based carrier provides mobile (53% of revs), broadband, TV and fixed line services in 15 markets in the Caribbean region. In 2015, the company delivered EBITDA margins of about 33% -- not too bad compared to the global telecom average of 29%, considering that potential synergy gains are not factored in. Although Cable and Wireless' enterprise value represents about 10x its trailing EBITDA, rich in the telecom world, this deal still seems more likely to generate positive shareholder value than an acquisition of YHOO would, in my view. And with a current market value of $5 billion, an acquisition of Cable and Wireless could be more strategic and less resource-consuming than that of YHOO's core assets.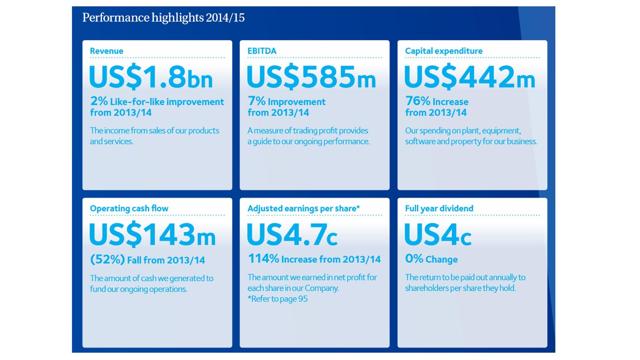 Source: Cable and Wireless' Annual Report
Number 3: debt repayment
As I mentioned previously, VZ ended 2015 with $105.7 billion in net debt, representing a net debt-to-adjusted EBITDA ratio of 2.3x. The company's gross debt balance accounted for a whopping 45% of its total assets in 2015, compared to AT&T's 31%. All this debt has cost VZ $4.9 billion in interest in 2015 (nearly 4% of revenues), up from $2.7 billion in 2013 (just north of 2% of 2013 revenues).
In my view, a better use of VZ's resources could be to reduce the company's debt load. I calculate that VZ has over $5 billion (book value, just about what I consider to be the intrinsic value of YHOO's core business) in long-term debt that carries a fixed interest rate of 7% per year or more. These $5 billion generate what I estimate to be $400 million in interest payments every year.
This last would be a much safer, conservative move. But considering that the value potential of the YHOO acquisition is questionable at best, debt repayment could prove to be a better decision in the end.
Disclosure: I/we have no positions in any stocks mentioned, and no plans to initiate any positions within the next 72 hours.
I wrote this article myself, and it expresses my own opinions. I am not receiving compensation for it (other than from Seeking Alpha). I have no business relationship with any company whose stock is mentioned in this article.