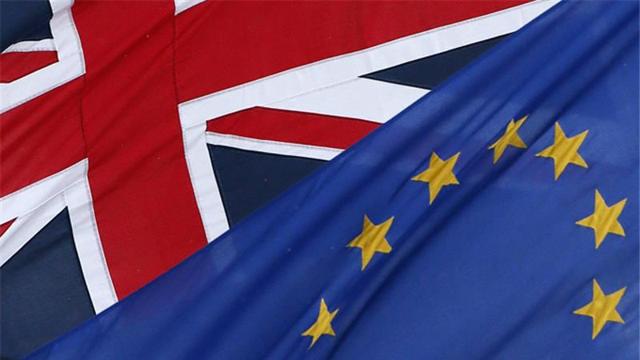 "It's not going to happen," said DoubleLine Capital founder Jeffrey Gundlach when he was asked about the Brexit. We have to say we agree with Gundlach and continue to go long with the British pound against the euro (NYSEARCA:FXE).
In a recent interview he unknowingly echoed our sentiment precisely by stating that "the devil you know is better than the devil you don't know." We have always felt there are too many uncertainties that could potentially leave the British economy in ruins, for the people to vote to exit the European Union. Perhaps those that feel disenfranchised will vote for an exit, but we feel anybody who is happy with their financial situation, their employment, and their house price is very likely to vote to remain in the European Union.
Gundlach does have a good record with predictions like these. Last year he predicted that oil prices would plunge, junk bonds would live up to their name, and emerging markets would suffer from China's slowing economy.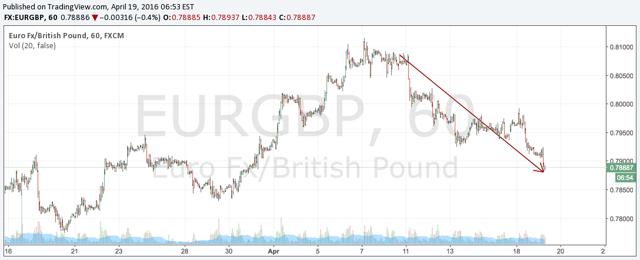 Sourced from DailyFX
We do believe that sentiment has been changing since we last spoke about the British pound. As you can see on the chart above, the euro has dropped against the pound from around 0.8100 to 0.78887 in the 9 days which have passed since we called to go long with the GBP. As far as we are concerned this 2.6 percent decline by the euro versus the pound is only the beginning of steeper ones to come as Brexit fears starts to get priced out.

Sourced from the Financial Times
The most recent polling shows a slight lead for remaining in the European Union, with 15 percent undecided. By all accounts, this is very close. But it is difficult to trust polls. The vote for Scottish independence in 2014 was extremely close according to the polls, but ended up with a 55:45 vote in favor of staying a part of Britain.
Interestingly, almost one in two no supporters voted against Scottish independence because they felt the risks to the currency and jobs were too high. When it comes down to it, jobs matter most.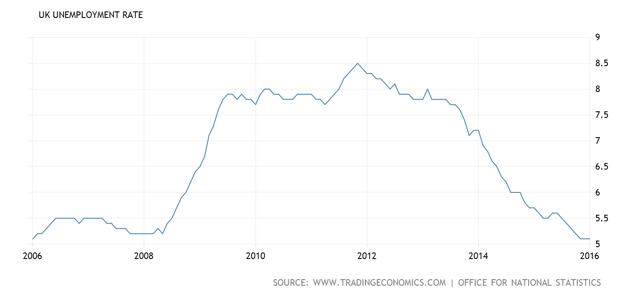 Unemployment in Britain has just got down to the pre-GFC level. Things have not been this good since mid-2008 and we don't expect people to want to bring about something which could cause chaos in financial markets and lead unemployment levels to spike again.
Both the leave and remain camps will be out in force for the next two months trying to win the support of the people. This will create a lot of noise and may send the British pound up and down a touch, but ultimately we see it heading upwards against most major currencies, especially the euro.
Now that the United States is looking less likely to raise interest rates for some time, and almost definitely not before the June 23 Brexit vote, we feel going long with CurrencyShares British Pound Sterling Trust ETF (NYSE:FXB) is a good move today.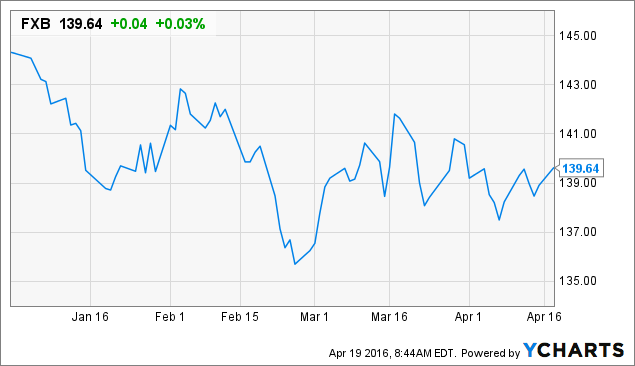 We believe if and when Britain votes to remain in the European Union, the pound will strengthen against all major currencies, including the U.S. dollar. We expect a rally up toward where it stood at the beginning of January, around $145.00. This would be a return just over 3.8 percent from where it currently trades.
There are notable risks to consider. The most obvious being a shock exit from the European Union. We like many believe the pound would weaken considerably should this happen, no matter how much it has fallen recently. Additionally, if the Federal Reserve were to surprise the markets and raise interest rates it would probably cause the U.S. dollar to strengthen universally, offsetting any gains by the pound from a success remain vote.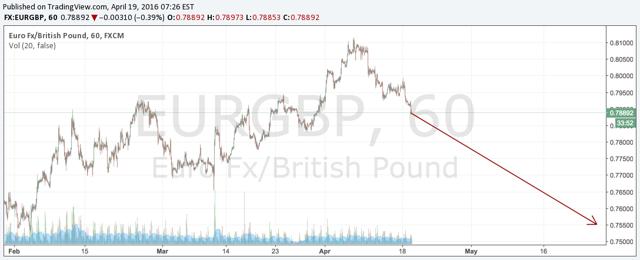 Sourced from DailyFX
The EUR/GBP pair is our favourite at the moment however. We envisage a successful remain vote dragging the euro down to the 0.7500 level. This would represent a decline of approximately 5 percent from the current level.
As we have said many times before, this is not a straightforward trade and is likely to be filled with many ups and downs. We feel very confident that the Brexit will not happen and the pound will strengthen. This will almost certainly provide traders with excellent gains in the next two months due to the huge sell off in pounds recently.
Best of luck with your trades!
Disclosure: I am/we are long FXB.
I wrote this article myself, and it expresses my own opinions. I am not receiving compensation for it (other than from Seeking Alpha). I have no business relationship with any company whose stock is mentioned in this article.
Additional disclosure: Long GBP versus Euro via futures contracts