Transocean (NYSE:RIG), the world's leading offshore drilling contractor with 61 rigs in its fleet, will report its quarterly results after the markets close on Wednesday, May 4, just weeks after the company provided an even grimmer future outlook.
The Switzerland-based company that operates mainly from Houston, Texas, comes with a solid track record of beating analysts' estimates. The company has beaten Wall Street's revenue and earnings consensus for the last seven quarters in a row. The strong performance was driven in large part by revenue efficiency, which averaged 96% in 2015, including 95% for ultra-deepwater, and cost saving measures, which was bolstered by the exit of older units.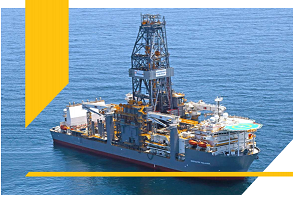 Image: Transocean
For the first quarter of the current year, the Street's consensus estimate is for revenue of $1.11 billion, operating expenditure of $632.6 million, EBITDA of $441.5 million and EPS of $0.24, according to Credit Suisse's analysts led by Gregory Lewis. In a research report emailed to me, Lewis said that he is expecting slightly higher revenue and EPS of $1.12 billion and $0.27, respectively.
As a reminder, Transocean has recently reiterated that it has removed two dozen rigs from its fleet in order to improve its asset quality to focus on delivering best-in-class revenue efficiency while looking for additional cost saving solutions. It has already lowered its riser inspection and repair costs for each joint by 25% from 2014, rig out of service time and costs by 60% from 2013 and daily DP stacking costs to less than $20,000 per rig. With strong revenue efficiency and cost saving initiatives, the company is positioned to deliver better-than-expected results again for the first quarter.
But the outlook of the offshore drilling industry couldn't get any worse. Last month, Transocean CFO Mark Mey said that drilling activity in the offshore markets could begin to pick up over the next 12-24 months, but the recovery of day rates, which have halved since last year, is going to take longer. A couple of weeks later, Jeremy Thigpen, Transocean's CEO, said that the rates may remain subdued until 2019-2020. The management has effectively ruled out the possibility of any near-term recovery.
These thoughts are also in line with what we've heard recently from other industry veterans, including Per Wullf and Paal Kibsgaard, the heads of Transocean's rival Seadrill (NYSE:SDRL) and the world's largest oilfield services company Schlumberger (NYSE:SLB), respectively. We'll likely hear more on this from Transocean's management during the conference call.
However, the focus of the conference call will likely be around Transocean's ability to withstand the down-cycle. The company exhibited its decent balance sheet when it released its fourth-quarter results. RIG had a total debt-to-equity ratio of 58.6% at the end of last year, which is slightly better than the industry's average of 59.3%. The company had liquidity of $5.3 billion, including $2.3 billion cash and $3 billion available under the revolving credit facility. That should cover annual capex of roughly $2 billion and debt payments of $1.6 billion through 2017. It also helps that Transocean carried an industry-leading $15.5 billion backlog, which enhances the visibility regarding future cash flows.
However, Transocean is facing some major headwinds, and its financial health could deteriorate in the coming months. In addition to a worsening business environment, more than a dozen of the company's rigs, including floaters and jack-ups, roll off contracts this year. According to the company's latest fleet status report (Feb.), it has six idle floaters, but at least 10 more floaters will come off contracts this year. Moreover, three high-specification jack-ups are also facing contract expiration this year, including one in April. That's going to negatively impact its earnings, cash flows and leverage metric (net debt-to-EBITDA).
Investors will be understandably concerned about the strength of the company's balance sheet moving forward, and I believe the management will likely use the conference call to allay such fears. The company will likely remind investors that its debt levels are manageable, liquidity remains solid and it is focused on converting the backlog into cash flows. But what I am most interested in hearing is whether the company plans to tap into the capital markets which could allow it to withstand the downturn for an extended period, particularly since Transocean's rival Ensco (NYSE:ESV) has recently completed a successful equity offering which has lifted its balance sheet by $500 million. I believe any such move at this stage will be welcomed by the markets.
Disclosure: I/we have no positions in any stocks mentioned, and no plans to initiate any positions within the next 72 hours.
I wrote this article myself, and it expresses my own opinions. I am not receiving compensation for it (other than from Seeking Alpha). I have no business relationship with any company whose stock is mentioned in this article.