Oil prices fell this week after the world's oil producers failed to agree on a production output freeze at Doha meeting on Sunday. However, the drop in oil prices was not too high, which strengthened my belief that the worst for oil prices is over, and the recovery in crude prices could continue. According to oilprice.com, the fundamentals for oil prices are moving in the right direction, and the outcome of Doha meeting does not matter because market forces are doing what they always do. Oil supply and demand will be back in balance by the end of this year regardless of what OPEC does.
Brent crude oil fell 4.3% from its April 12, high of $44.69 per barrel, and WTI crude oil dropped 5.6% from its April 12, high of $43.50. However, Brent crude oil last price of $42.76 per barrel is still 41.9% up from its 12-year low on January 20, while WTI crude oil last price of $41.05 per barrel is up 29.2% from its January 20 low of $31.77.

Brent Crude Oil, June 2016 Leading Contract With 50 Day Moving Average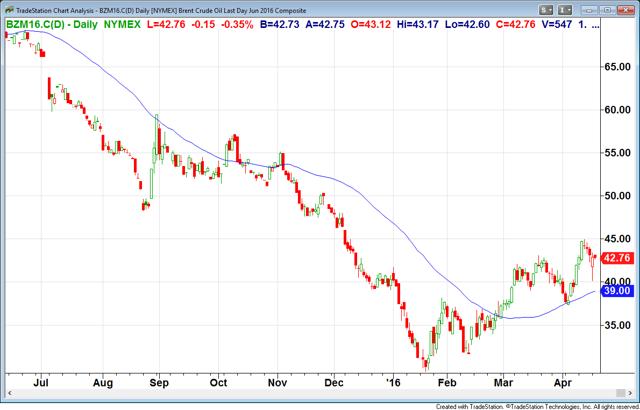 WTI Crude Oil, June 2016 Leading Contract With 50 Day Moving Average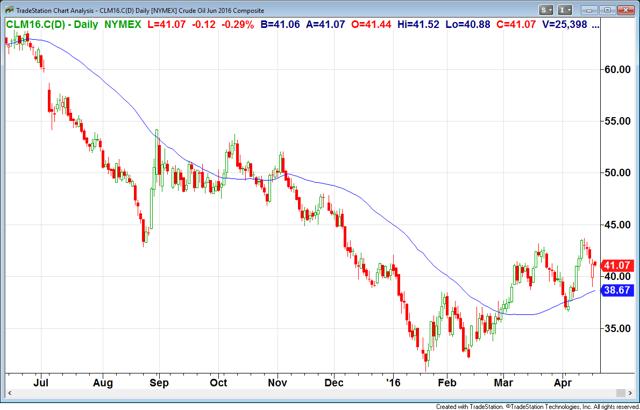 Charts: TradeStation Group, Inc.
Ensco plc (NYSE:ESV) stock has significantly underperformed the market in the last few years. Ensco, like other offshore drilling companies, has experienced weaker demand driven by a reduction in exploration spending, as major oil companies are cutting spending due to lower crude oil prices. Since the beginning of the year, ESV's stock is down 34.5% while the S&P 500 Index has increased 2.5%, and the Nasdaq Composite Index has lost 0.9%. Moreover, since the beginning of 2012, ESV's stock has lost 78.5%. In this period, the S&P 500 Index has increased 66.5%, and the Nasdaq Composite Index has risen 90.4%.
ESV Daily Chart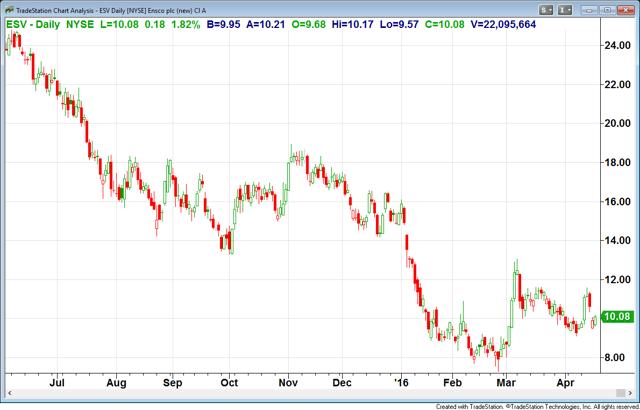 ESV Weekly Chart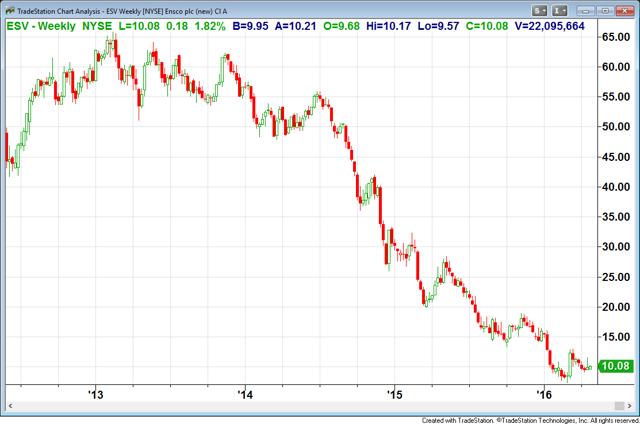 Charts: TradeStation Group, Inc.
Along with its fourth-quarter earnings release from February 24, Ensco announced that to improve capital management flexibility in light of the market downturn and less visibility regarding customer demand, the company cut its quarterly dividend from $0.15 to $0.01, yielding 0.40% a year at the current stock price. Ensco registered a significant loss of $10.64 per share in the fourth quarter. However, the loss was derived from non-cash asset impairments and discontinued operations. Excluding these items, adjusted earnings per share from continuing operations were $0.92 in fourth quarter 2015 compared to $1.68 a year ago.
CEO Carl Trowell explained:
As the downturn in the offshore drilling market continues given further declines in commodity prices - we believe it is prudent to take additional steps to increase liquidity and improve capital management flexibility by reducing our dividend. Reducing the dividend will provide us with $130 million of additional liquidity on an annual basis, bolstering our current liquidity position of more than $3.5 billion, including $1.3 billion of cash and short-term investments and a fully available $2.25 billion revolving credit facility.
Ensco is scheduled to report its first-quarter 2016 financial results on Wednesday, April 27, after market close. According to 32 analysts' average estimate, Ensco is expected to post a profit of $0.72 a share, a 52% decline from its actual earnings for the same quarter a year ago. The highest estimate is for a profit of $0.96 a share while the lowest is for a profit of $0.46 a share. Revenue for the first quarter is expected to decrease 31.5% year over year to $797 million, according to 23 analysts' average estimate. There were eight up revisions during the last seven days and eleven up revisions during the last 30 days. Since Ensco has shown earnings per share surprise in all its last eight quarters, as shown in the table below, there is a good chance that the company will beat estimates also in the first quarter.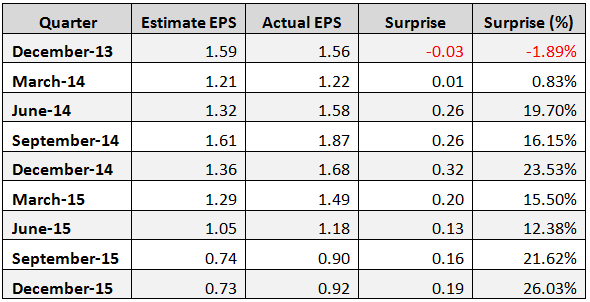 Data: Yahoo Finance
Valuation
ESV's stock is trading way below book value; price to book is at 0.36. The forward P/E is very low at 11.1, and the price to sales ratio is very low at 0.63. Furthermore, the price to cash ratio is also very low at 1.95, and the Enterprise Value/EBITDA ratio is extremely low at 3.34. The company's S&P credit ratings is BBB, better than most its competitors, and its net income margin is the highest among the largest offshore drillers.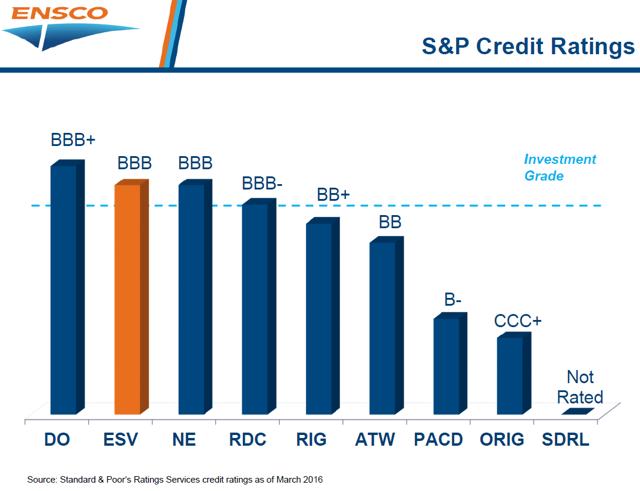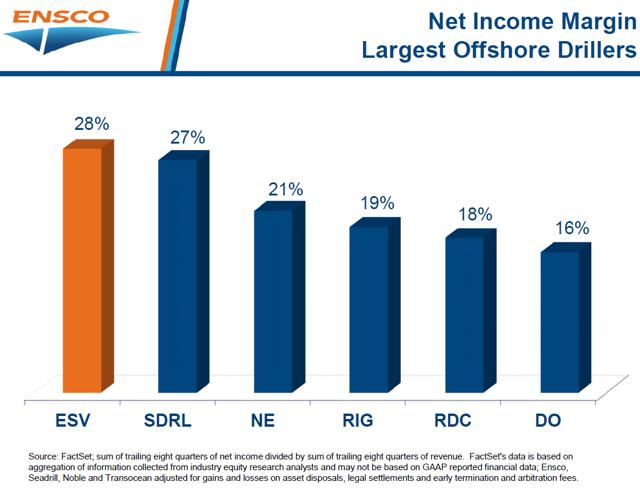 Source: Scotia Howard Weil 2016 Energy Conference
Conclusion
ESV's stock is a great play for investors who expect a recovery in the prices of oil during the next two years. As I see it, Oil prices will eventually recover sooner or later. Commodities prices are moving in cycles, and lower capital expenditures on exploration and production will eventually cause oil prices to rebound. In my view, ESV's stock will give investors a significant price appreciation when oil prices recover, and the recent drop in its price creates an excellent opportunity to buy the stock at an attractive price.
Disclosure: I am/we are long ESV.
I wrote this article myself, and it expresses my own opinions. I am not receiving compensation for it (other than from Seeking Alpha). I have no business relationship with any company whose stock is mentioned in this article.