Introduction
One of the cool parts of investing, at least for geeks like me, is thinking about how you are profiting while sleeping or watching people at the grocery store buy products from a firm you own.
It seems amazing that ordinary people have the ability no matter their race, background, socioeconomic status, gender, etc. to buy and own shares in world-class businesses as long as they save up the cash.
Do you want to get a tiny slice of the profit every time a mom buys the latest toy for their kid at Christmas or when Apple (NASDAQ:AAPL) ships the next iWidget to millions of fanatics around the globe?
You can if you buy United Parcel Service (NYSE:UPS). In this article, we look at some potential threats to UPS, consider their severity and consider the financials and valuation.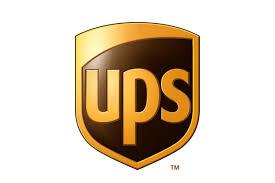 Amazon threat?
Amazon (NASDAQ:AMZN) has been making waves lately that they intend to get into the shipping business in a more meaningful way. They have leased 20 planes from Boeing (NYSE:BA), intent on using them for air shipment.
They have also received a license to expand into ocean freight and started growing their truck fleet little by little.
The opinions on these developments are as varied as opinions on Amazon and the stock in general. My feeling is that while it is a threat to UPS and other shippers, it presents a very minute one.
Amazon might simply expand their network to help out third-party sellers on their platform that currently have to find another way to get their product to the Amazon Distribution center before the company can take over. This could streamline the whole process and attract more small sellers, including their newly launched Handmade service, a competitor to Etsy (NASDAQ:ETSY).
Also, judging from the struggles of some shippers to handle the concentrated blast of deliveries at peak holiday times, Amazon might just be looking to supplement the services of FedEx (NYSE:FDX) and UPS at critical times to improve overall customer service.
That being said, I wholeheartedly reject that Amazon is trying to run these guys out of business - that is ambitious to say the least, even for a company like Amazon.
Even though Amazon is UPS's largest customer, the portion of packages and freight they choose to handle themselves can easily be made up with other customers over time.
The growth of e-commerce around the globe continues to be growing as fast as ever and gives all these shippers a long-term secular tailwind.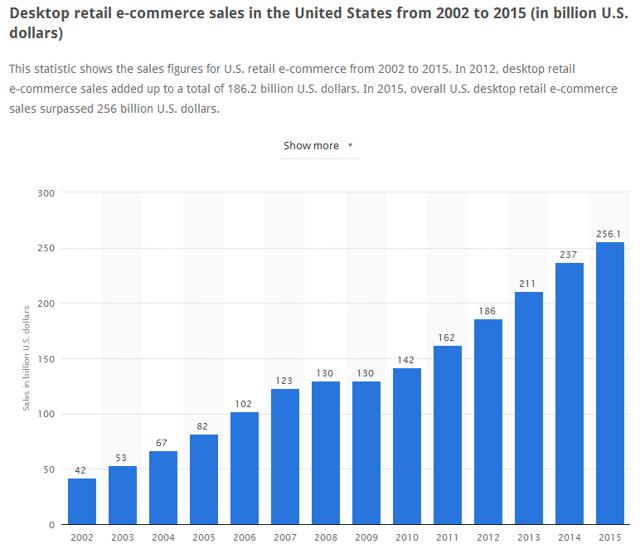 Minimum Wage
The minimum wage movement has picked up steam in the USA in recent years and shows no sign of slowing down. Many states have already committed to progressively increasingly their minimum wage over a number of years.
For example, Oregon launched a bill in March that would raise the state's minimum wage in most areas to $13.50 by 2020. This gets off the ground with a $0.50 cent raise in July of 2016.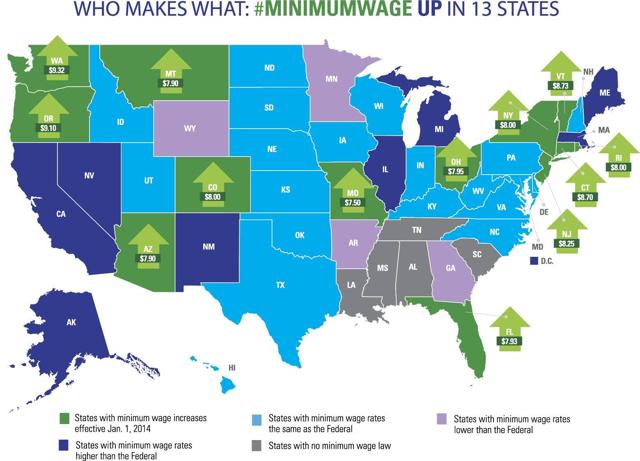 I see little impact of this type of legislation/movement on UPS's business and margins. From what data I could find, most UPS drivers make well above minimum wage, anywhere from $35,000 to $100,000 a year based on location, how long they have been working for the company and a host of other factors.
UPS's other hourly employees, such as package handlers, might see some wage pressures as they are paid less than drivers from what I could find, but it seems like most of these employees are already paid above minimum wage as well.
International Segment
UPS has a 25% market share in Europe via its international business. DHL is the leader with around a 40% share. The combined TNT and FedEx will have a 22% share of the market.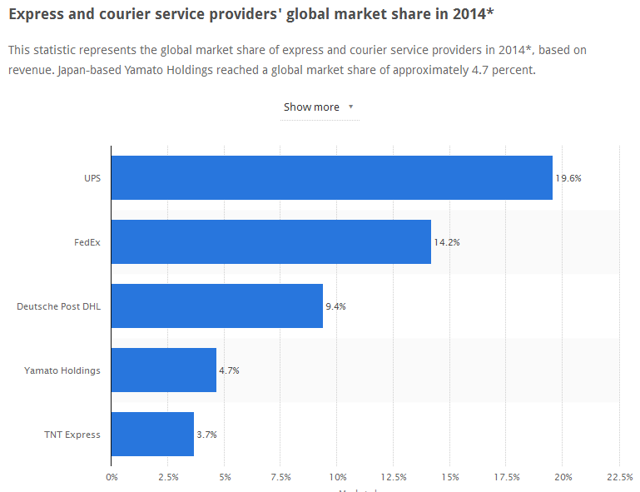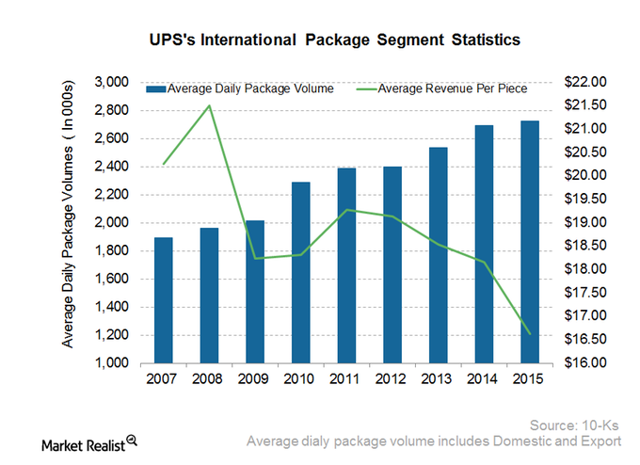 This segment had a revenue drop in 2015 that can be attributed mostly to currency translations. The company has acknowledged publicly that an important component of their growth will come from emerging markets.
The latest CEO acknowledged that this was their top priority when he took over the job in 2014. Although acquisitions and movement on that goal have been light, I would look to see UPS use the strength of the dollar in their favor and make some emerging market acquisitions at a great price to further their reach in those unstable but fast growing locales.
UPS's competitive advantage
Most great businesses have some competitive advantage. Whether this is the fact that they were the first to do what they do, their technology and data, their brand loyalty and recognition, or something else - it is a critical reason why many of the greatest companies became and remain dominant and profitable.
Looking at UPS's competitive advantage, there are a lot of things to like. One is their proprietary routing technology, called ORION.
This technology uses scads of data collected from UPS drivers, planes, and from all around their network that they have gathered since 2008 and helps them develop more efficient routes, optimize the number of drivers, trucks, etc. It also helps them figure out where cleaner and more fuel efficient vehicles can reduce costs the most by analyzing driving patterns and stopping frequencies.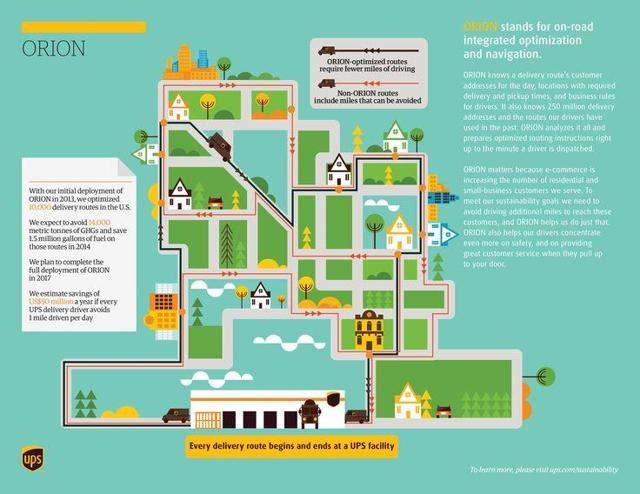 This system is one of their key advantages over new entrants, like Amazon, and is continually being improved and refined.
UPS also offers and utilizes a variety of cross-selling opportunities. They offer many services like Express, Air, Ground and also have a host of logistics offerings separate from their package delivery offerings.
Most UPS customers - one statistic said 96% - use one or more of their divisions and they are rapidly expanding and marketing their logistics operations. This is a high margin technology product that will help the company entrench existing customer relationships making it harder for customers to break and defect to a rival.
UPS has years of experience selling and promoting these different services and products, something of which Amazon has experience doing on their e-commerce website but little experience doing in the shipping and logistics game.
Many would consider the vast fleet of planes, vehicles, buildings, and other hard assets that UPS has as a competitive advantage but this is less an advantage because it can be replicated although it would be expensive and time-consuming, especially as planes can only be built so fast and one usually has to wait in line to get them. In addition, many competitors have similar asset bases.
Financials and Margins
Margins are important for UPS, as they are for most businesses, because revenue growth is well and good but if your margins fall in half at the expense of those increased sales/revenues, then you are not necessarily better off than you were before.
This is the second half of the Amazon story. People are worried that their entrance onto the scene means they will start shipping packages that cost the big players $5 for half that or less. This could cause a price war and bring down profits for the whole industry. An analogous case study of this type of price war can be found in the airline industry during one of its many downturns.
Since 2010, UPS's margins have been steadily improving ever so slightly, with some bumps along the way.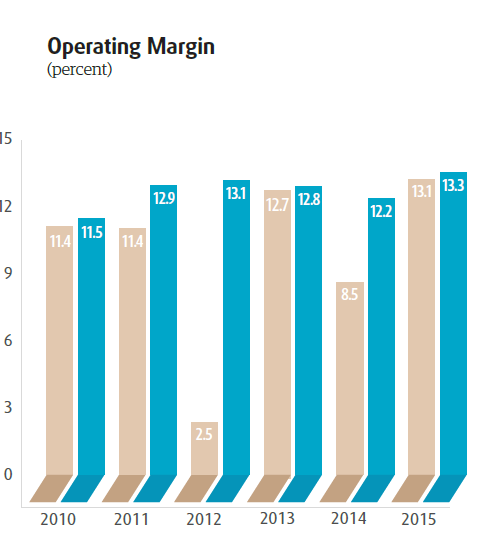 Let's take a look at UPS's full financials from their 2015 annual report.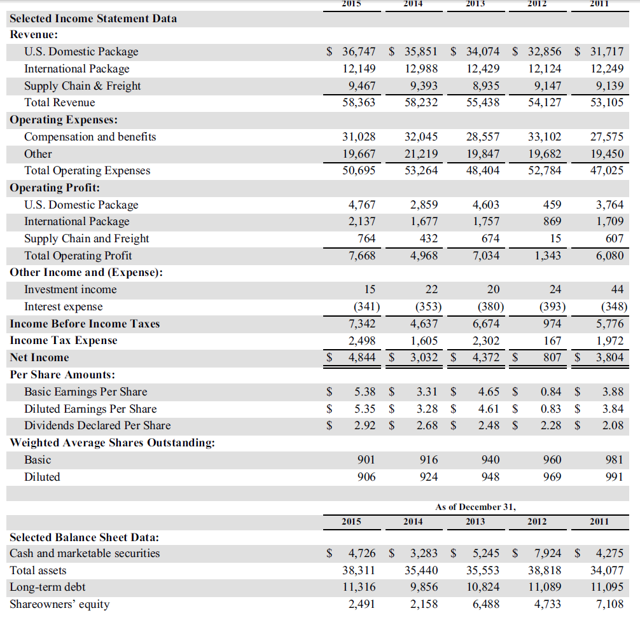 The first thing that jumps out to me is the reason for the banner year UPS had in 2015: expenses or the lack thereof. While revenue ticked up modestly, with some headwinds in the international division attributable to currency as you are probably sick of hearing, expenses were excellent. Compensations and benefits decreased by ~$1.0 billion and other expenses ~$1.5 billion.
That combination led to the record operating profit and therefore very strong EPS results you seen above. Considering the fact that expenses have a tendency to increase (some of the low expenses may be due to oil) and the fact that currencies will move all over the place, I put UPS's real earning power slightly below their 2015 results. Analysts expect $5.78 in EPS for 2016.
The stock trades at $106 at the time of publication which puts it 19.8 times TTM earnings and 18.34 times next year's expected earnings.
Price to cash flow is ~13.61 and price to sales of 1.62 TTM. This valuation puts UPS far above most of the other shippers like railroads at around 11-14 times earnings and the airlines in the single digits.
I think this is justified given that UPS is less reliant on commodities than the rails are and has a much brighter operating history than the airlines which seem to trade at half the general market value for one reason or another.
The e-commerce revolution that is clearly underway also benefits UPS more directly than it does the rest of the shipping complex although the entire complex is vulnerable to drastic shifts in economic activity on a macro level.
Balance Sheet
UPS's balance sheet is fairly impeccable as these things go. There is always going to be a sizable amount of debt in an industry like this, there is no escaping it. The debt is well covered though with current assets slightly higher than long-term debt along with positive equity and retained earnings.
EBITDA to interest expense was 22.4 in 2015, 14.07 in 2014, and 18.51 in 2013 which shows the interest expense of the high debt load is fairly well covered.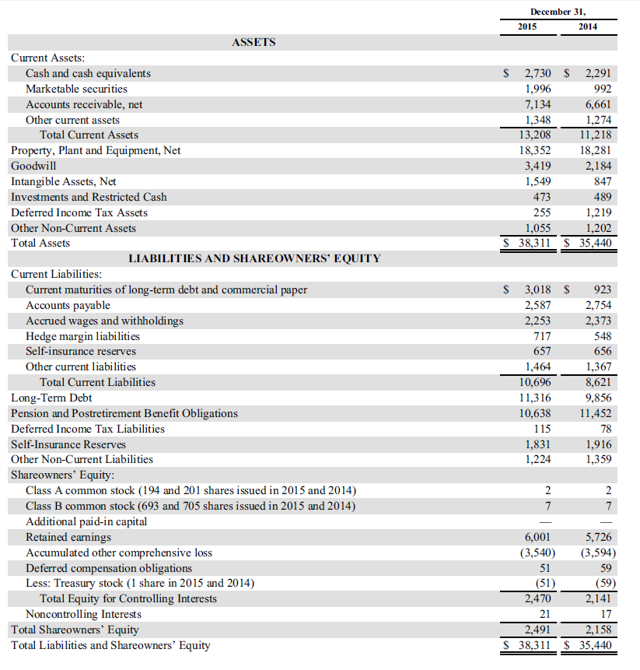 Dividend Information
UPS has paid dividends for 46 consecutive years. The dividend has increased from $0.17 per share in 2000 to $0.78 in 2016, a Compound Annual Growth Rate (OTCPK:CAGR) of 10.69%.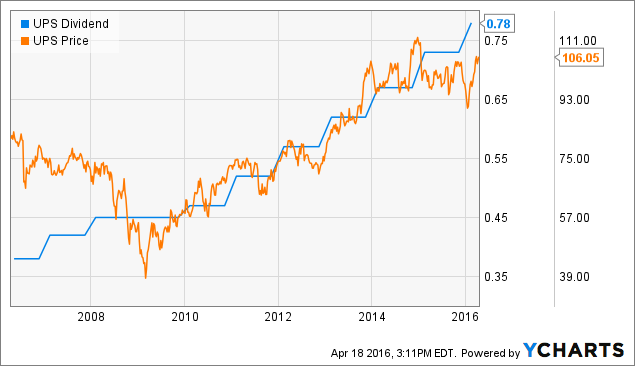 The stock yields 2.96% as of publication. The SPDR S&P Transportation ETF (NYSEARCA:XTN) only yields 0.58%.
Based on 2015 EPS and the current dividend, the payout ratio is 58.3%. I see no reason why the company could not continue to grow their dividend at a 5%-8% rate going forward.
Conclusion
I can find no reason why UPS is not a great investment at the current price. The valuation is at a premium to other transports but seems justified and is not excessive when compared to the whole market and other sectors especially.
UPS has a world-class balance sheet, operating history, and market share position, especially in the US.
The threat from Amazon is mostly bark and little bite, so far, and it will be interesting to see how far their ambitions reach and how UPS's margins hold up to the new dog in the ring.
Disclosure: I/we have no positions in any stocks mentioned, but may initiate a long position in UPS over the next 72 hours.
I wrote this article myself, and it expresses my own opinions. I am not receiving compensation for it (other than from Seeking Alpha). I have no business relationship with any company whose stock is mentioned in this article.