Glu Mobile (NASDAQ:GLUU) is a story of growth and speculation that only virtual reality/VR and Taylor Swift could surmise. In February, the company announced the partnership to make a Taylor Swift game. The speculation is that the company could one day be a preferred social media experience, combining the photo flip book, chat, gaming, etc. with one's favorite VR celebrity.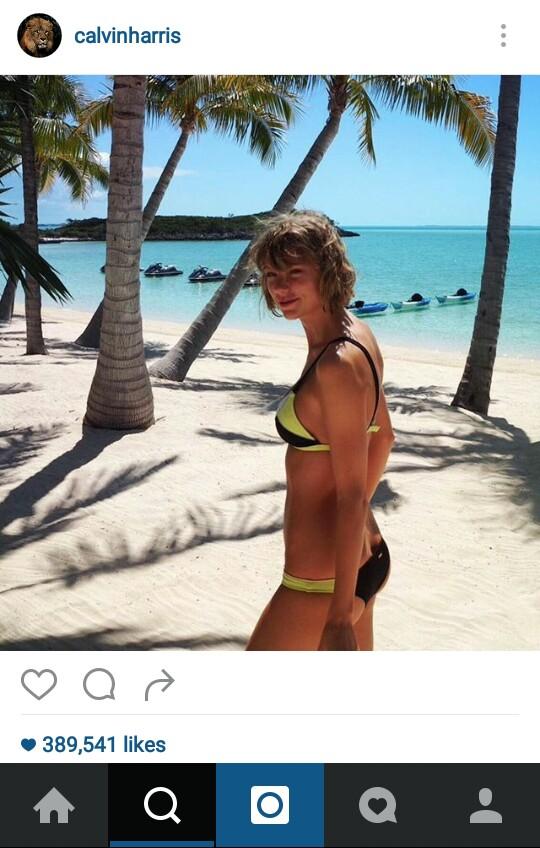 (Instagram photo posted by bf Harris to fans)
Would a teenager continue to interact with Taylor Swift and Kendall Jenner on Instagram/Facebook (NASDAQ:FB) when they could enter a Glu Mobile virtual reality game that does all of the above? It appears this is the direction Glu Mobile is headed.
Glu Mobile is often misunderstood when compared to its conventional gaming sector, e.g. Zynga (NASDAQ:ZNGA). However, as Jeff Bezos of Amazon.com (NASDAQ:AMZN) put it: books, e-books and apps/games compete for the same dollar.
Due to Glu Mobile's continued celebrity contracts, it is wading into the realms of social networking platforms. This poses the need to look at multiple companies when sizing up GLUU as a stock to buy, sell (short) or avoid.
Glu Mobile's Growth In Gross Revenue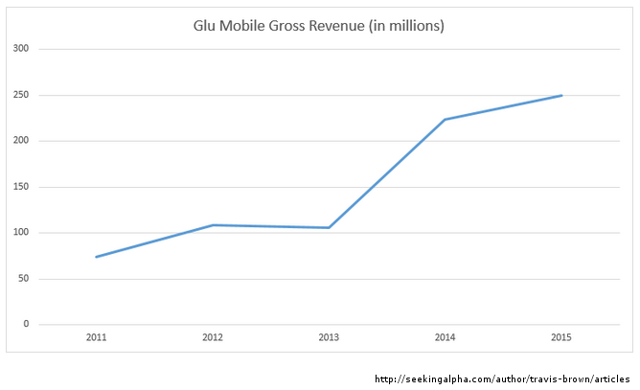 The revenue growth for Glu Mobile includes plateaus and strong bursts. It is here that one may assume celebrity games did well one year and not the next. On the contrary, the driving factor behind revenue growth has shown to be non-organic via acquisitions.
Successfully acquired hit games have been found to contribute a trickle-down effect to its native creations. In 2012, the revenue jump came with the acquisition of Deer Hunter, which up until then it was paying royalties to use the license.
In 2014, it received a burst due to the acquisition of Diner Dash (PlayFirst) and Racing Rivals (Cie Games). This coincided with its native release of Kim Kardashian: Hollywood.
It's misguided to assess Glu Mobile's success by new celebrity game releases alone, e.g. Katy Perry Pop and Kendall & Kylie. The big pops happen when combined with a successful M&A. That is why the passive talk of a Plain Vanilla (QuizUp) M&A should be taken more concretely.
Glu Mobile's Valuation Across Non-Conventional Sectors
When gross margin is compared to book publishers, it appears to be right in the pack with Scholastic (NASDAQ:SCHL), Pearson (NYSE:PSO) and John Wiley & Sons (NYSE:JW.A) (NYSE:JW.B). Gaming app companies may be the better alternative too as two-thirds of the publishers have posted declining revenue since 2012.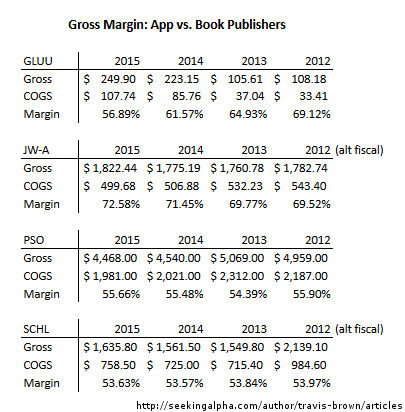 When comparing enterprise value/EV to sales, Glu Mobile is a bargain, undervalued. It is its EV to earnings before interest, taxes, depreciation and amortization (EBITDA) metric that gives pause.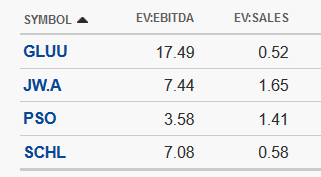 (Chart from SA data 04/18/16)
The operating margin and EBITDA for Glu Mobile are much lower than the publishers since it is the only one to have a research and development (R&D) expenditure. In fact, last quarter (Q4 '15), it spent over 50% of gross profit on R&D. This elevates the GLUU EV:EBITDA multiple.
Perhaps the stock is too expensive at the EV:EBITDA value. If considered as a growth stock, the return on research capital (RORC) could be promising with a steady game pipeline. With no debt and a hungry appetite for acquisitions, Glu Mobile could burst upwards again.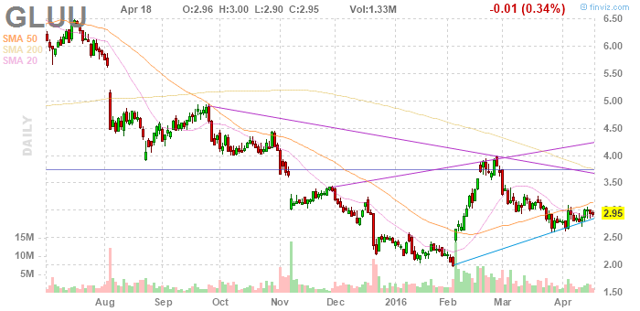 Glu Mobile, Inc. As A Social-Celebrity Experience
Here is a quick glance of GLUU compared to multiple non-conventional competitors. Pandora (NYSE:P) maintains a top Android app. Twitter (NYSE:TWTR) and Facebook offer a social networking experience, including Facebook's Instagram. Facebook app, Facebook Messenger app and Instagram app remain top downloads. Microsoft (NASDAQ:MSFT) bought Minecraft via the acquisition of Mojang. The app is a Top Paid download for Android.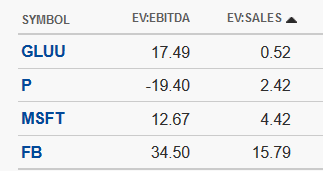 (chart from SA data 04/18/16)
The following screenshots were of Android app rankings as of April 18, 2016. Glu Mobile's Tap Sports Baseball 2016 ranked 8th for Top New Free apps. The aforementioned apps are also displayed.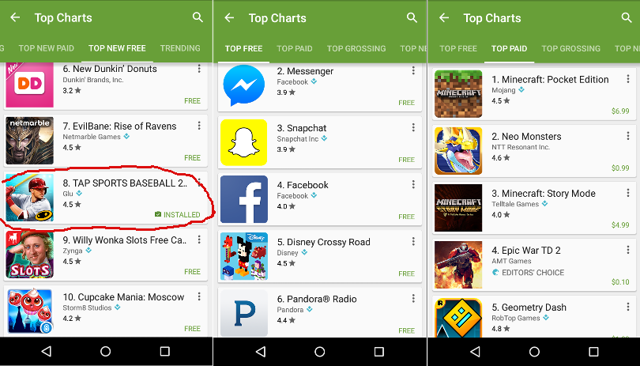 These companies are of interest for their market share in the app industry, but also for the social experience that connects celebrities to fans. When Glu Mobile locks celebrities such as Taylor Swift, Britney Spears and Nicki Minaj to exclusive, long-term deals, it is counting each celebrity's social reach via these popular outlets. With a potential high flow of traffic, ad revenues will increase.
The second strategic opportunity is around advertising revenues. With as much as 30% of revenue coming from advertising on certain Glu titles, we believe we are the scaled mobile gaming player, most able to benefit from growth and platform demand. - Q4 '16 Earnings Call Transcript
I propose that the less talked about reason for celeb contracts is they are looking to divert users to the Glu Mobile platform from social apps. By locking them into these terms, they steal them away from competitors.
When reading transcripts and PRs, the contract and details contain important keywords: (1) multi-year; (2) exclusive; (3) millions of social followers. These keywords are associated to the partnerships with:
Taylor Swift
Britney Spears
Nicki Minaj
Kendall and Kylie Jenner
Gordon Ramsay
Katy Perry
Kim Kardashian
How The Speculation of VR Taylor Swift Works
There are many virtual reality/VR headsets to choose from. Sony (NYSE:SNE) looks to me as the most promising as it will be an upgrade to the already popular PlayStation 4 (PS4) game system console. Samsung (OTC:SSNLF) is another company in the VR space to watch, especially if its cornering of the Android and game apps are a trending tell.
Keith Stuart, games editor for the Guardian, shared a helpful tweet about the VR market: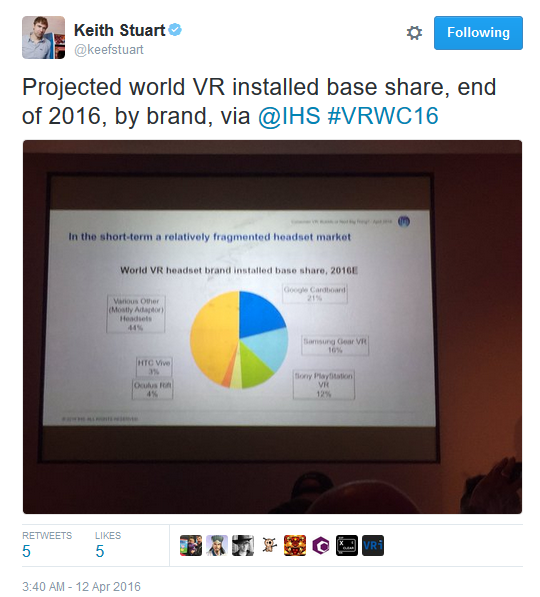 It is notable that Glu Mobile has already brought a top chart game, Deer Hunter, to the Samsung Gear VR. I pair its long-term, exclusive celebrity contracts with the VR trend. I add that observation to the app competition and social reach it is heavily engaged with and speculate a VR Taylor Swift would be only natural. If not her or in the first release, perhaps the next celebrity or in a second edition.
Summary
Glu Mobile remains a buy-side pick for my camp. I see the game pipeline, history of non-organic growth and key partnerships (including Tencent (OTCPK:TCEHY)) as a reward that outweighs the risks of low earnings and some misses on the first-edition releases.
Click the follow option at the top header next to author's name. The feature will alert you to new releases. The author's profile lists past articles. Also visit DIY Stock Investor for more ways to connect.
Disclosure: I am/we are long GLUU.
I wrote this article myself, and it expresses my own opinions. I am not receiving compensation for it (other than from Seeking Alpha). I have no business relationship with any company whose stock is mentioned in this article.
Editor's Note: This article discusses one or more securities that do not trade on a major U.S. exchange. Please be aware of the risks associated with these stocks.