I don't think a week goes by where I see at least one article on Seeking Alpha or elsewhere detailing how Fitbit (NYSE:FIT) is crushing Apple (NASDAQ:AAPL) in some respect. While many will agree that Fitbit leads the wearable space in terms of unit sales, the company's product map is completely different from what Apple is trying to do. In fact, I believe if Apple really wanted to, it could wipe out Fitbit today.
We have to remember these are two very different companies, operating at two vastly different price point areas. Apple's products go for several hundred or even thousands of dollars each. However, as seen from the chart below, Fitbit offers devices at the lower end of the price scale. You may be able to do better with coupons from retailers like Sports Authority.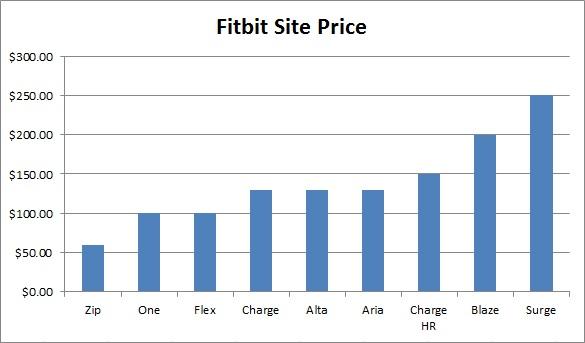 Source: Fitbit site
In fact, some retailers are still selling older Fitbit devices that go for less than $30. This is not the game Apple is playing, so why we see so many comparisons between the two is beyond me. I can understand to a point when you look at Fitbit's top-tier devices making a possible comparison to the Apple Watch, but where I disagree wholeheartedly is when most just compare the entirety of Fitbit to Apple (and the Watch).
Likewise, I don't consider the Apple Watch a failure just because some Fitbit devices may be selling well. Apple may have generated up to $5 billion in revenues from the Watch last year while Fitbit as an entire company did just $1.86 billion. Likewise, when the Blaze came out earlier this year, the following quote regarding the two devices perfectly sums up how I feel:
The gulf in price difference alone, even with Apple's entry model indicates that these are two wearables playing in two very different playgrounds.
This is why I believe Apple could really doom Fitbit if it wanted to. With the billions that the technology spends on research and development each year, I'm sure Apple could launch a $50 fitness tracker if it wanted to. The product would likely sell quite well, and Fitbit's shares would plunge overnight on the announcement.
However, this doesn't likely fit in with Apple's "premium" strategy at the moment. Other than maybe small accessories, you won't see a $50 product likely any time soon. That's just not the sandbox Apple plays in, to quote the article above. For now, Fitbit dominates the lower-tier fitness device market while the Apple Watch is a more premium product that offers more features. I'm sure the second edition of the Watch will be even better, and that will likely put a dent into any sales momentum that Fitbit may have with the Blaze in the short run.
This isn't meant to be a negative piece aimed at Fitbit, just an argument against a lot of the comparisons I hear in the marketplace today. Fitbit is a great growth story today and has done an excellent job in the wearable space. Just remember that last year, Fitbit's average selling price was just $86. While that number will likely rise this year as more higher-priced devices sell, it's still not in the same arena that Apple is. Should Apple wish to step down from the premium space, I'm sure that the technology giant could launch lower-priced product(s) that would spark doom for Fitbit immediately.
Disclosure: I/we have no positions in any stocks mentioned, and no plans to initiate any positions within the next 72 hours.
I wrote this article myself, and it expresses my own opinions. I am not receiving compensation for it (other than from Seeking Alpha). I have no business relationship with any company whose stock is mentioned in this article.
Additional disclosure: Investors are always reminded that before making any investment, you should do your own proper due diligence on any name directly or indirectly mentioned in this article. Investors should also consider seeking advice from a broker or financial adviser before making any investment decisions. Any material in this article should be considered general information, and not relied on as a formal investment recommendation.