When it comes to consumer-packaged goods (CPG), understanding a product's total addressable market (TAM) is key to developing and implementing a sound investment strategy for that product's company. I've written many articles in the CPG category that detail specific companies and their struggles once they have achieved their respective TAM or managed to saturate the marketplace. An understanding of a company's and/or product's TAM can help investors maximize their investment and avoid an eventual downturn in the investment, which eventually comes after the TAM is achieved. In this article, I aim to show investors what happens to a stock price once a company's TAM has been achieved for its respective product/s. The article will culminate in a relatable analysis concerning TAM and Fitbit (NYSE:FIT), which is presently experiencing strong growth that will lead to market saturation in the mid-term.
As an analyst for Capital Ladder Advisory group from 2010 to 2015, I performed analytics on consumer goods, retailers and companies, including PepsiCo (NYSE:PEP), Coca-Cola (NYSE:KO), Keurig Green Mountain (NASDAQ:GMCR), Skullcandy (NASDAQ:SKUL), SodaStream (NASDAQ:SODA), Monster Beverage Corp. (NASDAQ:MNST), Jarden Corporation, Conair (OTCPK:CNGA), Target (NYSE:TGT), Bed Bath & Beyond (NASDAQ:BBBY), J.C. Penney (NYSE:JCP), Kohl's (NYSE:KSS) and others. It was through this dedicated and detailed coverage of said companies and products that I became a highly sought-after consultant, specializing in business development, operational optimization and consumer insights. Having a keen understanding of consumer packaged goods and consumers' interaction with such goods has enabled me to determine "when to say when" as it pertains to investing in these types of companies.
Investors can be easily swayed to believe that a product's TAM is significantly larger than it actually is by analysts, reporting agencies and company executives. After all, these are the entities that should know best, given their relative proximity and expertise when it comes to the product and business model. These parties have data and other resources that many are unable to achieve... or so we think. From that perspective, investors tend to believe what they are told about a product and how far it can extend into the consumer's life. This also helps investors to accept the potential sales that can be captured by a company for years to come.
What is unfortunate is that most - and not some, but most - companies don't fully understand or appreciate their actual TAM. In general, it is not to the advantage of a company to fully appreciate the actual TAM of its products, as this might limit the potential of its stock performance. And so, for this and other reasons, the company will boast about its possible TAM as opposed to the actual TAM. The company may even assimilate its product with other products to position its TAM in a more favorable light. SodaStream is a perfect example of a company that decided to position its TAM using the aforementioned strategy. The following picture, issued within SodaStream's S-1 from 2011 and in many corporate presentations to the investing public, demonstrates what the company presented as its TAM.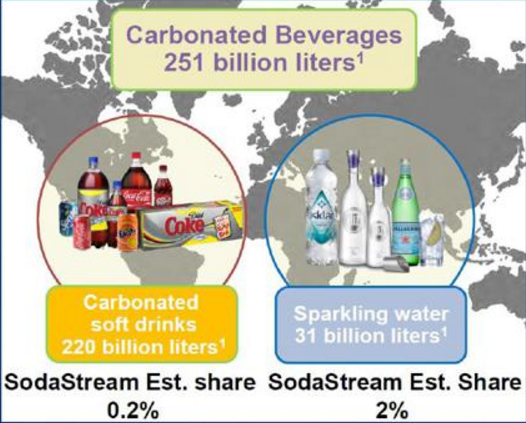 In this example, SodaStream offers to investors that its TAM is in line with that of the carbonated soft drink category and the sparkling water category. Given how many billions of liters and dollars are spent in these beverage categories annually, SodaStream investors were persuaded to believe that the company had a long runway for which to grow sales and earnings. However, what investors learned after a few short years was that SodaStream is anything but a carbonated beverage company. After only three years of being a publicly traded company, its net sales began to fall, and have done so ever since. What happened to SodaStream happens to every single consumer goods company once it has saturated the marketplace with its goods; the product sell-through is less than the sell-in, and thus, total net sales begin to decline.
In an article published back in 2014, I warned investors about SodaStream's actual TAM being far less than assumed by the famed hedge fund investor Whitney Tilson. He actually bought into SodaStream's perceived TAM, offering it as much as an investable point of fact. But I challenged Mr. Tilson's understanding with the following narrative:
The next misstatement or wrongful analysis I believe in the presentation comes from the slide below which pins SodaStream within the carbonated beverage category and sparkling water category. He uses this slide to identify the potential market share available to SodaStream. What he and many fail to realize through the evidence of the sell-through rate of SodaStream products and surveys taken by SodaStream users is that SodaStream is a category unto itself. As much as many, including myself, would like to believe otherwise, the sell-through rate does not lie and the surveys are equally objective. Even without the sell-through data one can deduce that there is a market for ready to drink carbonated beverages and a market for homemade carbonated beverages. They operate independently and have different customers which mean they will have different available customers and a different available market share that is indeterminate based on the relative newness of the home carbonation category. By offering the slide below, the presenter is suggesting that the ready to drink/pre-packaged carbonated beverage market is exactly what is available to SodaStream. Let's face the facts; some people, obviously the majority of people, do not wish to make their own carbonated beverage at home regardless of the benefits. They will likely never want to and therefore they are not available customers to SodaStream even though they make up a part of the carbonated beverage market.
Taking a very popular hedge fund manager to task with regard to their analytics can be confrontational, to say the least, but in this case, I was found very accurate with my understanding of SodaStream's actual TAM. This is an appliance company, as the appliance is necessary to produce a beverage and not the other way around. We don't refer to Ninja blenders by Euro Pro as a smoothie company simply because their blenders can make smoothies, now do we? SodaStream continues to struggle, and since 2014, the stock has fallen from the $40 range to the low teens, where it rests today. It was with an understanding of SodaStream's actual TAM that I was able to determine that in 2014 and at roughly $47 a share, it was time to relinquish the remaining portion of my investment in the company that began through the IPO process at $20 a share. Since that time, I've profitably traded shares of SODA and continued to produce analytics on the company.
More recently, I authored an article titled "Can Whitney Tilson Be Made Whole With SodaStream In 2016?" With Tilson initiating his firm's position in SodaStream in the $40 price range and adding to that position later in the $30 price range, he is pressed for an opportunity to recoup his firm's losses in SODA before exiting the shares. Tilson's hedge fund is in its 3rd year of owning shares of SODA, which might prove to be the last year as well. In 2015, the hedge fund manager underperformed the S&P 500, with the Kase Fund losing over 7% on the year. We shall see if Tilson can perform better in 2016.
Another company that proved to be most boastful about its TAM was Keurig Green Mountain. The leader in single-serve coffee in North America grew mightily from 2003 to 2014 and found its stock price benefiting many, many investors. But after understanding the company and its products' actual TAM, investors would have been wise to recognize the overvalued share price that came to be with an investment from Coca-Cola in the company and previous years' growth. As the company began to "hit the wall" with its brewer sales during the second half of 2014, the share price did not fall, largely due to the hope of the developing a Keurig Kold platform. This new cold beverage brewer was hyped to be the second coming for Keurig Green Mountain, and all of the supporting analysts believed in the product that, conceptually, was improbable to succeed. I outlined this improbability along the lines of technological advancement, practicality of use by the consumer, pricing for the Kold system and consumption habits in the household.
In 2014, sales of Keurig hot brewer systems fell YOY, highlighting that the company's TAM had largely been achieved and a share price retracement was at hand. When Keurig Green Mountain announced its Q4 2014 results in November, I recapped the results for investors with a poignantly titled article "Keurig's Brewer Shipments Stagnate In Q4 2014". This was a proverbial shot across the bow for investors, and likely should have served as a precursor of things to come with regard to brewer sales. Here is what was stated in the publication:
If we are to look at the number of brewers shipped during the quarter as being essentially flat, some investors may view this as alarming or the raising of a red flag if you will. Given the company's growth in brewer shipments during Q4 of 2013 which rose 47% per unit sold, and now recognizing a flat YOY comparison with brewer shipments in the 4th quarter alongside an 8% decline in total brewer sales volumes, we can understand the recent sell-off in shares of GMCR from what many perceived as overvalued in the first place.
From there, the situation only worsened for Keurig hot brewer sales through all of 2015. With brewer sales in steep decline, eventually K-cup sales followed and exhibited declines in the back half of 2015. Coca-Cola found its investment in GMCR shares underwater by nearly $2 billion by late 2015, as shares of GMCR plunged from $150+ to under $40 a share. The worst part of this share price decline is that most analysts didn't move away from their $100+ price targets until the stock fell below $75 a share, as they believed in the potential of the Keurig Kold, which I had been warning investors and the company itself about for the greater portion of 3 years. Now, let's take a look at what was offered to investors regarding Keurig's TAM back in early 2015 as a way to explain why Keurig Green Mountain would likely find its assumed TAM to go unrealized:
Now, let's take into consideration another perspective with regards to Keurig brewer volumes. Since we more broadly understand the company's limiting excuses for brewer shipment declines, another perspective might very well be that the company misunderstands the total addressable market (TAM). Could this be the case? Keurig has portrayed its ability to grow its user base in the mid-teens for 2015 and effectively achieve 35%+ household penetration rates in North America based on what it sees in markets like Spain, France, Belgium and the Netherlands. There are some analysts that believe Keurig is overshooting its understanding of the TAM in North America based on the company's correlation to other markets and economies. There is truly no other consumer market in the world like that in North America or more directly, the United States of America. The diverse North American consumer speaks volumes in the company's sales history that is largely compartmentalized in key regions of the United States like the Northeast, Mid-Atlantic, Great Plains and Pacific Northwest. If one looks at Keurig Green Mountains' less populated sales regions the company proliferate itself in the southern regions of the United States and from the east coast to the west coast. Keurig also finds its sales restricted by consumer demographics along the lines of socioeconomics. The bottom line is that the company may be operating under the false pretense that such a diverse consumer marketplace like North America should be compared to greatly homogeneous market places like Spain, France, Belgium and the Netherlands. Oddly enough, in its attempt to explore international sales, the company is not looking into these previously mentioned reasons.

Keurig Green Mountain states that the likely TAM in North America is greater than 70 million (slide 4). Brian Kelley articulates that other countries show 40% single-serve household penetration rates and therefore this statistic represents what the company aims to achieve in North America. Of course, to fully accept Kelley's TAM model or depiction, in those other countries named we have to consider there is not a Dunkin' Donuts (NASDAQ: DNKN), McDonald's (NYSE: MCD) or Starbucks (NASDAQ: SBUX) on every corner like here in the United States. In other words, in these other countries if you want a cup of coffee every single morning and possibly after a good meal in the evening, having a coffee maker in the home is a must. In the United States we have a great deal more options and thus far, those other options haven't dissuaded 20 million households from being active Keurig users, but we'll have to wait and see how the assumed remaining TAM feel about buying a Keurig with a plethora of options within reach. Moreover, if we take a trip down a short memory lane, just last year Keurig grew its user base some 26 percent. This year, the company is only looking to grow its user base in the mid-teens. So, if we do the mathematics on this guidance from the company we assume the company will achieve 3-4 million new active households in 2015. Given the dramatic slowdown expected in household penetration growth from 2014-2015/YOY and juxtaposed against the company's stated TAM, just how many years will it take to achieve the TAM goal assuming the household penetration rate continues to slow and "stalls out" at 5% growth annually. And I'm being quite generous with this "stall out" allocation.
I had been involved with the Keurig Green Mountain business and products since 2003, and placed the first brewer in the national retail chain Bed Bath & Beyond. Through my historical understanding of the Keurig brewer, the single-serve coffee category and consumer demographics, I was able to recognize what even the CEO of Keurig Green Mountain failed to recognize - the actual TAM for Keurig brewers.
With regard to the Keurig Kold product, my warnings on this product date back to 2013 and can be found viewed on Seeking Alpha. Given my expertise in the technologies needed to implement a cold and carbonating brewer system, I was requested for research, analytics and interviews with many participating members of the investing community and financial media. Keurig Green Mountain is headquartered in Waterbury, Vermont, and even the Vermont Public Radio station reached out to me for my thoughts on Keurig and its venture into the cold brewer space. The link provided outlines some of my thoughts on Keurig Kold prior to its launch in late 2015. Infamous hedge funds such as Green Light Capital also reached out to me for my analytics and thoughts on Keurig Green Mountain's business in 2015.
With the careful understanding regarding Keurig Green Mountain's TAM and potential TAM for new products, my 12-month price target of $45 was achieved on the downside for GMCR shares. This price target was in stark contrast to every single analyst covering the company and its stock since it was initiated in late 2014. Once my price target had been achieved, I removed the consideration of a new price target with the understanding that Coca-Cola was shopping the company in an attempt to recoup its investment losses in GMCR. Coca-Cola's attempt proved worthwhile with a sale of Keurig Green Mountain to JAB Holding Co. valued at roughly $14 billion.
As proven through my dedicated research and analytics, investors can benefit from understanding a company's/product's real TAM. While I could offer other examples of accurate analytics and forecasts from the past and with regard to many companies, my Seeking Alpha publications offer them with easy access. This brings me to a more relevant and closely followed company today, Fitbit.
Fitbit participates in the widely hyped category of fitness trackers. With the category growing akin to the aforementioned companies' growth during their youthful business cycle, many are of the opinion that this growth will proliferate for many years to come. It is with this in mind that my first article concerning Fitbit and the fitness tracker category served as an education in TAM to the investor community. "Fitbit's Total Addressable Market Hype May Leave Investors With Disappointment" is an analytical publication aimed at educating investors as to the importance of understanding the fitness tracker potential and Fitbit's real TAM with historical references to the consumer goods product segment.
The article forewarned investors of the potential for Fitbit to exhibit slowing sales prior to market saturation, which would ultimately lead to sales declines post market saturation. In kind, the share price of FIT post the publication of this article has fallen by more than 60 percent. Let's now take a look at some of the statements I put forth for investors to consider within the aforementioned article:
If we discuss the TAM, we come to understand some of the forecasts for wearable devices and as an expert in consumer packaged goods, I can certify that almost every forecast for new technologies in the arena of electronics or consumer facing products, they are 100% of the time very inaccurate and to the chagrin of many. IDC expects the market for wearable devices to reach 126.1 million units shipped by 2019, thereby creating a near $28 billion worldwide revenue opportunity. In essence, it is this growth and market opportunity that explains why so many companies are rushing to enter the industry. Unfortunately, as it is typically the paradigm, it is also the reason that so many companies will eventually, and more rapidly than expected, exit the industry. It's amazing what happens when we complete our thoughts.
In Fitbit, we have nothing more than another consumer good company. Additionally, the product Fitbit sells doesn't actually solve a problem for the consumer, but rather, passively highlights activities that demand additional chores in order to acquire the data tracked and highlighted. Fitbit fitness trackers are good products, but even consumers abandon usage in a relatively short period of time due to a variety of issues, which include connectivity problems and a general failure to induce changes in human behavior. As such, the TAM for the product is not necessarily relatable to the general health & wellness category of consumer goods and foods. Like SodaStream, Skullcandy and Keurig Green Mountain before Fitbit, I wouldn't put much value in the forecasts for wearables by IDC or Fitbit executives long term. At the very least, the dollar share value for Fitbit assumed within the relative long-term forecasts may come with great disparity, as saturated markets demand gross margin contraction. So, be careful when considering how long you are willing to invest in FIT shares. Let's move on to another statement previously articulated in the article "Fitbit's Total Addressable Market Hype May Leave Investors With Disappointment":
The main problem for a one-trick pony company without any residual add-on product sales is that the reorders are almost never, never to the equal of the initial inventory build by the distributor. Essentially the vendor/Fitbit exhausts its distribution channel with product as they all fight against each other for the same consumer and for as long as consumers desire the product. For Fitbit, it becomes a fight to capture more distribution, more stores, and more regions of the world. All this while demand wanes for your product in existing distribution channels that naturally mature. And it happens to every single consumer packaged goods company be it Coca-Cola, Apple (NASDAQ:AAPL), Keurig Green Mountain, Conair Corp., GoPro (NASDAQ: GPRO) or SodaStream. Fitbit will likely exhibit the same sales model characteristics absent any diversification in their product portfolio and by no means do I suggest this includes more fitness trackers.
The aforementioned statements are validated in both Fitbit's current quarterly results and its future forecasts, which exhibit slowing sales growth. To further explain, if Fitbit were to sell-through every unit it sells into a distribution channel YOY, sales would increase at least 100% due to exact unit sold:unit replenished (ratio) and not including new distribution gains. The new distribution gains would elevate sales growth beyond 100 percent. During an expanding distribution business cycle or initial product launch, sales can grow in excess of 100% for a few years and until market saturation is realized. Why is this so? With limited distribution, consumers have few venues to elicit a purchase, thus making it easy for sell-in and sell-through to equalize, forcing strong replenishment. But as distribution is expanded, sell-through from original distributors wanes and replenishment follows suit. As a company and its product exhibit market saturation, sales growth will decelerate, especially if the product sell-through isn't an equivalent of replenishment sales. This is precisely what Fitbit is exhibiting in its sales today and will likely exhibit going forward. The company is clearly signaling that it is ever closer to market saturation with each passing quarter and as it continues to expand its distribution. Analysts expect the company to grow sales, on average, by 34% from nearly 100% a year ago. While I believe the analysts to be on the low side for FY16, the trend of decelerating growth will persist until sales inevitably decline. There will be no divergence from the consumer packaged goods sales model with fitness trackers - none whatsoever. So, on to my last excerpt:
In no way do I believe that Fitbit is a fad or a useless product. I just don't believe the majority of analysts are assessing the potential appropriately. This is often the case for a new product category and as humans we tend to be optimists or at least like to generate transactional fees associated with our provided analytics to institutional investors. Having said that, the proof is in the pudding and that pudding effectively shows the deterioration of expectations for nonessential consumer goods over time. Most analysts covering Fitbit to-date are absent this knowledge and/or education. While the company can still do well in 2016, the road forward will be one of diminishing returns on capital for the company.
Fitbit offers good products, but they are not essential products and come with many usage headwinds that lead to consumer attrition as defined in the total units sold versus active user base. As I have warned through dedicated research and analytics in the past for other companies and products, investors would be wise to consider the real TAM for Fitbit products and wearables altogether. The company's results highlight the usefulness of understanding both market saturation and TAM. Should Fitbit grow sales in excess of 34% in 2016, which I fully expect it to do, next year's sales guidance will likely be found wanting, as it will be far less than that of the previous year. This is just one of the reasons institutional investors will not offer shares a significantly beneficial valuation despite current growth rates.
The investment thesis in Fitbit is simple: Know when to say when, and that time isn't at hand. If you bought shares below $20, you will likely do well by the end of the year, assuming you trade around a core position. I've authored at least a dozen or so publications on the company to-date, and investors should recognize that I never mention any need for competitive fears in the fitness tracker segment regarding FIT as an investment. I don't participate in that dialogue, as the sell-through rate of fitness trackers tells the long-term story for these devices. Competition is of the least concern for Fitbit and investors, in my opinion, which is supported with POS sales data proliferating weekly through NPD Group. The biggest problem for Fitbit is demand generation - getting sell-through to tick higher YOY, as the results clearly show that isn't happening in existing retail channels. Most of the company's growth today is coming from expansionary efforts that include new product introduction. Once the market is saturated... well, it is pretty clear what happens, as sales growth is already mightily decelerating. None of this is to say that Fitbit fitness trackers don't carry benefits for consumers - not at all. But within that mindset, it should also be considered what those benefits demand - they actually demand a behavior change on the part of the user to achieve the benefits. That is an extremely tough proposition to put forth to the user, and yet another reason why, for all the positioned benefits of fitness trackers, the attrition rate for the products remains extremely high. But keep in mind, and as I've demonstrated with prior trades in FIT, traders will likely outperform investors with shares of FIT. So, to reiterate: know "when to say when", and that time isn't at hand. Investors and traders can still profit from participating in shares of FIT on the long side.
Disclosure: I/we have no positions in any stocks mentioned, but may initiate a long position in FIT, JCP over the next 72 hours.
I wrote this article myself, and it expresses my own opinions. I am not receiving compensation for it (other than from Seeking Alpha). I have no business relationship with any company whose stock is mentioned in this article.