Retail stocks have had quite a comeback in the first quarter of 2016. Almost across the board, retailers had a strong start to the new year. To name a few: J.C. Penney (NYSE:JCP) gained ~46 percent year-to-date, whereas Urban Outfitters' (NASDAQ:URBN) shares climbed ~37 percent so far this year. Retailers have profited from an improving comp picture that has kept a lid on retail stocks in 2015. Since I own both J.C. Penney and Urban Outfitters, I surely welcome the shift in investor sentiment, which, I think, can drive shares of apparel companies even higher in 2016.
I have covered J.C. Penney multiple times here on Seeking Alpha, and repeatedly pointed towards the very encouraging comparable store sales growth trend that underpins J.C. Penney's Free Cash Flow and earnings recovery. While J.C. Penney's shares sit just below $10 at the time of writing, there is a point to be made for continued capital growth on the back of the retailer's latest comp gains. Just recently I penned a piece on the retail company, in which I contended that investors should consider buying shares of J.C. Penney on the drop, since the retailer's comp and margin trajectory are very encouraging. My 12-months price target for J.C. Penney is $15.
Urban Outfitters is another apparel stock that I own, and the company is exposed to the same fundamental drivers of retail sales growth than J.C. Penney: Growing consumer spending.
Urban Outfitters' Valuation Can Expand Further
Urban Outfitters' consolidation offers a similarly compelling buying window than the valuation drop in the case of J.C. Penney.
Urban Outfitters' shares crashed ~11 percent from a 2016 high of $34.77. Though the apparel stock is down on some profit taking after a great run this year, investor sentiment is much better today than it was just six months ago when apparel stocks found no investor love at all.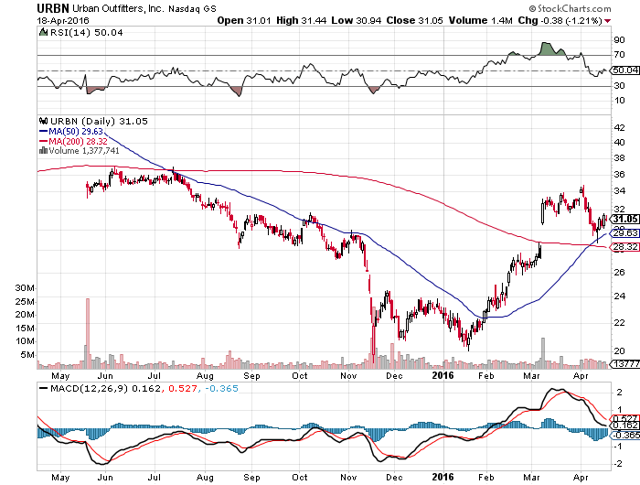 Urban Outfitters is not too expensive yet since shares are changing hands for ~14.1x 2016e earnings. But if the retailer surprises with positive revenue and retail segment sales growth in the first quarter (I think U.S. retailers are poised for a solid Q1-16 on the back of moderate economic and consumer spending growth), shares should be able to advance a little further. A positive comparable store sales rate for the first quarter would likely fuel investor interest in Urban Outfitters even more.
Your Takeaway
J.C. Penney and Urban Outfitters have a lot in common: Their shares surged this year thanks to returning investor optimism about apparel companies. Both retailers could see comp growth if U.S. shoppers continue to freely spend their cash. Fortunately, the oil price slump works like a giant, growth-stimulating tax cut, and retailers like Urban Outfitters are among the first companies to profit from an increase in purchasing power. As far as I am concerned, Urban Outfitters' reward-to-risk ratio is not as compelling as it was six months ago, but the retailer surely can edge higher on positive comp surprises in 2016.
Disclosure: I am/we are long URBN, JCP.
I wrote this article myself, and it expresses my own opinions. I am not receiving compensation for it (other than from Seeking Alpha). I have no business relationship with any company whose stock is mentioned in this article.