The bull market in commodities continues to provide help for the Russian market (NYSE: RSX). RSX now trades near highs that were last seen back in October and November of 2015. Previously, RSX dropped 30% from these levels. Will history repeat itself or RSX is ready to breakout to new highs?
RSX and economy diverge
In my previous articles on RSX, I stated that there will be a moment where RSX and Russian economy will diverge. This time has come. RSX was able to rise from January lows thanks to the oil price upside and general interest for emerging markets while the economy barely saw any light at the end of the tunnel.
First Deputy Chairman of the Russian Central Bank Xenia Yudayeva recently said that Russian economy is set to "eternal stagnation" if the government will not carry out structural reforms and provide incentives for economic growth. The "structural reforms" mantra has been repeated for many years now - without any action, and there's zero reason to believe that anything will change in the coming years.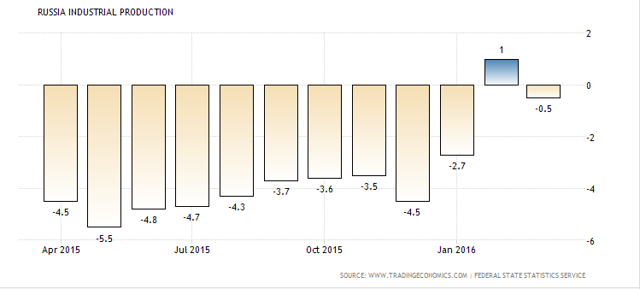 Source: tradingeconomics.com
Once again, Russian industrial production fell in March. February was positive, but this fact was due to extra day. Weaker ruble, stronger ruble - nothing helps to jump-start production growth. Finally, a dead-cat bounce might occur, but without serious changes in the country itself or a great spike in oil prices nothing will help.
So, what does this mean for the thesis. First, Russia will have serious problems with economic growth for the foreseeable future. Nothing will change with the existing pressure on business, which gets worse, not better, every year. Consumer stocks like Magnit and even near-monopolistic banks like Sberbank and VTB will ultimately feel the pressure.
People spending less and business unable to borrow are not the picture of growth. Second, the market may (and probably will) ignore the state of the economy if the price of the key commodities continues to increase and dollar continues to weaken. Right now, investors are hungry for emerging market, and the stunning rise of Brazil (NYSE: EWZ), which is in even worse shape than Russia, is a vivid reminder of current trends.
Thus, the state of the economy is important only for determining the future of interest rates in Russia. So, let's discuss them.
The interest rate problem
I've been critical of the previous Central Bank's decision to leave the key rate intact at 11%. My reasoning is that there's no inflation in the graveyard, but there's no necessity to turn the whole country into a scorched desert. Today, I had a discussion with my friend who is a banker in Russia and asked him why the Central Bank is so stubborn in keeping the interest rate so high. His answer was that interest rates are the only carrot for investors who will otherwise run from risks of investing in Russia.
We argued a bit, and I had to agree that a kind of a carry trade involving Russian ruble might exist. However, such things unwind sooner or later - typically in very fast moves. If the underlying economy cannot tolerate the artificially high rates, the Central Bank will ultimately be forced to decrease the rate, causing a major drop both in the ruble exchange rate and in the Russian stock market.
The Russian Central Bank will announce its key rate decision on April 29. I am still calling for a rate cut, although I am not sure and the desire to please the market might overtake the needs of the real economy.
Oil
I laid out my views on recent developments in the oil market in an article "OK, Now OPEC Is Officially Dead". I won't repeat myself here and will just say that when the strike in Kuwait is over, oil will likely face the consequences of the Doha failure.
Bottom line
Current levels in RSX allow to short it with less risk. Oil will probably need more than the Kuwait strike to go through $45, while the Central Bank might ultimately look at the real-world numbers instead of the market screens and cut the interest rate.
Disclosure: I am/we are short RSX.
I wrote this article myself, and it expresses my own opinions. I am not receiving compensation for it (other than from Seeking Alpha). I have no business relationship with any company whose stock is mentioned in this article.