Freeport-McMoRan (NYSE:FCX) is a stock that investors need to be cautious on, especially with the Q1 earnings report next Tuesday. While the company is now more focused on strengthening their balance sheet, which is a positive development, shareholders need to recognize how highly negative the operating environment was in Q1 and the effect it has on the upcoming earnings report, which will likely lead to a miss.

Source: Freeport-McMoRan
Backing Up
Commodities, including copper, have significantly rallied out of their February lows and really finished Q1 strong. On top of that, Freeport was the beneficiary of a new position by David Tepper of 3.6 million shares and was the beneficiary of an increased stake by none other than Carl Icahn. Additionally, short covering has significantly helped fuel the rally. On January 29, 222 million shares were short and now just 144 million remain short. That's a 35.14% decrease in the amount of shorts. Below you can see the positive reaction in FCX's stock.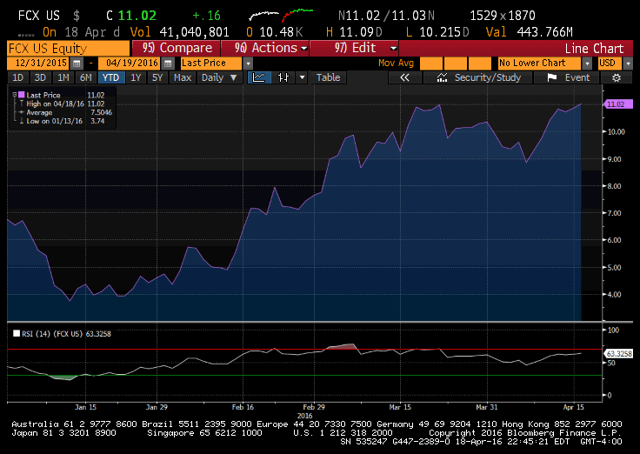 Source: Bloomberg
Capex Cut Will Lead To A Delayed Recovery
As I've stated numerous times on Seeking Alpha, I look for companies with significant potential to grow. If possible, I look for these types of companies to have growing, but sustainable dividends.
Freeport's capex is down 29% from mid-2015 and will retract 47% in 2017. These cuts were necessary, in my opinion, otherwise cash flow would have seen significantly worse adverse effects. Interestingly enough, although the company started cutting capex last year, free cash flow has only grown to be more negative. From Q2 to Q4, it decreased from -$592 million to now -$686 million. This trend even occurred as the dividend was cut to $0.05. That dividend was fully cut back in Q4 because of their trouble managing cash flows in light of their $19.8 billion in LT debt.
Also along the lines of delayed growth, investors need to understand that divestments are a double-edged sword. Their asset sales have been all over headlines this year and have been creating positive increases in the stock. First, the sale of part of a stake in Lundin Mining (OTCPK:LUNMF) brought $263 million to Freeport; however, this positive development hasn't closed and won't show up on the Q1 ER.
Another asset sale was the interest in the Morenci mine for $1 billion; however this also won't close until later in 2016 and will not show up on the Q1 ER. These assets sales, while creating bumps in the stock, don't help all that much as they hinder future revenue generating opportunities.
Slashed capex will delay the company's growth whenever copper rebounds. While it's a seemingly necessary move in this environment, there were certainly actions that could have been taken to avoid having to cut core growth projects, like not buying oil and gas assets at the top of the market. That's going to cause a lag in earnings relative to comps and ultimately stifle the potential progress of the equity in the long run.
Earnings Report Imminent
I believe the upcoming Q1 2016 earnings report on April 26 is going to send shares lower. My rationale is due to the following:
Copper prices have been rising in tandem with crude oil, but also due to increased speculation about China's government providing stimulus to their housing market. However, the average Q1 price for copper was $4,674 USD/mt, which represents the lowest quarterly average in the last decade. If anything, investors should be expecting a 15-20% decline in revenue based on Q1 production levels relative to Q1 2015 levels.
Recall Freeport's sensitivity that per 10 cent change in the price of copper on the Comex, here is a $550 million impact on EBITDA. Copper rose 9.6 cents in Q1 in COMEX prices, which is what Freeport bases their $2.10/lb full-year expectation on, so there should be a corresponding bump in EBITDA of $528 million, ceteris paribus. This is the largest positive factor that Freeport has. However, based upon Q4 EBITDA, they're still going to be posting a highly negative EBITDA for Q1, around -$2.79 billion. Freeport has estimated that it's going to average just under $6 billion in EBITDA this year. This expectation is wildly unrealistic.
That expectation also assumes $37/barrel oil. Crude oil in Q1 averaged $32.71/barrel on the WTI, which is 13.1% below their expectation. It wouldn't be out of the question to see further asset impairments this quarter, as they rose to $3.89 billion last quarter, up 25.5% on the year. This is important to Freeport not just on an earnings basis, but also on a capex basis. If Freeport continues to write down assets, they're going to have to cut capex further in order to hit their FCF target in 2016.
EPS net loss is expected to be -$3.59, based upon the income statement I've projected in a base case, which represents a -250.8% YOY change. How can that poor of performance justify a 74.3% YTD run up in the stock, let alone a 239.2% run up from its lows? It's important to note that in that EPS projection, the diluted share count was taken into effect based upon the company's recent $2 billion equity raise.
Conclusion
The bottom line is that it's going to take a recovery in copper for a full recovery in FCX to take place. The impressive rally that has taken place in the equity makes me incredibly cautious and rather pessimistic about the stock's future, as individuals are discounting just how tough the operating environment still is. The effect on earnings will be highly negative and implore investors to be cautious.
Disclosure: I/we have no positions in any stocks mentioned, but may initiate a short position in FCX over the next 72 hours.
I wrote this article myself, and it expresses my own opinions. I am not receiving compensation for it (other than from Seeking Alpha). I have no business relationship with any company whose stock is mentioned in this article.