Intel (NASDAQ:INTC) reported earnings after the close on April 19th, and investors were disappointed by low revenues and lowered Q2 guidance. Intel sold off about 2% in after-hours trading.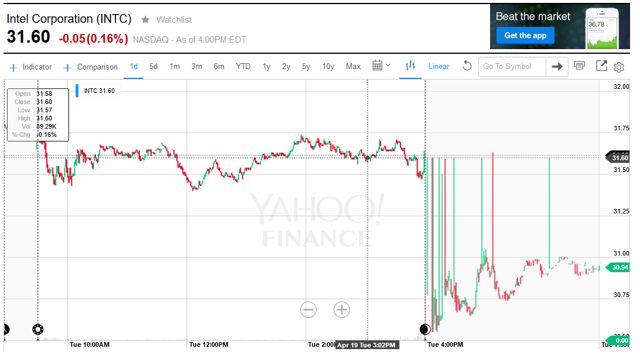 Source: Yahoo Finance
I have previously reported that Intel's climbing inventory levels were helping the company's bottom line.
Here is a graph of the data.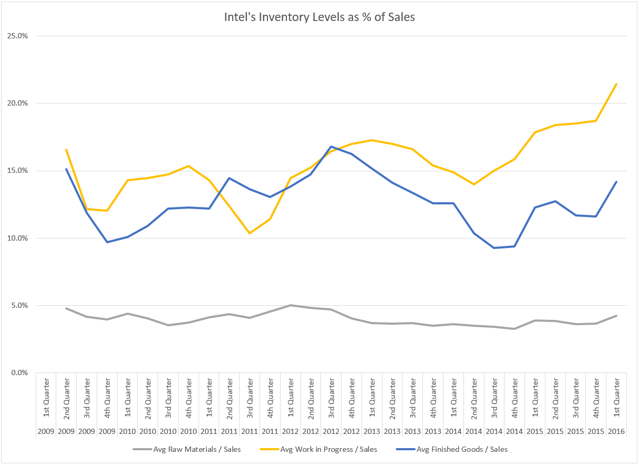 Source: Intel's SEC filings, I-Metrix & author's calculations
I wrote:
The amount of ending inventory impacts Intel's gross margin as shown in the following formula:

COGS=Beginning Inventory + Purchases (Cost to Manufacture) - Ending Inventory

Hence, with a higher ending inventory, this lowers the COGS, which results in a higher gross margin.
In December of 2015, Intel closed its acquisition of Altera, so inventory levels should be nominally higher compared to a year ago. However, by measuring as a percentage of sales this should be mitigated to some degree; if Altera brought in a lot of sales then as a percentage of sales the ratio would not move the needle that much.
This acquisition of Altera should also "help" Intel's cash flow metrics in the near term. Below is the best description I found for what happens to the cash flow statement when a purchase of another company is made:
"... although current assets and liabilities have increased, the change is not reflected in cash from operations (CFO). The cash flow change in operating accounts does not equal the actual change on the balance sheet. Because the additional inventories and receivables are acquired as part of an acquisition, the cash paid for their acquisition is treated as cash for investment.

However, reported cash from operations in the year of the acquisition(and in subsequent years) may still be distorted. The degree of distortion depends on whether the level of working capital immediately after the acquisition is maintained over time.

The potential distortion can be illustrated by considering the inventory acquired. Although the cash paid for the acquisition of the inventory does not flow through cash from operations, the cash received when the inventory is sold does. Thus, CFO is inflated as the proceeds of sale are included while the cost of acquiring the inventory is not. [emphasis added]

This distortion will be somewhat mitigated if inventory is continually replaced, as the cash outflows for new inventory will offset cash inflows from sales. However if there is a reduction in the acquired firm's working capital, CFO may be distorted, and careful analysis is required to understand the impact."

From: The Analysis and Use of Financial Statements by White, Sondhi, & Fried (1994 Edition) pages 859-861
Here is Intel's working capital (current assets - current liabilities) figures for the last two quarters:
Working Capital
2-Apr-16
26-Dec-15
$9,871
$22,674
Source: Intel's SEC filing & author's calculations
Hence, don't be deceived by the operating cash flow metrics when Intel releases its full 10-Q in a few weeks.
Instead, look at Intel's GAAP operating income, although Intel wants you to look at a bunch of "pro-forma" adjustments.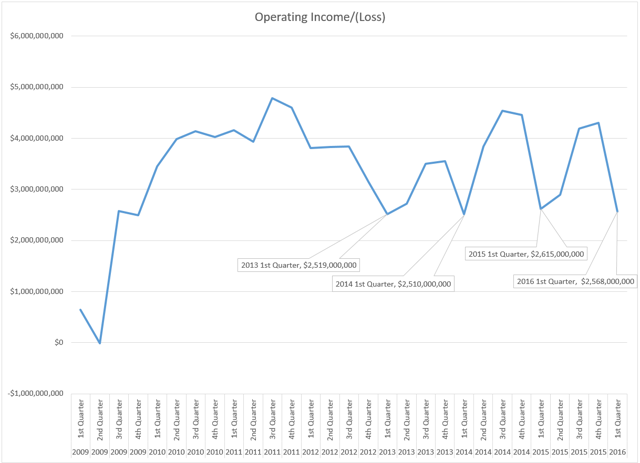 Source: Intel's SEC filings, I-Metrix & author's calculations
I don't see much growth here unless one counts the "growth" in Intel's pro-forma numbers. But the purpose of GAAP is "generally accepted" so that investors can compare results across time and between companies, otherwise it will be apples and oranges. Also, if Intel is really growing then why is it laying off over 10% of its workforce? That is right sizing, not growth.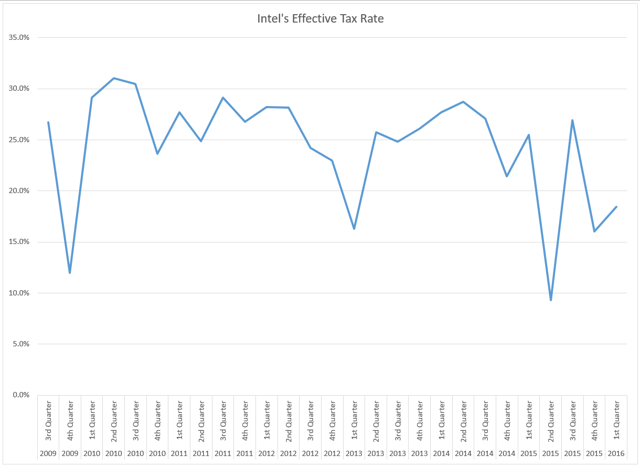 Source: Intel's SEC filings, I-Metrix & author's calculations
Don't get used to an 18.4% tax rate.
Since I wrote the article, in January, the daily returns, Jan. 25th - Apr. 19th, have delivered an Alpha of -.08% with a Beta of 1.08 (Yahoo Finance daily total return data). The alpha amount was so small that I did not even bother to test if it was statistically significant.
I expect Intel will continue to be a "Beta" stock for long-term investors, only Beta returns, and no Alpha, until it can grow organically and not via financial engineering. Avoid tying up your capital in this company if you are searching for Alpha. As generals always fight the last war, don't be like myopic portfolio managers who dream of Intel in the 1990s.
Disclosure: I/we have no positions in any stocks mentioned, but may initiate a short position in INTC over the next 72 hours.
I wrote this article myself, and it expresses my own opinions. I am not receiving compensation for it (other than from Seeking Alpha). I have no business relationship with any company whose stock is mentioned in this article.
Additional disclosure: I/we have no positions in any stocks mentioned, but may initiate a long or short position in intel over the next 72 hours. I have option positions in Intel, both calls & puts