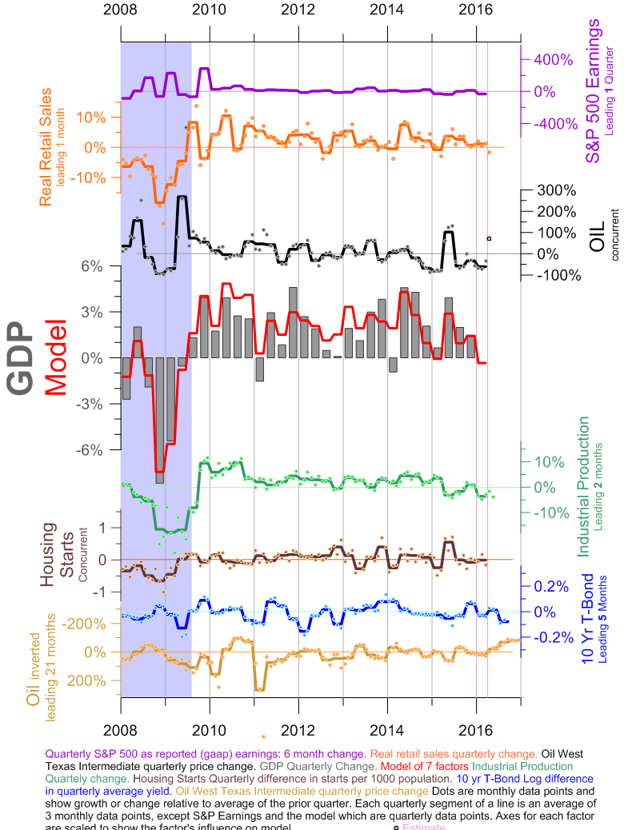 The Model (shown in red) forecasts -0.3% GDP. This is the weakest model reading since the great recession. This is an improvement from two months ago when the model with four estimated data points suggested Q1 would be -0.4%. The higher estimate does not mean the new data points showed a strengthening economy, rather prior data points particularly real retail sales were revised up.
The Seven Factors
As reported or GAAP earnings (purple line) weakened in Q4 and portend a weaker Q1 GDP.
Real retail sales (orange line and dots) indicate a slight improvement for Q1, but still show fairly weak growth. The March retail sales with its one month lead suggests Q2 is off to a very weak start.
Oil for Q1 (black line and dots) averaged $33.18 a barrel, down substantially from the $41.95 for Q4. On a concurrent basis, this suggests a weak economy for Q1. On a leading inverted basis, the rise in price 21 months ago (shown as a drop on the gold line for Q1) also suggests a weaker GDP for Q1. Subsequent falling prices will become an increasingly strong tailwind for growth for the rest of the year. The higher prices so far in April (pink dot) suggest the economy is strengthening in Q2.
Industrial production (green line) indicates the worst growth for Q1 since 2009. With its two month lead time, the last two dots on the chart suggest Q2 will be weak but not quite as weak as Q1. If production falls again in April, which seems likely with the high inventory to sales ratio, the estimate for Q2 could be as bad as or worse than Q1.
Housing starts (brown line) show a slight improvement for Q1. The last data point is the third lowest in the last 12 months. It is well off the high for this business cycle set back in June 2015.
10-year Treasury yield (blue line and dots) implies Q1 will be significantly weaker than Q4. It also suggests Q2 will return to positive growth followed by a sharp drop for Q3.
Q4 recap: The model initially estimated Q4 would come in at 1.6%. Revisions to industrial production and real retail sales lowered the model's Q4 level to 1.5%. The actual GDP initial estimate of 0.7% was revised up to 1.4%. So the model turned out to be quite accurate. The standard error of the model is plus or minus 1.1%. So only being 0.1% off is not something to get use to.
Recession Watch
Even though we are expecting Q1 GDP to be negative it does not appear a recession started. While significant data is not yet available, it appears that Q2 growth will rebound perhaps about half as much as it did after weak first quarters in 2014 and 2015.
Longer-term indicators we follow suggest a recession is likely within the next year. At this point, Q3 looks like the possible beginning. However, new and revised data could change this outlook.
Market implications
The stock market (NYSEARCA:SPY) is not priced for a recession. The probability of recession poses great risk. However, the recognition of the risk could be weeks or months away. In the meantime, the weak economy should be felt in corporate earnings and limit upside potential of the market. The potential downside appears much worse.
Disclosure: I am/we are short SPY.
I wrote this article myself, and it expresses my own opinions. I am not receiving compensation for it (other than from Seeking Alpha). I have no business relationship with any company whose stock is mentioned in this article.
Additional disclosure: There is no guarantee analysis of historical data their trends and correlations enable accurate forecasts. The data presented is from sources believed to be reliable, but its accuracy cannot be guaranteed. Past performance does not indicate future results. This is not a recommendation to buy or sell specific securities. This is not an offer to manage money.