Leading up to the meeting between members of the Organization of the Petroleum Exporting Countries (OPEC) and major non-OPEC producers, oil prices had rallied significantly. In the two weeks leading up to the crucial meeting, Brent crude prices had jumped almost 20%. But Doha turned out to be a damp squib.
Oil prices collapsed as the year began amid ongoing supply glut and concerns over slowdown in China. But after falling to multi-year low levels, oil has staged an impressive comeback. The three-month price chart for oil, courtesy euroinvestor.com, shows the recovery in oil prices.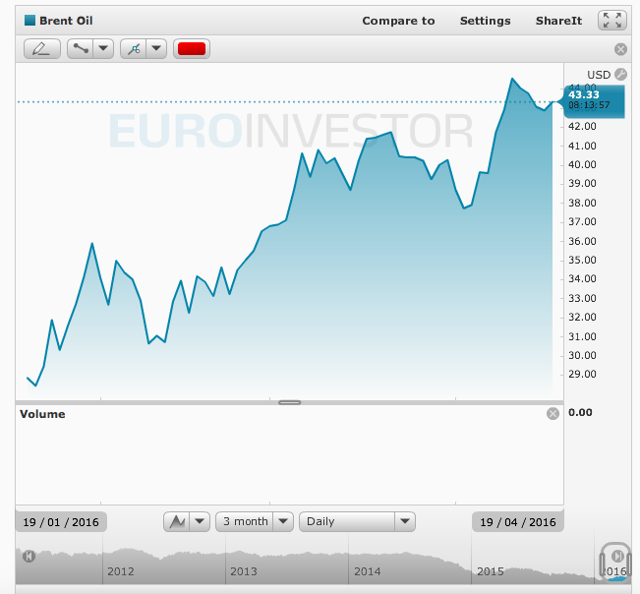 The United States Oil Fund LP (ETF) (NYSEARCA:USO) has gained more than 15% in the last three months. Ahead of the meeting, there were expectations that Saudi Arabia, the most important member of the OPEC, will agree to freezing production. A deal was almost on cards. According to a report in the Financial Times, delegates from 18 countries that account for half of worldwide crude production were expecting a deal as late as Sunday morning. The Financial Times further noted in its report that the first draft of the agreement was prepared with inputs from Saudi technocrats. Therefore, the Gulf nation's decision to backtrack came as a surprise.
What was not surprising was the reaction of the markets, which had baked in a deal into oil prices. The chart below shows a sharp increase in bullish bets from hedge fund managers ahead of the meeting.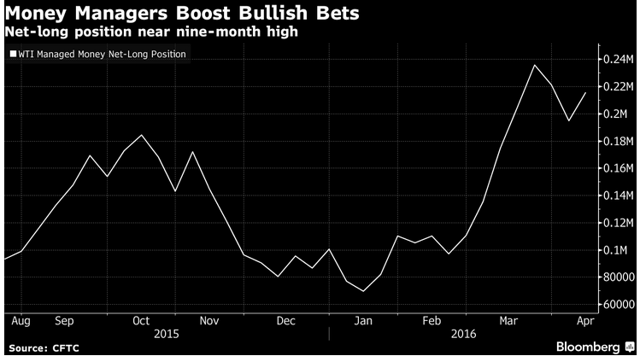 Source: Bloomberg/CFTC
As expected, prices collapsed when markets opened on Monday. However, there was some support due to the oil workers' strike in Kuwait. The strike has led to Kuwait's crude output dropping to 1.1 million barrels per day (bpd) from 2.8 million bpd. On Tuesday, the oil strike in Kuwait actually helped prices. By late trading on Tuesday, Brent crude and WTI prices were up sharply.
Also, the drop in oil prices on Monday was not as steep as anticipated though. Apart from the Kuwait oil strike, analysts believe that improving fundamentals for the oil market provided support to prices notwithstanding the failed Doha deal.
Indeed, supply side issues suggest that too much was being made out ahead of the Doha deal. In the end, it is fundamentals that are driving oil prices. Remember that a deal in Doha would not have led to a cut in production. The likes of Russia and Saudi Arabia would have still kept productions at near record levels. At best, a deal would have given a floor to prices. Prices, as seen from Tuesday's surge, have got a bigger boost from supply disruptions.
Going forward, this is likely to be the case in the oil market as spare capacity reduces. Speaking to the Financial Times, Olivier Jakob of Petromatrix said that the market is "increasingly pricing supply risk as spare capacity has disappeared." The Financial Times, citing data from Energy Aspects, further notes that global unplanned disruptions are close to a two-year high. After Kuwait, another OPEC member, Venezuela could see production disruption. The Latin American country is facing chronic power shortages. These shortages could eventually lead to production dropping by as much as 100,000-200,000 barrels per day, according to analysts.
Meanwhile, non-OPEC production is also declining. According to the Energy Information Administration (EIA) non-OPEC crude oil production is expected to decline by 410,000 barrels per day to 57.2 million barrels per day in 2016. Production could further drop to 56.7 million barrels per day in 2017.
In fact, it is the improving fundamentals that may have allowed Saudi Arabia to put geopolitics ahead of economics at the meeting over the weekend. Remember, lower oil prices, combined with the war in Yemen and social spending, has significantly hurt Saudi Arabia's finances. So much so that the country is now open to privatizing Saudi Aramco.
Where does oil prices head from here? Longer-term fundamentals are certainly improving. However, predicting prices in the near term is a challenge. Mainly because the latest boost to prices has come from supply disruptions. The OPEC will hold another meeting in June but not much can be expected as regional rivals Saudi Arabia and Iran are not prepared to give an inch. However, prices are certainly not expected to drop to levels seen at the start of this year as long-term fundamentals are showing signs of improvement.
Disclosure: I/we have no positions in any stocks mentioned, and no plans to initiate any positions within the next 72 hours.
I wrote this article myself, and it expresses my own opinions. I am not receiving compensation for it (other than from Seeking Alpha). I have no business relationship with any company whose stock is mentioned in this article.