Welcome to the April 20th edition of Seeking Alpha's Eye on Tech newsletter.
Eye on Tech Coverage
Microsoft And Amazon's Latest Cloud Moves Show How Different Their Visions Are
Microsoft (NASDAQ:MSFT) and Amazon (NASDAQ:AMZN) each made fresh cloud service announcements on Tuesday.

Microsoft's new Azure Container Service adds to the company's efforts to grow hybrid cloud usage. New AWS offerings continue Amazon's drive to get as much as possible moved to AWS.

Microsoft's strategy will win over enterprises not willing to move everything to a public cloud. But the long-term payoff for Amazon's strategy appears bigger.
Noteworthy Tech News
Intel beats EPS estimates, offers light guidance, announces job cuts and CFO change, plans to exit some products - Quite the set of Tuesday afternoon announcements from Intel (NASDAQ:INTC). After stating it plans to cut up to 12K jobs (confirms a recent media report, but is still more than expected), the company said on its earnings call it's looking to exit certain product lines.
President Murthy Renduchintala, hired only last fall and reportedly the author of a memo criticizing Intel's execution and calling for changes in its R&D approach, will give CEO Brian Krzanich a proposal on which products to keep and which to divest. There are many possibilities here.
Meanwhile, Intel strongly hints many of its job cuts will hit the Client Computing Group (PC/mobile CPUs) as it contends with weak PC sales and tries to further cut mobile losses. And the company's decision to move CFO Stacy Smith to a new role covering manufacturing, sales, and operations is fueling speculation Smith is in line to succeed Brian Krzanich as CEO.
Intel's actual earnings release was a mixed bag. Q1 EPS topped estimates with the help of gross margin strength and a low tax rate, and rising PC CPU ASPs helped offset soft PC demand. In addition, with desktop and notebook CPUs volumes down just 4% and 2% Y/Y respectively (Gartner/IDC estimate PC sales were down more sharply), it looks like Intel grabbed more share from AMD Inc. (NASDAQ:AMD), even after accounting for an extra week. IoT Group (embedded CPU) and security sales were also strong points, rising 22% and 12%, respectively.
On the other hand, Q2 guidance was below consensus and full-year guidance slightly cut. In addition, Data Center Group (DCG - server CPU division) sales rose only 9% Y/Y, once more missing Intel's 15% 2014-2018 CAGR target. On the call, Intel noted cloud and telecom DCG strength was offset by enterprise softness (partly the result of cloud adoption hurting traditional IT spend). The company expects to see "double-digit" 2016 DCG growth. Also: Intel's flash memory ops (broken out for the first time) saw a 6% revenue decline and recorded a $95M op. loss; industry price pressure is blamed.
VMware jumps on Q1 beat, strong Q2 guidance, $1.2B buyback - Much like IBM, VMware (NYSE:VMW) is trying to offset declines in traditional businesses vulnerable to cloud adoption by investing in several growth areas. Unlike IBM, the market is giving a thumbs-up to the company's latest update on its turnaround efforts. The server virtualization giant beat Q1 estimates and provided strong Q2 guidance on its earnings slides: Revenue of $1.66B-1.71B (+4%-7% Y/Y) and EPS of $0.94-0.97, versus a consensus of $1.66B and $0.94. Full-year guidance is in line.
The company's Compute (server virtualization) license bookings, hurt by cloud adoption, container adoption, and competition, remain weak, dropping 10% Y/Y in Q1. And management software license bookings grew at a modest mid-single digit clip. But end-user computing (PC virtualization/enterprise mobility) license bookings grew at a mid-teens clip, NSX (networking virtualization) grew over 100%, and VSAN (storage virtualization) over 200%. NSX, which is shaping up to be a thorn in Cisco's (NASDAQ:CSCO) side, now has over 1,400 paid customers, up ~200 Q/Q.
Yahoo comments on strategic review, releases earnings along the way - "[W]e made substantial progress towards potential strategic alternatives for Yahoo (YHOO)," Marissa Mayer is quoted as saying in the Q1 report. Those comments, along with earnings call remarks about not providing further updates about the review, have given some encouragement to those hoping a sale is close. Shares rose moderately after-hours.
As for Yahoo's business, it still looks fairly weak. Q1 results managed to slightly beat consensus, but revenue (excluding traffic acquisition costs) was down 18% Y/Y to $859M, with search revenue dropping 21% (search click-driven revenue fell 15%) and display ad revenue 1%. "Other revenue" fell 39%, thanks to the loss of Alibaba (NYSE:BABA)-related fees last September. And Q2 guidance is light.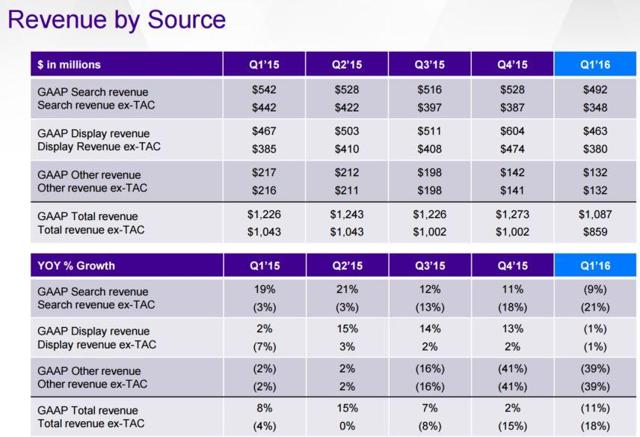 Yahoo's Q1 sales performance. Source: Earnings slides.
WSJ: Yahoo bidders include Verizon, Daily Mail, and TPG - Also reportedly bidding: an investor group featuring Bain Capital, Vista Equity, and former interim CEO Ross Levinsohn (ultimately passed over for the top job in favor of Marissa Mayer). Bids are said to be in the $4B-8B range.
Meanwhile, Reuters reports P-E firms Apax Partners, Apollo Global, and Warburg Pincus also submitted first-round bids. Yahoo might ultimately be more valuable to Verizon (NYSE:VZ) than a P-E suitor, given its strategic interest in creating an online media empire and the potential to drive deeper cost cuts by eliminating functions duplicated by Yahoo and Verizon-owned AOL.
Apple refreshes 12" retina MacBooks with faster processors/storage, rose gold option - A fairly standard Apple (NASDAQ:AAPL) notebook refresh, save for the addition of a new color option. The CPUs are now based on Intel's Skylake architecture rather than the prior-gen Broadwell, and an extra hour of battery life is delivered.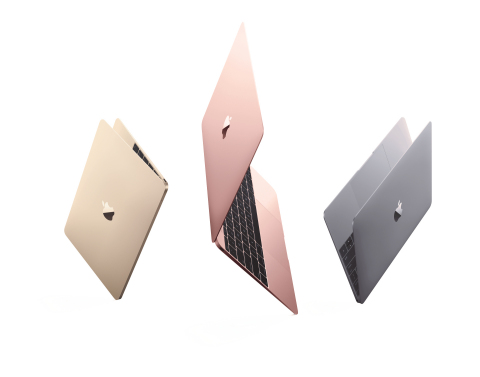 Apple's 12" retina MacBook
When it launched last year, the 12" MacBook (starts at $1,299) got high marks for its ultra-thin-and-light build, long battery life, high-quality display, and Force Touch trackpad. Much of the criticism revolved around its use of just a single USB Type-C port for both charging and data, and its reliance on less powerful Intel Core M CPUs rather than the Core i5/i7 CPUs found in MacBook Pro models and many rival high-end laptops. Those needing to run more demanding applications will likely stick with the Pro (starts at $1,099, but is thicker/heavier), while those obsessed with portability (and OK with having just one port) will opt for the 12" MacBook.
Given its history, Apple might refresh the MacBook Pro, and perhaps also the MacBook Air, at its June 13-17 WWDC conference.
Apple hires former Tesla engineering VP, reportedly has German car team - Until recently, Chris Porritt was Tesla's (NASDAQ:TSLA) VP of Vehicle Engineering. He reportedly worked on the EV maker's S, X, and 3 cars, and before that, was a senior engineer for Land Rover and Aston Martin. Now, he's (per Electrek) Apple's "Special Projects Group PD Administrator," a job title that fits with Apple's secrecy regarding its much-rumored car efforts.
There's naturally speculation Porritt will be the new leader for the company's car project, given the recent departure of project head/Ford vet Steve Zadesky. In January, AppleInsider reported Apple had implemented a hiring freeze for its car project amid disappointment with its progress. The company reportedly wants to bring an EV to market by 2019 - an aggressive timetable, given the manufacturing and R&D work involved and the fact that this will be Apple's first car.
Meanwhile, a German publication reports Apple has created a small German R&D arm for its car project. It adds local auto parts maker Magna will help build the car.
Report: Sony's upgraded PS4 will feature improved CPU, GPU, and RAM - Sony's (NYSE:SNE) revamped PS4, rumored to be in the works for several weeks, will reportedly contain a CPU sporting 8 AMD CPU cores running at 2.1GHz (up from a prior 1.6GHz.), and an AMD GPU sporting 36 compute units (up from 18). That should spell a higher CPU/GPU selling price for AMD.
As previously reported, the new PS4 will support 4K gaming (the current PS4 only goes up to 1080p). However, Sony wants to make sure any new games run on both old and new PS4 hardware. Existing games can take advantage of the new hardware if software updates are released.
Lexmark selling to Chinese group for $3.6B - Assuming U.S. regulators approve, of course. The sale price represents a 30% premium to what Lexmark (NYSE:LXK), facing a long-term decline in its core printing business, traded at before first announcing last fall that it would explore strategic alternatives. M&A-related uncertainty and distractions could give rival HP Inc. (NYSE:HPQ) a chance to gain share.
Broadcom starts production of quad-core, 2GHz., network processor for virtualized infrastructure - Broadcom's (NASDAQ:AVGO) StrataGX BCM5871x processors use 64-bit ARM (NASDAQ:ARMH) cores, and target (in addition to traditional networking and storage applications) virtual customer premise equipment (vCPEs) that can replace a lot of the features of cable/DSL modems with network gear, as well as network functions virtualization ("NFV") appliances that can replace systems running on proprietary ASICs. Broadcom and other network processor vendors, such as Intel and Cavium (NASDAQ:CAVM), have a big opportunity as virtualized networking hardware proliferates.
Netflix might let subscribers download movies/TV shows - Amazon's Prime Video already lets subscribers download videos for offline viewing - useful for cross-country flights, of if you don't want to burn through your mobile data bucket while in places where mobile is the only web access option. Netflix (NASDAQ:NFLX) previously suggested it won't follow suit, but comments from CEO Reed Hastings during the Q1 earnings call indicate the company is changing its thinking. "[A]s we expand around the world, where we see an uneven set of networks, it's something we should keep an open mind about." Could be a slight positive for NAND flash memory providers such as SanDisk (SNDK - about to be acquired by Western Digital) and Micron (NASDAQ:MU).
EU spending €6.7B on "science cloud" - The EU's cloud aims to provide the continent's researchers and science/tech professionals with "a virtual environment to store, share and re-use their data across disciplines and borders." Supercomputer maker Cray (NASDAQ:CRAY), which has done plenty of business in Europe selling to research agencies and institutions, could benefit. Its shares rose 3.3% on Tuesday.
Noteworthy Tech Commentary and Reports
Facebook ad partner Kenshoo reports strong Q1 numbers - Kenshoo says its clients' social media ad spend (primarily Facebook (NASDAQ:FB)/Instagram-related) rose 86% Y/Y, up sharply from Q4's 50%. Ad prices and click-through rates both rose significantly, and ad impression growth was positive after being negative in Q4. Kenshoo also reported decent, but not spectacular, numbers for client search ad spend. Google/Alphabet (GOOG, GOOGL) reports on Thursday, and Facebook on the 27th.
Morgan Stanley downgrades eBay following weak survey data - It looks like eBay's (NASDAQ:EBAY) share losses to Amazon and various other rivals aren't letting up. A Morgan Stanley survey found 62% and 68% of U.K. and German respondents, respectively, saying they had no plans to shop on eBay in the next 12 months - up from 21% and 17% at the beginning of 2015. Even for eBay, the difference in results seems outsized; were there some survey method changes?
Regardless, eBay has definitely been having a rough time: Marketplace GMV was down 1% Y/Y in Q4 to $20.7B. Q1 results are due on April 26.
Ben Thompson: Apple's Organizational Crossroads - Makes the case that Apple's dividing of managerial responsibilities around functions (design, operations, software engineering, chips, etc.) rather than products is hurting the company when it comes to developing services, even as it helps create great experiences elsewhere. Thompson: "The root problem in all these cases is the lack of accountability: as long as the iPhone keeps the money flowing and the captive customers coming, it doesn't really matter if Apple's services are as good as they could be."
Apple's historical tendency to view services as a means towards an end of driving hardware sales (by strengthening its ecosystem) seems to be an issue here. As might its historical aversion to having services support rival platforms. The company's first Android app (an Apple Music app) was only released last year.
Bloomberg: The Real Story of How Amazon Built The Echo - Looks at the hands-on role Jeff Bezos played in bringing about the speaker/voice assistant, as well as the managerial upheaval seen during R&D and how some Echo workers were originally working on an aborted project to create augmented reality products. Bloomberg says none of the ex-employees it talked to for the story "quibbled with Amazon's reputation as a brutal workplace."
Census Bureau: One-fifth of Americans rely solely on mobile Internet at home - That's up from just 10% in 2013. For those earning less than $25K, the figure is 29%. But even 15% of those earning over $100K are now believed to be mobile-only.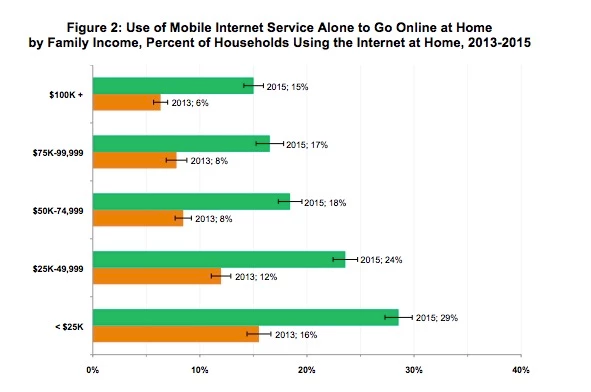 Source: The Census Bureau
While cord-cutting is a well-known (and much-discussed) threat to pay-TV/broadband providers such as Comcast (NASDAQ:CMCSA), Cablevision (NYSE:CVC), Verizon, AT&T (NYSE:T), and Frontier (NYSE:FTR), the impact of web users abandoning home broadband connections in favor of solely using mobile data - 4G tethering services help here, as does declining PC Internet usage - hasn't been discussed as much. If the Census Bureau's numbers are right, the trend is now pretty big. Long term, the additional capacity delivered by 5G networks (still not due for a few years) could lead to even more web users going mobile-only.
Disclosure: I/we have no positions in any stocks mentioned, and no plans to initiate any positions within the next 72 hours.
I wrote this article myself, and it expresses my own opinions. I am not receiving compensation for it. I have no business relationship with any company whose stock is mentioned in this article.