Chipotle Mexican Grill's (NYSE:CMG) food poisoning problems should prove temporary. Chipotle is a very high quality stock that is being steeply discounted for a rare long-term buying opportunity. The options market also has appealing shorter-term opportunities.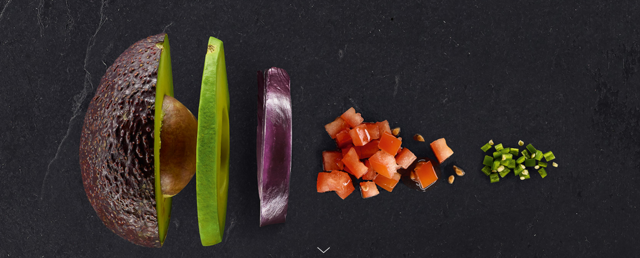 Burrito Blight
Chipotle is currently reeling from a well-publicized series of food poisoning scares that started last Summer. The setback to Chipotle's business may be temporary, but the stock has been clobbered, and currently sits 40% off its highs.

Sales at the end of 2015 and into 2016 were down more than 30% due to the scares, but the bottom seems to be in.
The CDC declared Chipotle's Escherichia coli outbreak likely to be over on February 1st (no incidences since December 1st), and Chipotle launched a sweeping marketing campaign one week later.
Sales comps improved steadily through the week ending March 7, when comps were down 21.5% vs. 36.4% in January.
But insult soon followed injury, as comps in the second week of March declined to 27.3% on the heels of a temporary closing of a Boston location when workers had norovirus symptoms. No customers got sick, but Chipotle hardly needed that kind of publicity.
So the recovery seems to be underway, albeit begrudgingly, and at the temporary expense of earnings. Chipotle expects to announce losses of $1 per share or more for the first quarter when it reports on April 26th.
Expenses will be higher almost across the board, driven by increased marketing and free promotional burritos. The company also expects higher food costs due to lower volumes, additional food safety protocols, more food waste due to higher rejection rates, higher labor costs due to traffic for free burritos, and legal expenses associated with the ongoing investigation by the Department of Justice.
All of that should be temporary, save for a permanent 2% increase in food costs. From the March 8k:
We continue to expect that our margins and earnings potential will fully recover as our sales improve over time, except that we expect our food costs to be higher on an ongoing basis by about 200bps due to the food safety related actions we have taken.
There's no reason to think that Chipotle can't fully recover from this. Taco Bell had a slightly larger E. coli outbreak in 2006-2007, and eventually everyone forgot, and sales growth continued after a dip.
Google Trends)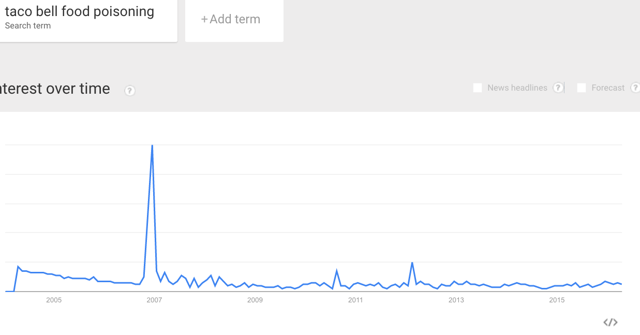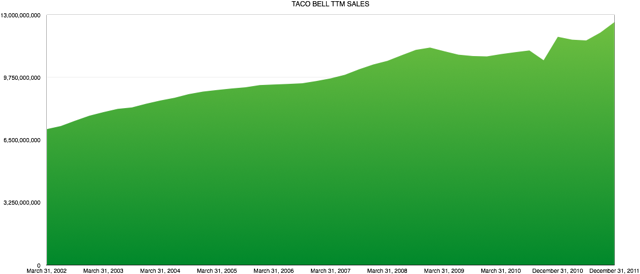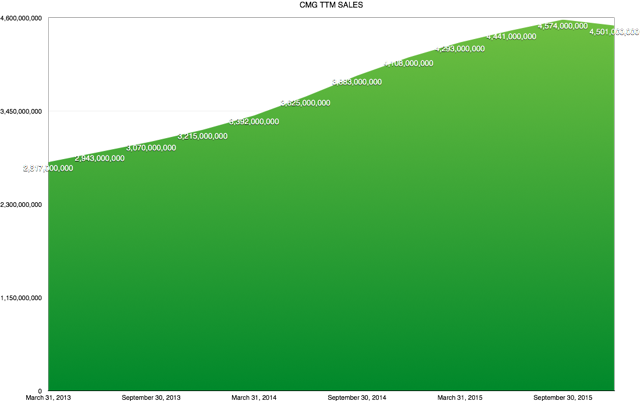 Biting the Burrito
This looks like an excellent entry point for Chipotle. A 2% increase in one expense is not good cause for a 40% drop in a very high quality stock.
And Chipotle is a very high quality stock - it's the best player in an immortal industry, has impeccable management, flawless financials, and terrific growth.
Best Player in an Immortal Industry
The business model of preparing food at a profit is likely never going away, and few companies do it as well as Chipotle. The chain has been enjoying gaudy growth, but it has not come at the expense of profitability. Chipotle has the best margins and returns in the sector. Even with food poisoning headwinds in 2015, Chipotle still managed a double-digit profit margin and return on assets of 18.1 for the year.

Impeccable Management
Is this the same "impeccable management" that just oversaw a 40% drop in share price after a never-ending series of disasters and is currently being investigated by the Department of Justice? Yes, that one.
Chipotle was founded in 1993, if its processes were irresponsible, it would not have taken two decades of feeding people every day to find out. Chipotle is not the first restaurant to have an outbreak, nor will it be the last. The outbreak was bad luck that should be much less likely to happen again now that further safety precautions have been put in place.
So we don't blame management for the outbreak, but we do credit management for some of the best performance in one of the most competitive business sectors. Few businesses face as much competitive pressure as restaurants - there's no barriers to entry, copycats are the rule, and sustainable advantages are the exception. There's so much competition that most restaurants fail within a year.
For Chipotle to not only survive, but grow prodigiously with healthy margins and returns, is the very definition of exceptional. That is a direct result of how well managed the company is.
Flawless Financials
Chipotle has been profitable for a long time, is debt free, and is buying back share.
Terrific Growth
Chipotle was growing at more than 20% annually as recently as the second quarter of 2015, when it had 22.5% trailing twelve-month sales growth.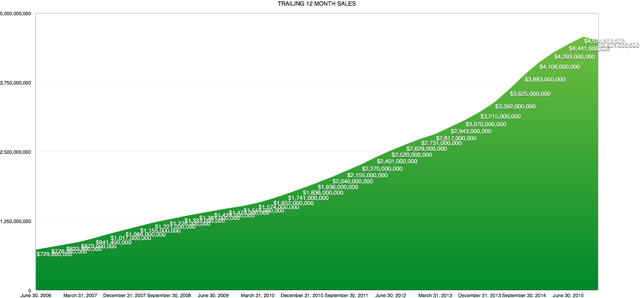 With only about 2,000 locations in North America, there is no reason why that growth can't continue for a long time - consider that McDonald's (NYSE:MCD) has more than 14,000 US locations, and Subway has about 26,000.
The company also has three more irons in the fire - an Asian chain, a pizza chain, and a just announced potential burger chain "Better Burger." The idea that Chipotle's management could work its magic all over again makes for a prized kicker that comes along free with owning Chipotle's stock.
Chipotle is very high quality company, and this looks like an opportune entry point.
Caliente Call Options
We think that at current levels, Chipotle Mexican Grill's common stock is one of the best assets in the market. What is good about Chipotle is not easily found elsewhere.
In addition, owning CMG gives you the right to sell calls, and currently that looks enticing because CMG's implied volatility is very high.
For example, CMG closed Monday at $460.12. The midpoint between the bid and ask for the May 20 $460 strike call is $22.40.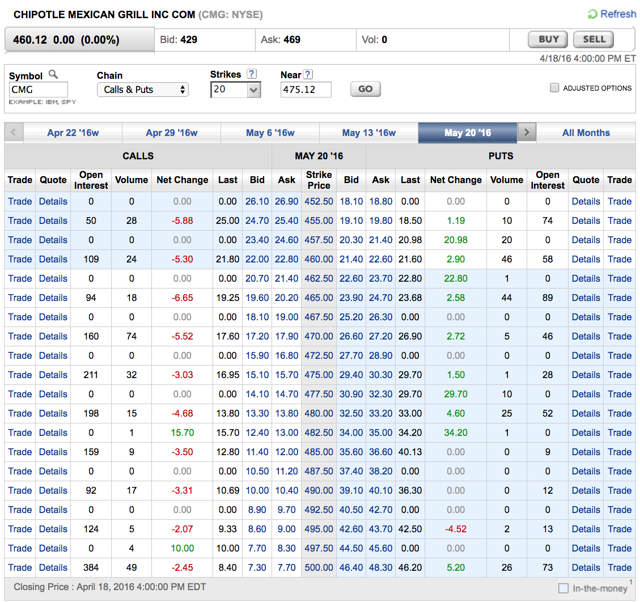 That means that if one buy's Chipotle's stock for $460.12, and sells the May $460 call, then one is getting a 77% annual return, provided that CMG finishes above $460 on May 20.
(Calculated as $22.40/$460.12 = 4.87% per month, or 77% annually).
If CMG is below $460 on May 20, then one has an unrealized capital loss, but a realized gain equivalent to a 77% annual dividend.
Cutting off the upside for some gaudy income may or may not be one's cup of tea, but the point is that Chipotle's options are expensive right now, however you play them, and it could be a good time to sell some.
Let's have a look at another call, the September 16 $500 strike call.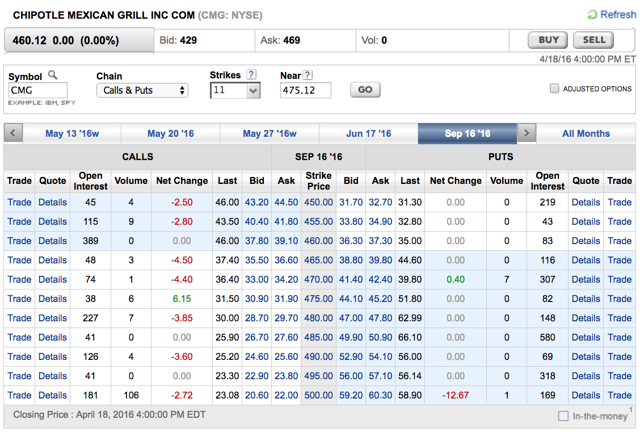 This one has a bid/ask midpoint of $21.30. So if one buys CMG for $460.12 and sells the $500 strike call, and come September 16 CMG is above $500, one pockets $21.30 plus the $39.88 capital gain, for a 13.3% return, or 35% annually.
($61.18/$460.12 = 13.3% over 5 months, or 2.53% monthly, 35% annually).
If CMG finishes between $460.12 and $500, then one still pockets the $21.30 plus the unrealized capital gain. If CMG finishes below $460.12 then one has an unrealized loss, but still pockets the $21.30 for the equivalent of an 11.4% annual dividend.
($21.30/$460.12 = 4.6% over 5 months, or 0.91% monthly, 11.4% annually).
If one has the means, one could write calls on half of one's shares, and keep all of the upside on the other half. Half of 77% or 11.4% is still a hefty dividend.
One final note is that unlike a qualified dividend, call option income is ordinary income, so this strategy would work best in an IRA.
Conclusion
Chipotle's food poisoning problems should prove temporary. The qualities that Chipotle has make it a rare stock, and a 40% discount is a rare long-term buying opportunity. In addition, buyers of the common stock can realize relatively high levels of income right now by selling calls. Now looks like the time to act on Chipotle for the long and short term.
Get More Ideas Like This One
If you like this idea and would like to find more stocks with asymmetric upside, check out our newly launched Best Overall Return Assets subscription service.
Disclosure: I am/we are long CMG.
I wrote this article myself, and it expresses my own opinions. I am not receiving compensation for it (other than from Seeking Alpha). I have no business relationship with any company whose stock is mentioned in this article.