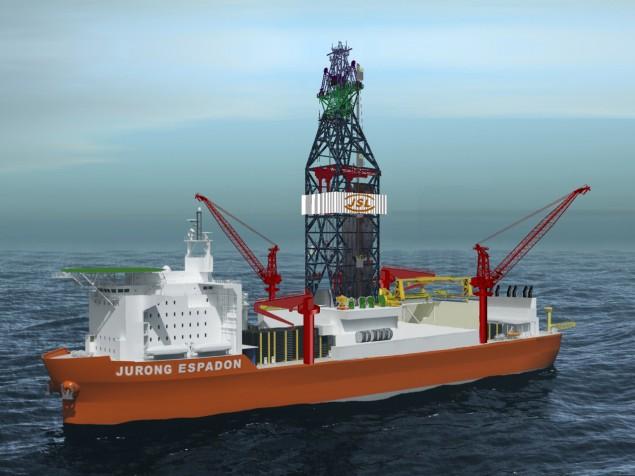 Source: Offshoreenergytoday.com - JSPL Jurong Espadon design.
This article is an update of my preceding article on Transocean, Ltd. (NYSE:RIG) published on March 8, 2016, which was focused on Transocean And Keppel FELS Mutually that Agreed To Defer The Delivery and related payments Of Five Jackups Until 2020.
Today, Transocean Ltd., announced the following:
ZUG, SWITZERLAND-April 19, 2016-Transocean Ltd. (RIG) announced today an agreement with Sembcorp Marine`s subsidiary, Jurong Shipyard Ptd Ltd, to defer the delivery and related final payments of two dynamically positioned ultra-deepwater drillships.
The proprietary Jurong Espadon 3T designed rigs are now scheduled to be delivered during the first and third quarter of 2020.
To view the most recent fleet status on February 11, 2016, click here.
Transocean - Rigs Under Construction
#
RIG
K feet
Delivery
Contract End

Day Rate

K $

Location
Ultra-deepwater Drillships
1
Deepwater Proteus
12/40
Enroute per Rigzone
Q2/16-Q2/26
519

[Shell]

TBA

2
Deepwater Pontus
12/40

Q1/18

Q4/17-Q4/27

519

[Shell]

TBA

3
Deepwater Poseidon
12/40

Q2/18

Q1/18-Q1/28

519

[Shell]

TBA

4
Deepwater Conqueror
12/40
Q4/16
Q4/16-Q4/21
599

[Chevron]

US GOM

5
JSPL Ultra-deep Espadon TBN 1
12/40
2Q'19 1Q'20
Available
-
-
6
JSPL Ultra-deep Espadon TBN 2
12/40
1Q'20 3Q'20
Available
-
-
High-specification Jackups
1
Transocean Cepheus
400/35
1Q2020
Available
-
2
Transocean Cassiopeia
400/35
2Q2020
Available
-
3

Transocean

Centaurus

400/35
3Q2020
Available
-
4
Transocean Cetus
400/35
4Q2020
Available
-
5

Transocean

Circinus

400/35
1Q2021
Available
-
Fleet Analysis Snapshot
Rig fleet per category (minus recent scrapped rigs or held for sale):
Total
UDW

DW

semisubs

HE DW Semisubs

Mid

waters

Jackups
Number of Rigs
61
28
5
7
11
10
Newbuild rigs
11
6
-
-
-

5

Total
72
34
5
7
11
15
Commentary:
The two UDW drillships have been delayed now another 6-month minimum, which is a prudent and good preemptive move from Transocean. This complete the cycle that started early March with the delay of the five newbuild jackups. A total of seven newbuild rigs that are not contracted.
On February 26, 2014, Transocean announced the following:
Transocean, the Switzerland-based offshore drilling contractor which has seen its share price dragging along the bottom of its 52-week low recently, has just announced plans to upgrade its fleet with the newbuild order of two DP3-equipped ultra-deepwater drillships.

The $1.24 billion order was placed with Singapore's Jurong Shipyard, a Sembcorp Marine subsidiary, and includes options for three additional rigs of the same design at a cost of $620 million each.
On March 8, 2016, Transocean Ltd. announced the following:
Today a mutual agreement with Keppel Offshore & Marine Ltd`s shipyard, Keppel FELS, to defer the delivery and related payments of five high-specification jackups until 2020. The Super B 400 Bigfoot Class jackup drilling rigs are now scheduled to be delivered in two and three month intervals beginning in the first quarter of 2020.
This is an important move for four main reasons:
Cost reduction: It pushes a significant amount of CapEx that was scheduled for 2019 to 2020. The cost of a new UDW Drillship is $620 million each, which means a total expense of approximately $1.24 billion for the two new Drillships. This is not peanuts and will seriously lighten up the cost burden while the industry is struggling with a harsh downturn.
Oversupply reduction: The UDW Drillship market is notoriously oversupplied and pushing delivery another 6-month away -- whereas still insufficient at first glance (it would have been better another 12-month) -- is another good and welcomed move, especially when these two drillships have not been contracted yet.
Expansion adapted to a potential rebound: Most of the Transocean's newbuilds are scheduled to be delivered in 2020-2021, excluding the Shell special order, which will be delivered starting in 2016, and has a 10-year contract in the Gulf of Mexico. Many analysts are forecasting a rebound around 2018-202, which means a perfect timing for delivery by 2020.
The Credit rating is likely to be maintained at Ba2 by Moody's, due to the reduction in CapEx expected in 2019.
On October 19, 2015, Moody's downgraded Transocean's debt to Ba2 over the uncertainty around future earnings and a sizable debt maturities, with a large capital spending commitments beyond 2017.
... and deferring the delivery of seven rigs currently under construction. This will mitigate some of the decline in EBITDA and cash requirements through 2017, but Moody's believes that EBITDA could decline further in 2018 and beyond as more of the company's earnings are exposed to declining market dayrates. The uncertainty regarding future earnings power combined with the company's sizable debt maturities and large capital spending commitments beyond 2017 was a key driver for the downgrade.
An important ratio that Moody's is referring to, in its "negative outlook", is the ratio debt to EBITDA, which should not rise over 6x on a sustained basis.
The CapEx estimated for 2016 at the last 4Q'15 results was $1.4 billion, including $1.2 billion allocated to newbuilds.
The "deferring of delivery" for the seven rigs aforementioned above, by Moody's last year, has been, now, completed successfully. It will give more financial breathing room for the company while struggling with these unprecedented tough economical times.
Disclosure: I am/we are long RIG.
I wrote this article myself, and it expresses my own opinions. I am not receiving compensation for it (other than from Seeking Alpha). I have no business relationship with any company whose stock is mentioned in this article.