Johnson & Johnson (NYSE:JNJ) has been a fascinating story to watch over the past few quarters as the company's weak fundamentals have been entirely ignored by investors. Indeed, I've been neutral to bearish on JNJ for some time now and in January, I proclaimed that JNJ appeared to be topping out. But that was back at $102 and with the recent breakout - including another move up yesterday off of the Q1 earnings report - shares are hitting new highs. It seems I was wrong about JNJ but what does the rest of 2016 look like at its new highs?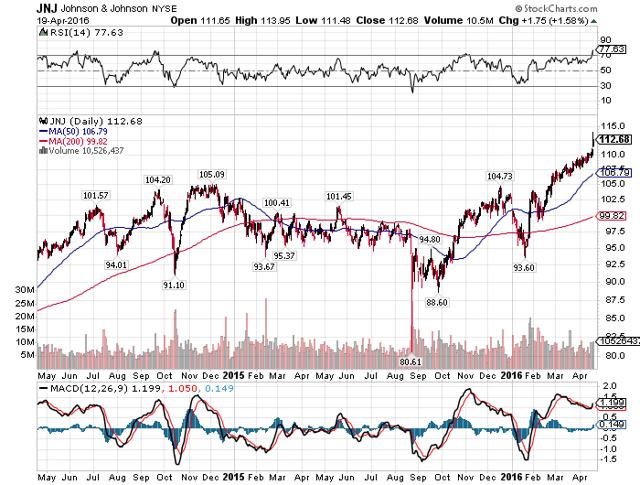 In January, the reason I thought JNJ was topping was because the combination of weak fundamentals and the fact that the stock seemingly couldn't eclipse $105 was too good to pass up. However, weak fundamentals have been totally ignored by investors and I suspect the continued lowering of rates has something to do with it. Regardless, I'm willing to admit when I'm wrong and I was wrong about JNJ. But what about now? Shares are almost $113 after the recent rally and look extended here; is it still prudent to buy?
JNJ's revenue growth has been terrible or non-existent for a while now and that has been a big piece of why I have been bearish. That continued in Q1 as JNJ's total revenue grew fractionally but as the only real source of growth was the Pharmaceutical business, the full picture is worse than a fractional gain. JNJ's consumer and Devices/Diagnostics businesses have been struggling for some time and it seems those struggles have continued into 2016. That certainly does not bode well for JNJ's revenue growth this year but to its credit, the Pharma business is performing admirably. But is that enough?
JNJ's adjusted margins did grow slightly during Q1 such that its non-GAAP operating earnings grew 3% despite the 0.6% gain in total revenue. That's a positive sign, of course, and JNJ deserves some credit. But that level of margin growth isn't going to be a significant driver of earnings growth; it will simply take the sting of very weak revenue somewhat out of the equation.
What's interesting is that analysts have been very busy raising their EPS targets for this year despite the fact that JNJ has shown no ability in the recent past to produce any sort of meaningful revenue or margin growth. Two of its main segments are still contracting at significant rates and while the Pharma business is strong, it is only offsetting weakness elsewhere. In fact, JNJ is only supposed to hit 2% revenue growth this year and to be honest, it will be a task just to hit that mark. Protracted weakness in JNJ's non-Pharma revenue streams is continuing and for some reason, that doesn't seem to alarm investors.
JNJ's guidance for this year was fine but basically hit consensus. It could have been worse, certainly, but it could have been better as well. The guidance was so-so and certainly didn't provide me any cause to change my mind on the company's fundamentals.
But, as I mentioned, it seems the fundamentals don't matter and that something else is in play here. To be sure, JNJ is one of the most respected dividend stocks in the US market, and deservedly so. The company's track record with returning excess capital to shareholders is exemplary and it deserves the respect it receives. With rates having come down even more in recent months, dividend stocks that are ultra-safe - like JNJ - have largely been bid up as their payouts become relatively more valuable against the risk-free rate. I suspect that is the cause for JNJ's rally as the fundamentals certainly do not support such price action.
JNJ is trading for 17.2 times this year's earnings so it isn't as though it is at nosebleed levels by any stretch. But for a stock that is growing EPS at low to mid-single digit rates, a higher PE isn't warranted. I was wrong about JNJ's topping process earlier this year and the stock has certainly broken out of its prior range and quite convincingly. That makes ~$105 support for the time being so downside risk is now about $7 until further notice. The 2.7% yield is probably good enough to entice income seekers to sniff around JNJ - even at current levels - so I'm abandoning my bear case as I have been proven wrong. JNJ's fundamentals still stink but nobody cares so I'll admit defeat here and move on. It seems the power of the dividend wins again.
Disclosure: I/we have no positions in any stocks mentioned, and no plans to initiate any positions within the next 72 hours.
I wrote this article myself, and it expresses my own opinions. I am not receiving compensation for it (other than from Seeking Alpha). I have no business relationship with any company whose stock is mentioned in this article.