ConocoPhillips (NYSE:COP) will be reporting earnings on April 28th, which is just over a week away. The Company's stock just broke even on a YTD chart, up about 0.79%. It's been an incredible turnaround and the company has significantly lowered its per barrel costs to create a lower break even and create stability in the low-priced crude environment. However, the fundamental picture that is unraveling post-Doha paints a grim near-term picture for oil prices and COP's stock may be adversely affected.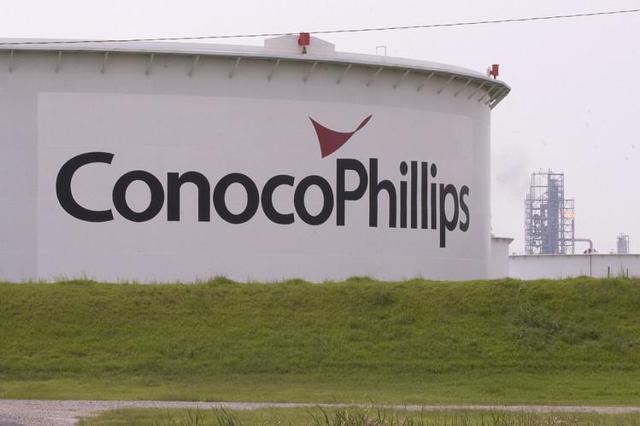 Source: Wall Street Journal
Turning Doha Into Dollars
Oil has seen an incredible year thus far. After sinking to massive lows at $26/barrel earlier this year, the May 2016 futures contract is now trading at $40.32.
At Doha, investors learned a considerable amount about COP's future, both short and long-term. The fact that a group representing half of the world's oil production was able to sit down and talk about a potential agreement to freeze production, albeit at record highs, is bullish for the long-term. However, I'm surprised that the market is understating what's going to happen in the near-term for crude oil.
There's no freeze deal in place, Saudi Arabia has the potential to increase its output by nearly double to 20 million bopd by next year. If that becomes the case, not only will crude oil prices decline significantly, but Iran's scaling to 4 million bopd will look miniscule compared to Saudi Arabia's might. This market share protection move by Saudi Arabia is negative for oil prices, in my opinion, but the actualization of such an output increase would be even worse.
Oddly enough, Doha may have been largely overlooked as Kuwaiti workers' oil strike has really become the story. For the third straight day, Kuwaiti oil workers are striking, bringing production down to 1.5 million bopd from the 2.8 million bopd last month. The combination of this with the Venezuelan power crisis, which is causing a few hundred thousand bopd to come offline, has propped up oil above the $40 level. However, the Kuwaiti strike will likely be temporary, and when things go back to normal, expect Doha to come right back into headlines and drive oil lower.
That being said, it's entirely possible that the API and EIA data that gets reported over the next six to twelve months is bearish in the sense that it'll show crude inventories increasing against expectations. American production is going to have to compete with OPEC and, as a result, inventories will build. The API just reported an increase of 3.1 million barrels versus an estimate of 1.6 million barrels. Below, crude stockpiles are still well above their five-year average and continue to rise.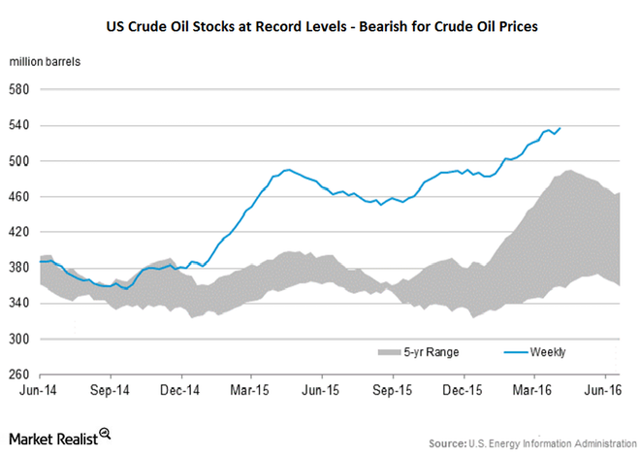 Source: Market Realist
The Next Twelve Months
What does all of this fundamental data mean for investors looking at COP? Investors need to be patient before entering this stock. Ideally, investors should have taken a position at one of crude's bottoms on January 20th or February 11th; however, catching a falling knife and interpreting the immediate run after as a bounce is incredibly, incredibly difficult.
COP is up roughly 56.6% from those February lows, yet crude has been stagnating along the $40 resistance level and the Relative Strength Index is now showing that COP is overbought. Yet, the short interest on COP is the lowest it's been in the LTM, which says a great deal about investor confidence.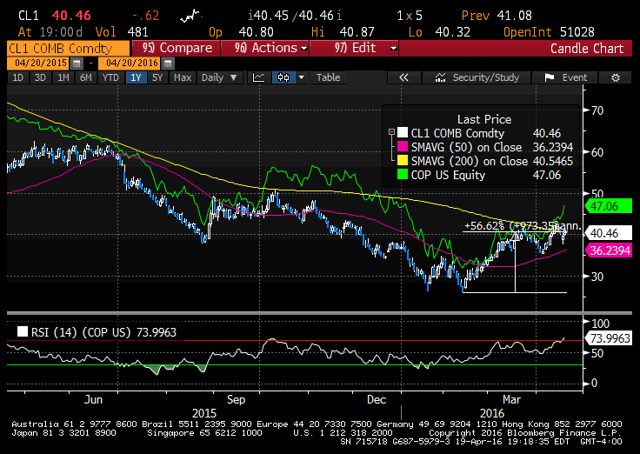 Source: Bloomberg
I largely believe in the argument that crude is cyclical and that it will recover in three to five years back above $70/barrel. It's the rationale behind many overweight ratings for crude from various equity research firms. My price target for oil, driven by fundamentals, is $58 by next April. To put this in perspective for COP, I've compiled the following sensitivity table: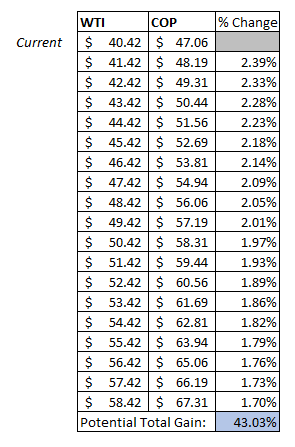 Source: Author
To put this potential gain figure in perspective, think about if the S&P 500, from its current level of 2100, were to return 43%. The S&P 500, next April, would be trading at 3003. It took the S&P 500 from November 2011 to until now to jump 900 points, roughly four and a half years. Based on my price target and time frame, COP has the potential to return 43% in just under a quarter of the time. That seems like an attractive investment. Additionally, COP's net income changes about $35-45 million per $1 change in the WTI. So, this NTM target, if reached, would add $630-810 million to COP's bottom line. As a reference, COP's TTM net income is -$4.43 billion.
Conclusion
ConocoPhillips is attractive from a return perspective. However, the operating environment may, in the coming months, not dictate the positivity that my sensitivity analysis shows. Watching Saudi Arabia's strategy as it pertains to market share will be the largest fundamental driver of crude and I believe it behooves investors to be cautious.
Disclosure: I/we have no positions in any stocks mentioned, and no plans to initiate any positions within the next 72 hours.
I wrote this article myself, and it expresses my own opinions. I am not receiving compensation for it (other than from Seeking Alpha). I have no business relationship with any company whose stock is mentioned in this article.