Canadian Restaurants: What Oil Price Volatility?

Last month we reviewed the annual same-store sales results of the under-followed Canadian-listed restaurants and quick-serve chains [i.e. everyone but Tim Horton's (NYSE:QSR)]. The results were somewhat surprising: all but two delivered positive same-store sales growth. In the latest quarter, The Keg, A&W, Pizza Pizza (OTC:PZRIF) and Boston Pizza (OTC:BPZZF) led the way while Second Cup (OTC:SCUPF) and MTY (OTC:MTYFF) were laggards.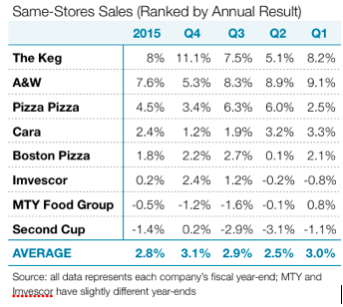 But wasn't the economy in the dumps?
Maybe. Maybe not. Despite ongoing weakness in the oil price, layoffs in Alberta and stock market volatility, the Canadian restaurant industry continues to follow a steady trend of growth year-after-year. While one can argue the declines in same-store sales seen at MTY and Second Cup were due to company-specific issues as opposed to a general economic malaise, the remaining, despite citing Alberta as weak, demonstrate the rest of Canada is doing reasonably well.
Since that time we've learned that things aren't so bad after all. The economy is growing a bit faster than expected and the job market surprised all the gloomy forecasters. While the volatility helped generate plenty of "actionable ideas", the Canadian restaurant industry seems pretty ambivalent to it all.
The foundation driving these results is consistent growth in Canadian restaurant sales, which continue to earn a higher and higher portion of discretionary income. Simply, consumers have continued to eat away from home more frequently.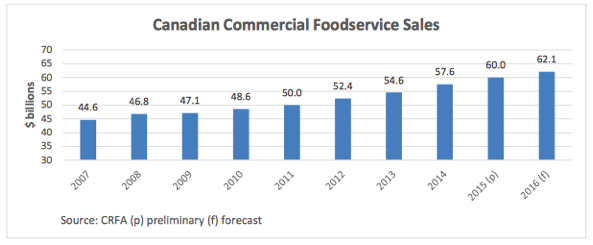 In the interim, we also had two chains report Q1 results - MTY Food Group and Imvescor - and both saw their fortunes continue to improve, which, in my view, supports the idea that while things are tough (they are always tough), it is not as bad as perhaps initially feared.
MTY Food Group
MTY Food Group reported Q1 2016 results for the quarter ended February 29, 2016.
The quarter marked a sort of reversal of fortunes for the company, which had one of the worst performances of all chains last year. The 1.2% same-store sales number was higher than every quarter last year and the highest since Q2 2012 (1.9%).
Yes, you read that correctly. In fact, over the past 4 years, only 4 quarters have been positive. While one quarter is not indicative of a trend, the number of stores closed last year suggests a fair number of trouble spots have been removed.
In addition, here are some highlights from Stanley Ma's letter to investors:
While last year saw sales reach more than $1 billion, Ma's envisions a much bigger number in the future; strong cash flows and a debt-free balance sheet help.
Briefly discusses the write down of Extreme Pita. Brand is not performing as expected and it will take several years before the brand can be turned around.
Will continue to look for targets in Canada and the U.S.
Economic situation deteriorated in 2015 and competitive pressures intensifying… in some regions (assume he means Alberta and Saskatchewan).
The acquisition discipline remains unchanged and will be key to future success.
Imvescor
Imvescor (OTC:IRGIF) also reported Q1 2016 results for the quarter ended January 31 2016
The company continues its turnaround and, to some extent, is benefiting from a Quebec-centric store base. Same-store sales were once again positive (2.9%) marking the 3rd consecutive quarter of growth. Note: Not only are same-store sales positive but they are accelerating as they lap some very weak numbers.
With nearly 90%% of stores in Quebec and Atlantic Canada, Imvescor investors shouldn't really care what happens to the oil price. They should simply focus on management and the initiatives to improve store productivity and franchise profitability.
I recently discussed the read-through of Cara's purchase of St. Hubert on Imvescor. Check it out if you are interested.
Changing Behavior
Let's return for a moment to the chart presented earlier, which suggested that food-service trends and consumer eating habits matter far more than the oil price (certainly debatable).
No discussion would be complete without bringing up the M word: Millennials. The group, born between 1980 and 2000, continue to be a strategic focus for restaurant chains owing to their propensity to spend more away from home.
Last year, a Morgan Stanley study found Millennials were (unsurprisingly) the most likely of all generations to eat away from home.

Note: QSR = quick serve restaurant, CDR = casual dining restaurant, FCF = fast casual restaurant
Further, The Food Institute found they spent nearly 11% more on eating out than Boomers despite having lower incomes. The Institute's President, Brian Todd, says its more than just age driving their behavior:
They tend to snack more than Boomers (hence those trips to Starbucks) and they are less likely to know how to cook, he said.
To some this is hardly surprising. It is merely the evolution of eating habits in Western Economies, which culminated in last year's news that spending at U.S. restaurants overtook spending on groceries for the first time ever.
With this higher-spending generation set to overtake boomers in terms of population size, restaurants around the world are increasingly looking to cater to their needs whether it be a gathering place, demand for healthier options or a more socially responsible menu.
But amazingly (or not) the future is unpredictable. While Millennials have a higher propensity to eat away from home, the changing behavior of this generation cannot be underestimated. Since 2013, they have actually made fewer visits to restaurants and are now making more meals at home.
What does this mean for the future of food service sales? What if we suddenly begin preparing more and more meals at home again? Are we adopting the so called slow-food movement?
As always, the answers are fluid. But ingrained truths need to be challenged and I welcome any comments and thoughts you may have.
Disclosure: I am/we are long PZRIF, MTYFF, QSR, BPZZF.
I wrote this article myself, and it expresses my own opinions. I am not receiving compensation for it (other than from Seeking Alpha). I have no business relationship with any company whose stock is mentioned in this article.
Editor's Note: This article discusses one or more securities that do not trade on a major U.S. exchange. Please be aware of the risks associated with these stocks.