Ever since 2014, I have used Under Armour (NYSE:UA) as a means to illustrate a high degree of value in shares of Skechers (NYSE:SKX). My thesis has always been that UA and Skechers are growing at a similar rate, so therefore UA's stock is not worth 4x as much on a forward P/E multiple versus SKX's stock. For the most part, my thesis has proved correct, and despite this logic remaining in place, it has become increasingly clear over the last few months that a comparison between SKX and UA devalues many important variables, and is no longer a suitable comparison.
Quick summary on SKX vs UA
Back in April 2014, I first identified a golden opportunity in SKX's stock at $13 (post-split), with it rating a very impressive 92 in the numeric rating system that I use in Tipping the Scale. At its peak, SKX reached a 95 rating with a total return of more than 250% from the time that I initiated coverage. It was not until recently that SKX's rating fell below 90, to 86, with the reason being downbeat revisions to earnings by several analysts coupled with high institutional ownership and sudden, unexplained stock losses.
In other words, it concerns me that SKX has suddenly crashed lower against the market when it seems, to the naked eye, that growth is as robust as ever. Hence, the only explanation I can think of for its recent loss is that institutions are performing their own private channel checks, and agree with research from the likes of OTR Global that demand is poor and inventory levels are rising, thereby creating increased selling pressure and risk ahead of earnings.
With that said, I initiated coverage on UA's stock at $51 (post-split), and the trade has pretty much gone as expected; UA's stock is now $44. Furthermore, the reasons for being long SKX and short UA seem just as relevant today as ever to the naked eye. For one, there is still a huge gap between the forward P/E ratios of SKX's and UA's stock, with past revenue growth between the two companies nearly identical.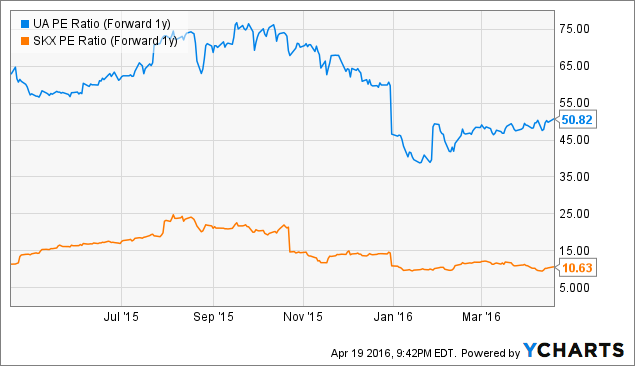 UA PE Ratio (Forward 1y) data by YCharts
As a result, it seems logical that I would continue to say "buy SKX, short UA". However, I am not so sure that is the right call.
What's changed?
Yes, SKX's stock is still a great investment. Even in the event that its growth run is slowing, the stock is dirt cheap at less than 11x forward earnings. Hence, if SKX sees any significant selling pressure after it reports earnings later this month, jump on the opportunity. It may be dead money for a while, but long term, there's not much room for SKX to trade lower and it is very attractive in a market that trades at 18x earnings.
In regards to UA, I no longer think it is a stock to short, and there are two reasons why.
The first I explained back in March when Steph Curry's annualized shoe sales on a forward basis surpassed Lebron James. Fact is we have never seen an NBA player like Steph Curry, and he is captivating youth very much like Michael Jordan did in the 90s.
As explained in that previous article, Steph Curry could very well be the next Jordan shoe brand, which bodes well for UA given that Jordan's shoe sales reached $2.6 billion last year. Meanwhile, Curry's sales are tracking at $160 million annually, and growing fast. Thus, there is a lot of room for Curry to grow UA's overall revenue, and unlike Michael Jordan's deal with Nike (NYSE:NKE) where the company pays Jordan a contracted sum of endorsement money per year plus royalties, Steph's deal is largely tied to ownership in UA's stock. This means that UA gets a bigger chunk of the sales and profits from Curry's shoe sales success.
That said, the second reason is more personal and experience driven. The most successful individual investor I ever knew once told me that the best investments are in what you see and consume. In the last two months, I have visited five states that all have heavy tourism, which include a move from the Cincinnati area to Orlando, FL. What I see in all the schools, streets, and stores is great demand and interest in Under Armour. Meanwhile, traffic in Skechers' stores does not seem to have the same traffic as it did just one year ago.
Admittedly, this observation derives from the southeast section of the U.S., and also NYC. Therefore, I can't speak for what consumers in the West or even Central U.S. prefer, and I also realize that this is just the observation from someone who is noticing these trends in certain areas. Still, I think it is worth noting, and realizing just how quickly Under Armour apparel has grown beyond sports and as mainstream style for children, teens, women, and men. When you incorporate the growing UA footwear brand, it becomes obvious that you cannot value Under Armour on its current operating performance, but rather what it could possibly become down the road.
Therefore, UA vs. SKX becomes an irrelevant comparison. Yes, the comparison has accurately predicted stock performance up until this point, but at this point, the real question is whether UA has a legitimate shot to become the next Nike, and if not, how close can it get? With a $10 billion market capitalization, NKE is 10x more valuable than UA. Therefore, if UA can eventually grow to be just half the size of NKE, even if it takes 20 years, that's 500% upside, and would make UA's stock a great investment long term to buy and hold. While I am not yet ready to conclude that UA will reach that level, it is something to ponder, especially if the Curry line continues on its growth trajectory. Therefore, the cheaper UA's stock gets, the more attractive it becomes. And at this point, the lines are definitely starting to blur, with UA looking more investable by the day.
Disclosure: I am/we are long SKX.
I wrote this article myself, and it expresses my own opinions. I am not receiving compensation for it (other than from Seeking Alpha). I have no business relationship with any company whose stock is mentioned in this article.