The biotech sector has opened the week in a seesaw fashion. The sector was up over one percent on Monday despite a big early fall in oil prices, which has throughout most of 2016 knocked the high beta sectors of the market down as well. Tuesday, the space gave up Monday's gains and we are pretty much where we started the week as far as the major indices are concerned.
Earnings are starting to come from some of the major players in the industry. Swiss drugmaker Roche (OTCQX:RHHBY) beat expectations when it reported Monday. Growth was powered by three main drugs: Herceptin and breast cancer meds Perjeta and Kadcyla, which combined saw sales rise by 9% year over year. Cancer and autoimmune therapy MabThera/Rituxan remains its biggest seller and saw sales rise four percent from the same period a year ago. The European drugmaker is counting on eight new drugs it plans to roll out over the next few years to stem losses from patent expirations.
Johnson & Johnson (NYSE:JNJ) largely met the consensus with its quarterly results. Sales from its hepatitis C drug Olysio fell off a cliff and posted only $32 million of revenues in the quarter. However, its oncology franchise posted a 22% increase in revenues to over $1.3 billion in the quarter. The faster growing part of this business is Imbruvica, which saw sales increase 125% from a year ago to $261 billion. The company owns this compound 50/50 with AbbVie (NYSE:ABBV).
AbbVie reports its results next week along with biotech stalwarts Amgen (NASDAQ:AMGN), Celgene (NASDAQ:CELG) and Gilead Sciences (NASDAQ:GILD). Barron's had a good article late last week on what to expect from these large cap titans. I expect earnings to largely beat expectations, which could provide a nice little tailwind to the sector next week.

The saga at Theranos (THER) keeps taking new twists and turns. This privately held "revolutionary" medical testing firm whose claim to fame was that could perform hundreds of different types of tests each from just a drop or two of blood, is now being investigated by U.S. Attorneys and the S.E.C. Previously healthcare regulators had been looking at the company including seeking a two-year ban for its CEO from running a lab.
It is hard to believe that this "unicorn" once raised funding giving it a $9 billion valuation and signed a partnership agreement with Walgreens (NASDAQ:WBA) to open labs in some of its locations not to mention garnered a significant equity investment from the retail giant. It also appears that rather than using its next-gen "Edison" machine to run myriad tests, it was outsourcing this work to run on standard equipment that is used in major labs. I am just glad this news came out before the firm IPO'd. This type of implosion within a public company would not be good for sentiment on this space at all.
Speaking of implosions, Valeant Pharmaceutical's (NYSE:VRX) CEO finally made his way to Capitol Hill to comply with a subpoena this week. He was grilled for nine hours in a Senate committee, mostly around Valeant's drug pricing policies. Valeant's stock held up well given this, of course, after an over 85% fall from previous highs; shareholders are taking this sort of bad news in stride at this point. I think Valeant is going to be selling off assets in coming quarters to pay down debt, as its growth through acquisition phase seems kaput as the company concentrates on its own survival.
I found this to be an interesting story and one I am keeping an eye on as it could emerge as a future trend in biotech. Privately held Dalcor Pharmaceuticals has been able to raise $150 million in private capital to pursue development of dalcetrapib, which Roche gave up some years ago after a high profile and costly flop in development.
Dalcetrapib was part of the CETP inhibition wave whose aim was to lower the bad cholesterol and raising the good cholesterol. Pfizer (NYSE:PFE) and Roche also had costly initiatives in this area, which they abandoned. However, a group of heart drug researchers laid claim to a personalized approach after doing detailed genetic analysis of the dalcetrapib data points.
They concluded that variations in the ADCY9 gene dictated cardiovascular benefits or risks. That new analysis pointed directly to a "significant group of patients who saw a 39% reduction in risk of the composite endpoint for a range of conditions, including coronary heart disease death, when compared to a placebo."
The company is beginning to recruit 5,000 patients who have experienced acute coronary syndrome for this Phase III trial. They have licensed dalcetrapib from Roche and probably will need to raise another $100 million to complete the study. Obviously, if this worked, this could have ramifications for the entire biotech industry. How many other high profile failures could be resurrected using improved data selection? Definitely something to watch.

Teva Pharmaceuticals (NYSE:TEVA), the largest generic drug maker in the world, has received some praise from analysts this week. RBC Capital reiterated their Buy rating this morning with a $75 price target. Yesterday, Canaccord Genuity reissued its Buy rating and $70 price target.
The company is about to gain even more scale after its $40 billion purchase of the generics business from Allergan (NYSE:AGN) is approved as expected in June. This will lessen the company's dependence on Copaxone (~20% of overall sales) and give the company some other synergies as well.
I recently took a good-sized stake in Teva as I think the shares have suffered unfairly like others in the industry from the "Valeant" overhang that will eventually ebb. Earnings should eke out a gain this year as the company consolidates its huge acquisition. Next year, 10% profit growth should return. The stock is a solid bargain at just over 10 times earnings with a 2.5% dividend yield.
Kite Pharma (NASDAQ:KITE) is also getting a lot of notice from the analyst community this week. FBR Capital, Jefferies, Cowen & Co., and Mizuho Securities have all reiterated Buy ratings on this immunotherapy concern this week so far. Price targets range from $75 to $90. It was the first analyst activity in a month on the company.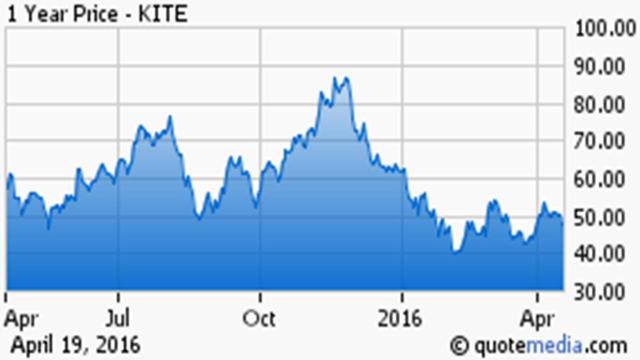 Like most plays in its space, the shares were more than cut in half during the huge bear market in biotech that looks like it recently ended. I don't own shares in the firm but it does possess a solid balance sheet, multiple "shots on goal" and just announced positive trial results from one of its primary drug candidates. Also looking at the chart, the stock does appear to have bottomed.
Heron Therapeutics (NASDAQ:HRTX) also has been in the news and the subject of analyst hosannas this week. Jefferies, Cowen & Co., Leerink Swann and Brean Capital have all reissued Buy ratings this week so far. Price targets range from $47 to $55, the lowest of which is more than double the current price of the stock.
The FDA also announced yesterday in relation to the company's drug SUSTOL "that it sees no substantive deficiencies in its New Drug Application (NDA) seeking approval of SUSTOL (granisetron) Injection (extended release) for the treatment of acute and delayed chemotherapy-induced nausea and vomiting." Labeling discussions are now underway. The PDUFA date had been extended twice from the original slot to allow complete review. The shares rose five percent on the news in trading Tuesday.
I do not follow this company closely, but it does seem an interesting play that also was noted a few times yesterday in the "Live Chat" feature of the Biotech Forum. I am going to do some deeper analysis and make it our Spotlight feature for Friday's Biotech Forum Daily Digest.
Note: New analyst ratings are a great place to start due diligence, but nothing substitutes for deeper individual research in this very volatile sector of the market. Many of the small cap names highlighted in the "Analyst Insight" will eventually appear in the "Spotlight" section, where we do deeper dives on this type of promising but speculative small cap concern.

Small cap Cerulean Pharma (CERU) has been moving higher in a big way in the last few weeks. Yesterday, the stock was up another nine percent. The company was reiterated a Buy at Canaccord Genuity with a whopping $15 price target Tuesday. This oncology concern also presented stage 1 data from a key Phase II trial at American Association of Cancer Research yesterday as well.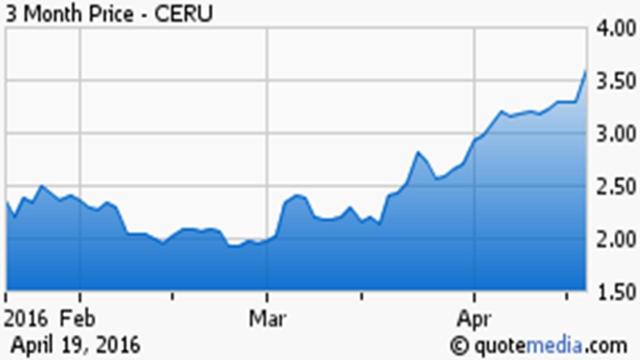 Just over two months ago, I took a tiny stake in this small cap concern. It was suggested as a topic for a quick deep dive analysis by a couple of members of the Biotech Forum, which is a weekly feature of that service. After researching Cerulean, I found it worthy of a small investment even as biotech was reaching the depths of its huge bear market.
I am glad I made that decision as the stock is up some 80% in the just over the two months I have held shares in the company. Even with the run up, I find this oncology concern an attractive high risk/high reward equity suitable for an aggressive growth investor within a well-diversified biotech portfolio. Given this, I am bringing out my original analysis out from behind the pay wall and making it available here for the greater Seeking Alpha community.
February 15th Article
As a follow up to two subscribers of our forum, we will look a bit deeper at a small biotech concern called Cerulean Pharma (CERU). The company, like almost all small cap players in this sector, has been crushed in the big bear market that has swept across the space in recent months. Cerulean traded past $10.00 a share in early 2015 but is hovering at just below $2.00 a share currently. The company came public in April 2014 and closed its first day at $6.85 a share, so Cerulean could be thought of what I term a "broken IPO."
Company Overview:
Cerulean Pharma is a clinical-stage company and develops nanopharmaceutical product candidates in the areas of oncology and other diseases in the United States. The company was incorporated and is based in Cambridge, MA. Thanks to the current market decline, the company now has a market capitalization of just $55 million.
This is less than the just under $80 million in cash and cash equivalents the company ended its last reported quarter with on hand. The company should be funded well into 2017 but will have to raise funding again at some point. It should have many trial results and milestones between now and when it will have to go back to the capital markets, but it is highly doubtful it will have achieved approval on any products within its pipeline within that time frame.
Pipeline & Platform:
Cerulean's Dynamic Tumor Targeting™ Platform creates nanoparticle-drug conjugates (NDCs) that are designed to provide safer and more effective cancer treatments. The company believes it NDCs concentrate their anti-cancer payloads inside tumors while sparing normal tissue because they are small enough to pass through the "leaky" vasculature present in tumors, but are too large to pass through the pores of healthy blood vessels. Once inside tumors, these NDCs should be actively taken up into the tumor cells where they slowly release their anti-cancer payload, providing a durable inhibition of their targets. An NDC consists of an anti-cancer payload that is chemically conjugated to a polymer backbone with a linker.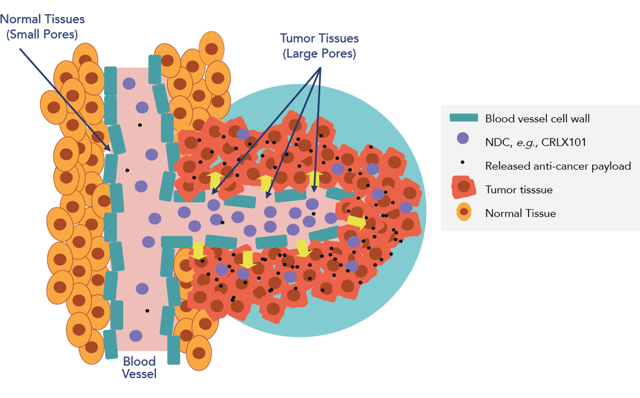 Cerulean pipeline consists of two NDCs, CRLX101 & CRLX301. The former is a NDC with a camptothecin payload. Camptothecin is a potent topoisomerase 1 inhibitor that was too toxic to develop clinically. However, the company believes that CRLX101 appears to reduce the toxicities associated with camptothecin, while increasing the payload concentration in tumors.
CRLX301 is a NDC with a docetaxel payload. Docetaxel is a commercially successful oncology drug that suffers from a poor safety profile that limits its clinical utility. CRLX301 will be differentiated from docetaxel because it is designed to concentrate more docetaxel in tumor cells and spare healthy tissue. As can be seen below, these compounds are in very early stage testing with CRLX101 being tested for a variety of indications in combination with other approved drugs.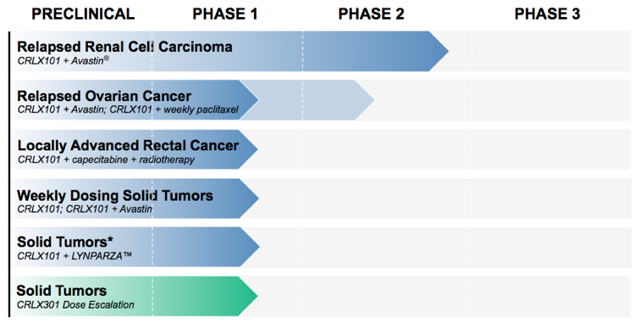 Analyst Commentary:
Given its small size, Cerulean gets limited analyst coverage. It is currently covered by Janney Montgomery, Canaccord Genuity and Roth Capital. All three firms have Buy ratings on CERU. Both Roth Capital and Janney have $9.00 a share price targets on Cerulean. Canaccord has a $15.00 a share price target on CERU. Roth noted, "As the biotech markets are experiencing significant pressure, news flow is very important and we expect a data rich 2016 for CERU, which should be instrumental in driving visibility of the company. With a platform technology providing long-term pipeline fill and what we perceive to be significant improvements in tumor targeting, we believe it is an opportune time to re-visit the Cerulean story" when it reiterated its buy rating on February 2nd.
Summary & Outlook:
If sentiment was better on the biotech space, it would be much easier to be more positive on Cerulean and the stock would not be selling at under its cash value. However, that is not the market we currently inhabit. The company will have numerous trial readouts and milestones in 2016 and before it will need to raise funds again probably in the first half of 2017. If those results are well received and the environment around secondary offerings improve, I could see Cerulean heading higher, maybe significantly so.
However, given how early stage the company's pipeline is, it is hard to see any catalysts that will push the stock out of its rut until sentiment improves markedly on the biotech sector. It is definitely a very "risk on" equity. I will probably take an extremely minute stake just as a placeholder and see how this company proceeds through early stage development. If sentiment improves on the sector, it might be worth revisiting in depth and perhaps a larger position.

Thank You & Happy Hunting
Bret Jensen
Founder, Biotech Forum
Disclosure: I am/we are long ABBV, AGN, AMGN, CELG, CERU, GILD, TEVA.
I wrote this article myself, and it expresses my own opinions. I am not receiving compensation for it (other than from Seeking Alpha). I have no business relationship with any company whose stock is mentioned in this article.
Editor's Note: This article covers one or more stocks trading at less than $1 per share and/or with less than a $100 million market cap. Please be aware of the risks associated with these stocks.