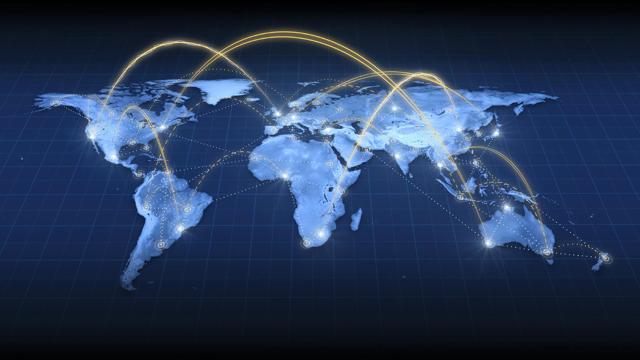 The appeal of DGI is showing in the ETF world, but the majority of these funds are focused on US listed companies. There are only three ETF providers that have international funds that explicitly follow a dividend growth strategy. Proshares with three different international ETFs, Powershares with one, and Vanguard with its brand new international dividend appreciation ETF.
As I said in my last article on DGI ETFs, I am always thinking long term when it comes to holding any of these ETFs. Most of these particular funds are haven't been around very long, so it doesn't give us an accurate view of the returns over a period of one, two, or three decades. With these international funds, more volatility is to be expected due to the different currencies/countries represented. This can also mean there is seemingly instability in dividends as well, even if the companies are in fact raising their dividends consistently. This is of course due mostly to currency fluctuation. For those who will be shaken out of their position if the volatility is too bad, these international funds may not be a good fit. Also, when compared to the Dow and S&P, international ETFs simply haven't produced as high a return as the domestic market. See chart below of SPY vs. VEU: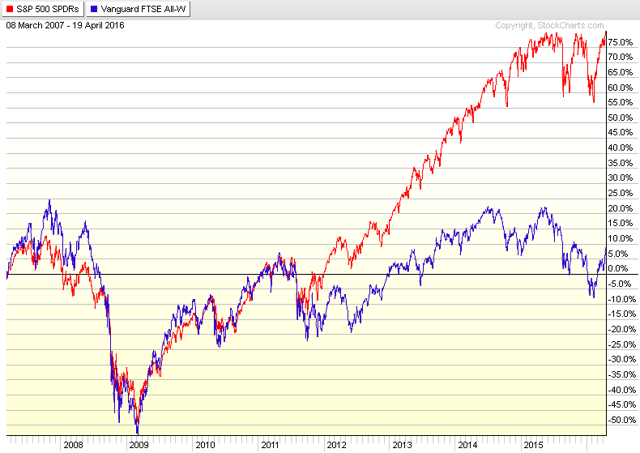 In spite of this, foreign stocks offer higher yields currently, and this is music to the ears of a long-term investor whose primary goal is reinvesting all dividends, so that they can later on receive those dividends as income. The fact that the share prices are not rising in comparison to US equities means it is even more appealing for the investor looking to use the power of compounding. Stocks with lower yields and continually higher share prices might be more appealing to the public, but much of the public is too shortsighted to appreciate the opportunity for long-term compounding that stocks with higher yields and lower share prices offer. The long term investor should actually hope and wish for a down market during the reinvestment phase, as it means using the dividends to pick up shares at lower prices. This is easier said than done though, as most people would have a hard time staying in a position that isn't growing in terms of share price, especially when the US market seems like the better place to be for capital appreciation. My focus is on cash flow though, so share price is not a high priority for the specific purpose of compounding.
First we'll look at how these ETFs compare on some basics.
| | | | | | |
| --- | --- | --- | --- | --- | --- |
| ETF | Years of Consecutive Dividend Increases | Yield | Expense Ratio | Total Assets | Number of Holdings |
| | 10 | | 0.5 | 22.54 million | 55 |
| | 7 | n/a | | 4.68 million | 58 |
| | 10 | | 0.55 | 1.88 million | 48 |
| | 5 | n/a | | 10.67 million | 186 |
| | 5 | | 0.55 | 670 million | 76 |
Top 10 Holdings:
| | | | | |
| --- | --- | --- | --- | --- |
| EFAD | EMDV | EUDV | VIGI | PID |
| | | | | |
| Ryman Healthcare Ltd. | Bangkok Dusit Medical Services Public Co. Ltd. | Compass Group PLC | Roche Holding AG | Teekay LNG Partners LP |
| Teva Pharmaceutical Industries Ltd. | LIC Housing Finance Ltd. | Novo Nordisk A/S | Nestle SA | Rio Tinto PLC |
| FamilyMart Co. Ltd. | Infosys Ltd. | Kerry Group PLC | Novo Nordisk A/S | BHP Billiton PLC ADR |
| Woolworths Ltd. | Asian Paints | Croda International PLC | Nippon Telegraph & Telephone Co. | BHP Billiton Ltd. ADR |
| Shimamura Co. Ltd. | Housing Development Finance Corp. Ltd. | Ashtead Group PLC | L'Oreal SA | Seaspan Corp |
| Compass Group PLC | Vanguard International | Groupe Bruxelles Lambert SA | SABMiller PLC | BP PLC ADR |
| Novo Nordisk A/S | Indocement Tunggal Prakarsa | Coloplast A/S | Novartis AG | Potash Corp of Saskatchewan Inc. |
| Sysmex Corp. | Grupo de Inversiones Suramericana | Roche Holding AG-Genusschein | Unilever | Novartis AG ADR |
| Kerry Group PLC | First Gulf Bank | Swiss Re AG | Diageo PLC | Lukoil PJSC ADR |
Top Ten Country Allocations
| | | | | |
| --- | --- | --- | --- | --- |
| EFAD | EMDV | EUDV | VIGI | PID |
| | | | | |
| Switzerland 10.69% | India-18.76% | Switzerland 13.88% | Canada 12.1% | UK 21.26% |
| Japan 9.17% | South Africa-14.4% | France 7.82% | Switzerland 12.0% | Australia 9.82% |
| France 6.71% | Taiwan-8.9% | Spain 6.45% | Japan 9.0% | US 7.92% |
| Spain 5.53% | Indonesia 5.63% | Denmark 6.38% | India 8.6% | Bermuda 4.41% |
| Denmark 5.48% | Colombia 5.41% | Germany 6.12% | China 6.8% | Switzerland 3.5% |
| Australia 5.47% | Korea 4.68% | Netherlands 4.02% | Hong Kong 5.5% | India 3.04% |
| Germany 3.51% | Mexico 3.53% | Ireland 2.16% | Denmark 5% | Russia 2.83% |
| New Zealand 2.08% | Thailand 3.35% | Belgium 2.14% | France 4.6% | Japan 2.54% |
| Israel-2.03% | Turkey 3.4% | Norway 1.81% | Netherlands 3.2% | Hong Kong 2.52% |
I've been very critical of the expense ratios for ProShares ETFs in the past, and the choices here are no exception. Not only are ERs of .50, .55, and .60 way too high for any dividend oriented ETF in general, but EFAD and EUDV both have contractual waivers that expire in September of this year, meaning the expenses will go higher after that. This waiver also applies to EMDV but since it is a newer fund it doesn't expire until September of 2017. This is reason enough to stay away from these ProShares ETFs, since long term compounding can be hampered by these high expenses. I have faith in people voting with their dollars and primarily choosing lower costs funds for their dividend strategies.
I do like that all three Proshares ETFs have companies with more than 5 years of consecutive dividend growth, but this still isn't enough to get past the expenses. The only way I could look past the expenses would be if the yield were exceptionally such as with an MLP, BDC, or mREIT.
PID has been around the longest, but there are two key issues I have with this ETF. The first is the fact that the top holdings are mostly energy and mining companies. Even though these have raised their dividends so far, my view is that natural resource companies aren't appropriate for a dividend growth investor. The reason is that the earnings are overly dependent on the price of the commodity being produced, rather than the way the company is being run. In the case of BHP or Rio Tinto, their main commodity, iron ore, is in the midst of a fierce bear market. Global growth is still relatively slow, plus iron ore is one resource that China can flood the market with any time they want. I don't expect either of these majors to continually raise their dividend over the next few years. I consider buying any resource company to be highly speculative, even when they are as big as BHP, which is not something most DG investors want any part of. The second issue with PID is the expense ratio, which again takes too big a chunk out of a the cash flow in a long term, DGI strategy.
This leaves us with Vanguard's brand new ETF, VIGI. The expenses are naturally much lower than any of the competitors, which is a huge deal for those looking for compound the dividends long-term. When compared to domestic Vanguard ETFs, VIGI has somewhat higher expenses, but the international choices will usually cost a little more. My only real issue come more from my personal preference rather than any inherent flaw. This issue is the high share price, which makes reinvesting the dividends more difficult for those buying in smaller amounts. VIGI is my top pick out of all these choices.
Conclusion
VIGI is clearly the best choice for those that want to implement the DGI strategy with foreign companies. I stated before that VIG is an ideal fund to use in a Roth IRA, and VIGI could be a good compliment to VIG in the account. I would still want VIG to have a much higher percentage in the account, but VIGI makes a good supplement for an after-tax account such as a Roth. As for the other four ETFs, the fees are too high, but using their holdings as a starting point can help an investor figure out which individual stock to buy. A foundation of dividend growth is a solid way to start your search, and keeping an eye on these holdings can provide opportunity when the share price of a particular company drops enough.
Disclosure: I/we have no positions in any stocks mentioned, and no plans to initiate any positions within the next 72 hours.
I wrote this article myself, and it expresses my own opinions. I am not receiving compensation for it (other than from Seeking Alpha). I have no business relationship with any company whose stock is mentioned in this article.