Thesis:
Nautilus Inc. (NYSE:NLS) has been growing revenue and margins in recent years. Their most recent acquisition of Octane has gained considerable market share for NLS in the fitness equipment segment. Companies such as Brunswick Corporation (NYSE:BC), ICON Health and Fitness Inc., and Amer Sports Corporation (OTCPK:AGPDY), have historically dominated the industry, but Nautilus is now a major competitor. NLS is outperforming these competitors in numerous aspects such as EBITA Margin and Cost of Revenue. While Nautilus's cost of capital is higher than these competitors, its return on invested capital is yielding a significantly higher ROIC/WACC. I recommend NLS as strong BUY.
Growth:
Nautilus has consistently grown the last few years. In 2014, revenue grew by 25.43% continued in 2015 with another 22.34% growth. Since 2011, NLS has nearly doubled its revenue; reporting $335.8M in 2015. Nautilus operates in two segments, Direct and Retail. Direct revenue, which includes sales to organizations such as gyms, accounts for about two thirds of total sales. The remaining third of sales derives from retail. Both of these segments have grown by double digits in 2015, which can be accredited to the successful development and marketing of new products, as well as acquisitions such as Octane. Management has mentioned in the latest quarter earnings report that they expect to continue this growth rate for both of the segments; high-single digit, low-double digit rates. In addition to revenue growth, NLS is continues to improve margins. Since 2011, gross and EBITDA margins have increased by nearly 10%. The direct segment's operating margin has improved by approximately 7.5% over the last 4 years, and the retail segment has hovered around 12-14%. With direct side revenues growing rapidly, alongside its margin improvement, NLS's total EBITA margin is superior to its major competitors, and is just shy of 14%.
(Data for the graph computed from annual reports of each stock)
Market Share and Competition:
The acquisition of Octane in December, 2015 has generated greater sales, and has positioned Nautilus with about 13% market share. More than half of the nearly $2 billion fitness equipment industry is dominated by two companies, Brunswick and ICON Health and Fitness. BC engulfs approximately one third of the market share, and while the company continues to grow, its financials show that it's operating income's growth rate has been consistently declining over the last 6 years. However, BC remains as Nautilus's greatest competitor for now, and years to come. On the other hand, the second largest player in the industry, ICON Health is on a rapid decline. IBIS World estimates that its revenue has decreased at an annualized rate of 7.7%. This dramatic decline is largely due to depressed manufacturing operations, lawsuits, and increased competition from companies such as Nautilus. Profit has also suffered for ICON; increasing legal fees and operational costs have outpaced revenue. The third biggest competitor for NLS is Amer Sports Corporation. AGPDY currently has about 3% of the market share, however, they specialize in commercial sales primarily. Nonetheless, Nautilus has taken over the third spot in this battle for market share, and in due time, they will surpass ICON Health.
(data used for the graphs)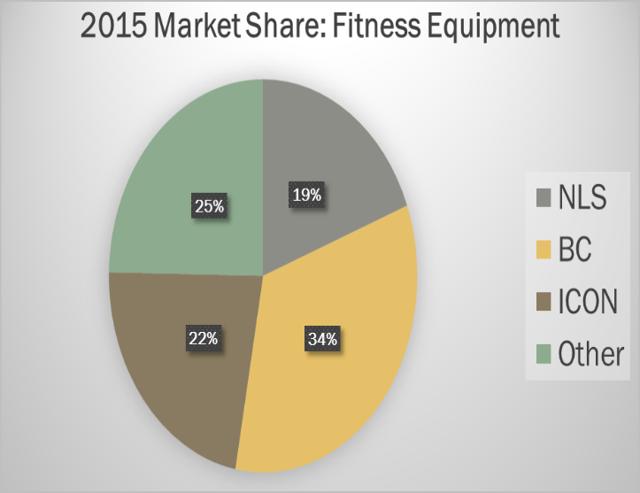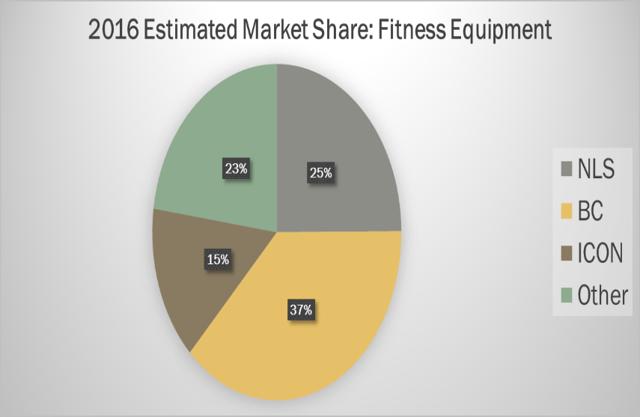 Historical Analysis:
NLS is superior to its competitors in numerous aspects. Beginning with revenue to total employees, NLS recorded 0.71 last fiscal year, while the two publicly traded competitors (BC and AGPDY) recorded 0.33. This is a critical factor when determining the overall cost of revenue which for NLS, was 47.2%, while for BC and AGPDY was 72.9%. Additionally, these COGS have demonstrated a downward trend for NLS, while the industry remains relatively constant. Last fiscal year, NLS outpaced these competitors by 3.3% for EBITA margin. Many analysts assume that a smaller, growing, company like NLS will be less profitable than well-established corporations, but the significantly lower cost of goods is yielding a higher margin. This cost efficiency advantage is stock price driver in the short run, as well as the long run. Where NLS is considered less efficient than its competitors is SG&A/revenue, which is most due to greater Selling and Marketing expenses. However, management has accredited the rapid revenue growth to these advertisement expenses. Management believes their gain in market share is due to the successful response they see from these expenses, and as a result, do not plan on decreasing this percentage in the near future. They continue to reach out to consumers through advertisement, spend 36.7% of their revenue on SG&A (compared to 13.9%), and still manage to yield a higher ROIC. When looking at NLS as a long position, rapid stock price growth will occur when management feels that it time to decrease S&M expenditure. Their lower COGS acts as a serious competitive advantage over their competitors, and NLS has the capability to dramatically improve margins. Overall, NLS's ROIC/WACC has improved from 0.91 (10 year history) to 1.54 (last fiscal year), and AGPDY and BC has worsened from 1.48 (10 year history) to 1.39 (last fiscal year).
Additional Information:
Nautilus has typically operated without debt on their balance sheet. However, the recent acquisition of Octane has added $80 million to their books. Although NLS does not currently have an official credit rating, management has reflected their confidence in being able to fulfill the interest payments.
Investment advisors ownership from March 2015 to now has increased 5%, now totaling 79.79% of all holdings. Hedge Fund Manager's hold 13.17% of shares, a decline of 2.64% from last year, and Pension Funds hold 3.15%, an increase of 1.42% from last year.
Conclusion:
Nautilus Inc. is set to become the 2nd largest player in the fitness equipment industry. Their rapid revenue growth and superior margins justify the markets mispricing of this stock, as well as the long term outlook for investors. Within the year, I expect the stock price to increase to $25 a share, as management continues to report record breaking quarters. The historical analysis that compares Nautilus to two of its largest competitors breaks down the company's strengths, as well as their ample selling and marketing expenses. While many analysts believe these advertising costs are devaluing the company, management acknowledges that these expenditures are the current catalyst for their revenue growth, and ultimate gain in market share. When NLS has acquired enough brand recognition to decrease advertising expenses, they will have the ability to dramatically improve margins, and far outperform its competitors. For these reasons, I recommend NLS as a strong BUY.
Disclosure: I am/we are long NLS.
I wrote this article myself, and it expresses my own opinions. I am not receiving compensation for it (other than from Seeking Alpha). I have no business relationship with any company whose stock is mentioned in this article.
Editor's Note: This article discusses one or more securities that do not trade on a major U.S. exchange. Please be aware of the risks associated with these stocks.