As Facebook (NASDAQ:FB) is set to report Q116 earnings next week (after an incredible Q415 report in January), investors will train a keen eye to metrics like user growth, monetization and margins. Whatever these short-term results, FB's long-term prospects are very bright, and investors with a longer-term horizon would be wise to keep in mind the following:
Scale, Use and Growth of Core Social Network
Massive social network, network effects with billions of users create high barriers and very wide, defensible moat
Very large economies of scale create high margins
Intensity of use remains very high (~80% US), eyeball share growing: minutes/user +22% y/y.
Built for the mobile world and has successfully navigated mobile transition (80% of ad rev)
Future Opportunities Stemming From The Core
User data, analytics, measurement (FB pixel, Conversion Lift) lead to improved quality and relevance in ads. FB Audience Network (third-party sites) now $1b run rate
Better monetize supplemental products:
Instagram: 400m MAU, recently added Trending Content, content editing apps
Messenger: 800m MAU, "M" AI, payments
WhatsApp: 1b MAU, now free
Virtual reality option: Oculus the leader in VR, future platform opportunity
Monetization/minute spent by users still well below comps
Improving ad blockers further increase value of contained ecosystem to advertisers
Online video offers huge potential, now at 100m hours daily. Slideshow - video ads at low connection speeds
FB is currently just in the early stages of transitioning from the user accumulation phase of its business to actually extracting value from those users. This second phase of monetization has significant upside and longevity. If that weren't enough, FB has many core properties (WhatsApp, Messenger, Instagram, Oculus) that are themselves still mostly in the user accumulation stage. These will act as future catalysts as monetization of the core platform slows.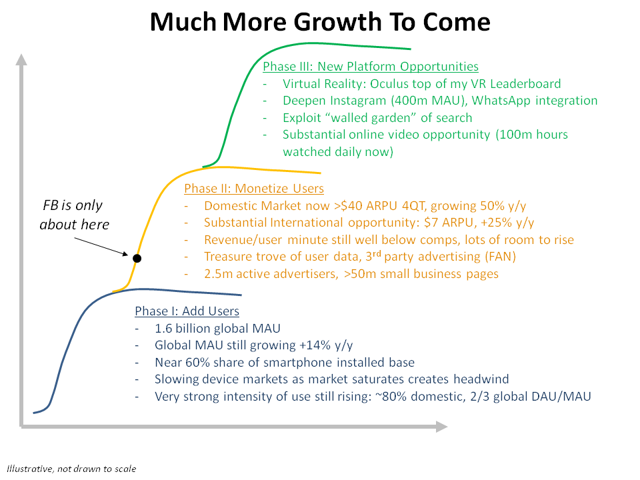 Phase I Coming To An End. Device, FB Penetration High
The market is becoming saturated as the world is running out of people without a smartphone, tablet or PC that can afford one. In fact, tablet and PC unit sales have already turned negative and are likely to remain so in 2016. Smartphone unit sales have slowed dramatically in the past couple years, though they are likely to remain in the high single digits y/y in 2016. While FB's y/y growth in monthly active users (MAU) has actually reaccelerated some in recent quarters, slowing growth in devices creates headwinds for FB's user growth as the TAM (total addressable market) is no longer growing as it once was.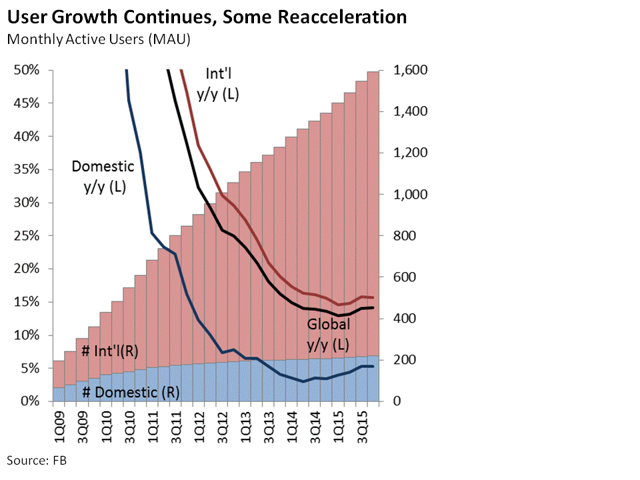 Intensity of use mitigates some of these concerns. That is, as new user growth is likely to slow, the frequency of use of those users continue to climb. The FB social network demonstrates network effects in its purest form: the more people use it, the more valuable it becomes and the more people want to use it. Ample opportunity remains for FB's users to drive more revenue. Nearly 80% of domestic MAUs are now active on a daily basis, or stated another way, on average FB's 219m domestic users are active four out of every five days. FB faces more competition in international markets, but should be able to continue to grow user activity.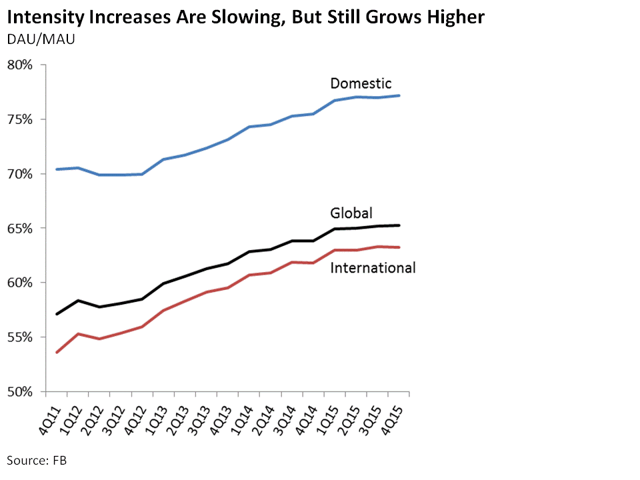 Phase II Growth Opportunities Just Beginning
Several near-term growth drivers should continue to lift the monetization of FB's user base as measured by average revenue per user (ARPU). These include:
Ad supply (users, spaces for ads, minutes/user) and demand (2.5m small businesses) are growing. Price/ad was up +21% y/y in Q4, and impressions were up +29% y/y.
FB has become increasingly aggressive in rolling out new ads products
Shopping/"buy" buttons
Instagram ads increasing
Oculus launch in March
Much better analytics and brand measurement, i.e. "Brand Awareness Optimization"
Monetization is improving as FB continues to introduce new and better ad products, analytics and even moves to third-party ads. These improvements have led to a reacceleration in recent quarters. ARPU is now growing +50% y/y domestically and >30% y/y globally. While international ARPU won't reach domestic in absolute terms, there is opportunity to narrow the gap in out years, especially as domestic ARPU growth slows.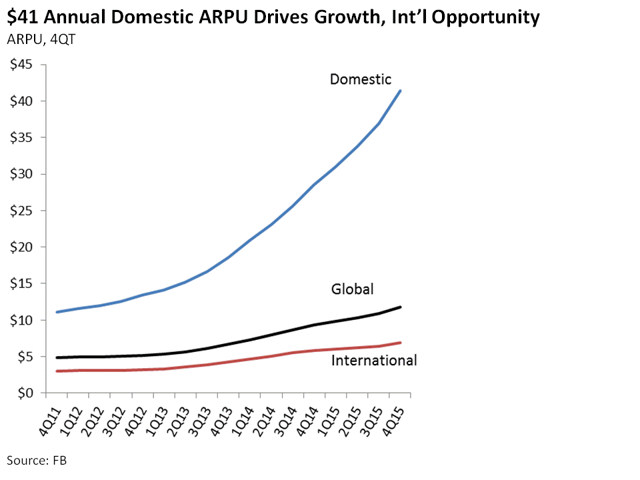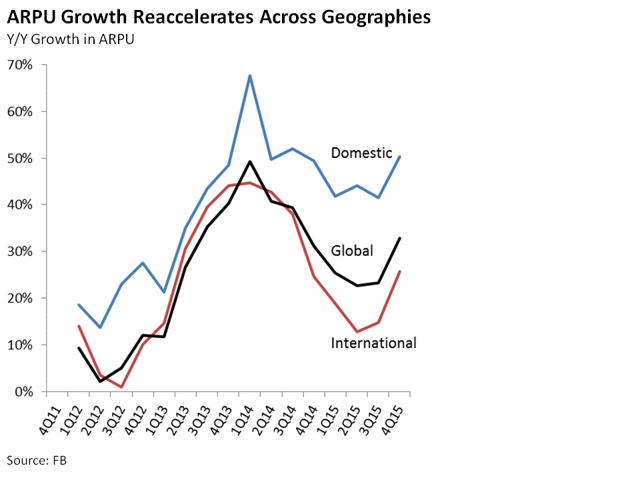 Phase III: Many More Strong Growth Drivers Exist, Watch Oculus
While we're starting to see FB begin to devote more attention to monetizing products like Messenger and Instagram, there's still a long way to go to fully realize the potential. However, as growth slows in the future from a combination of user growth saturation and ARPU maturity, expect much of the slack to be picked up from catalysts across its platform.
Most intriguing across its portfolio is Oculus, FB's $2 billion virtual reality acquisition in 2014. Virtual reality (VR) is more than just gaming, it's a platform with enormous potential for conveying and interacting with information across many large markets, such as communication, enterprise, e-commerce, real estate, education, healthcare and many more. Gaming will be the central monetization point and drive eyeball share in the early going, but VR presents enormous potential for social networking/communication/sharing that is core to FB. VR is emerging now, but enthusiasm should be tempered for 1.0 versions that fail to adequately capture VR's potential.
VR will sell millions of units in 2016 with high growth potential. While Sony's (NYSE:SNE) PS VR is underappreciated and has a small advantage in the early going (installed base, gaming strength/relationships, cost... despite not being released until October), longer term, FB's Oculus is a better product, has vendor tie-ins (Microsoft (NASDAQ:MSFT), Samsung (OTC:SSNLF)), prices will decline, and the benefit of FB's social network (and cash flow) backing it. FB doesn't necessarily want to be in the hardware business. For FB, this is not about selling VR headmounted displays (HMDs), but rather about having a leading presence in VR which could threaten to disrupt the communication that currently takes place on its social network. Further, VR offers the potential to completely reshape aspects of the global economy and society, even more than FB already has. In the short term, Oculus adds some incremental revenue to FB at a considerably lower margin. In the long term, it offers significantly higher revenue and margin potential via apps, services, advertising, etc. The Street will be anxiously awaiting any potential data points or commentary FB may have during its earnings next week, especially after a disappointing roll-out plagued by delays and a surprisingly high price point ($599) unveiled in January.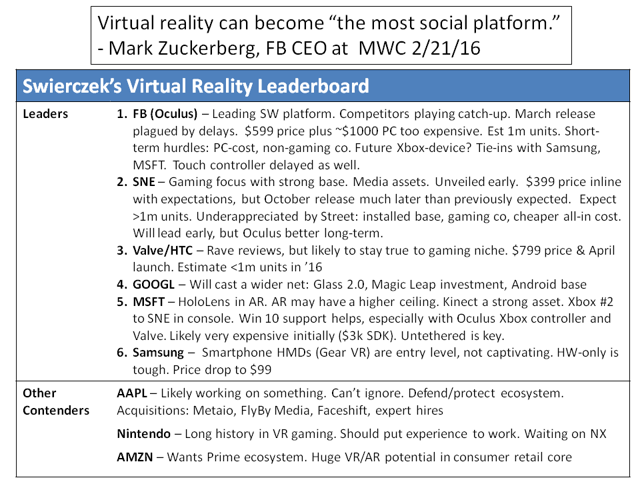 There do exist many threats to FB realizing this potential. Yet, many of the common arguments against FB are debatable at best, not to mention trumped by the opportunities.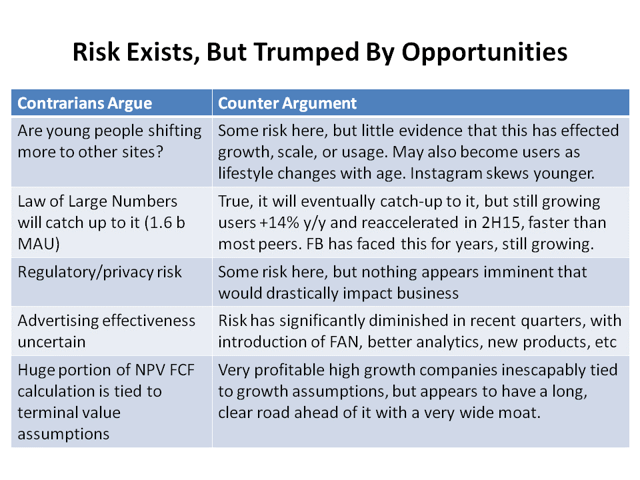 There is truly massive potential with FB. Models and valuations are highly dependent on volatile assumptions which themselves are highly levered to near-term results. As models are being updated and analysts are pounding the table next week after short-term earnings are announced, those with a longer time horizon would be wise to keep their eye on the larger picture. Even conservatively modeling margin expansion off of my expectations for revenue growth leads to a price target of $130, nearly 20% higher than its current value. With some mildly more aggressive assumptions, my bull case scenario yields a price target of $155, presenting considerable upside over the next 12 months.
Supporting Documents
Disclosure: I am/we are long FB.
I wrote this article myself, and it expresses my own opinions. I am not receiving compensation for it (other than from Seeking Alpha). I have no business relationship with any company whose stock is mentioned in this article.
Additional disclosure: I have a small position in FB shares. Less than $5,000 and less than 5% of my portfolio.