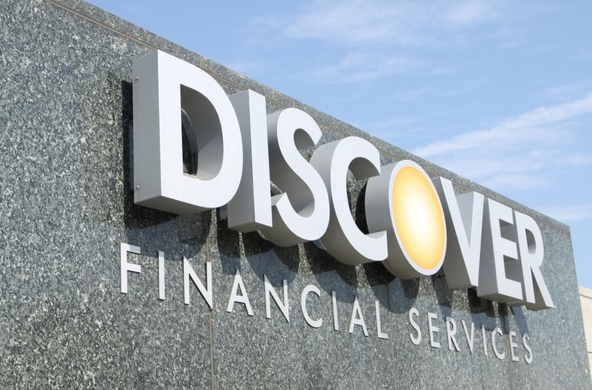 Discover Financial (NYSE:DFS) is a name I've been pounding the table on for some time as a screaming buy. The company's terrific returns as well as an impressive growth trajectory have made it much more attractive than a lot of other financials of late but it has been a very frustrating position indeed. DFS continues to languish and after hitting an almost unbelievable $42 in February, the stock has rallied nicely to $56 . The latest push higher is due to strong Q1 earnings and it seems investors are warming to the idea of owning DFS once again.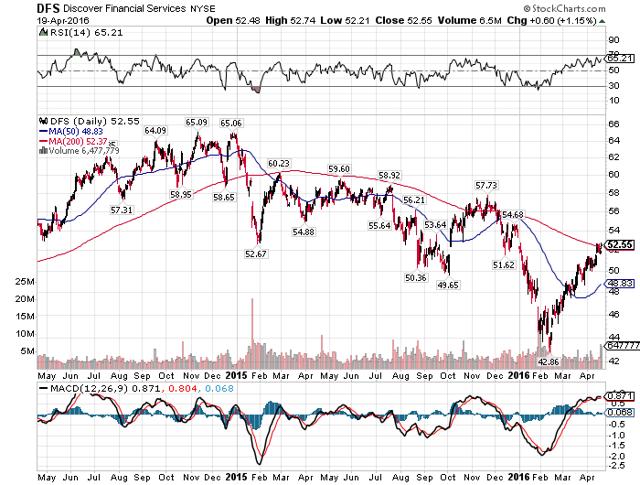 A big piece of the bull case for DFS is certainly loan growth as it exited the tough mortgage business recently and is instead focusing on credit card and personal loans as sources of growth. The strategy continues to work as its credit card and total loan portfolios both moved up by 4% during the quarter against last year's Q1. That amounts to torrid growth these days for a financial (as sad as that is) and it is something DFS has been executing on for some time now. Continued loan growth will certainly be key for the bull case going forward so loan growth will be paramount as DFS continues to report throughout the year.
In addition to loan growth, DFS continues to use its bank to collect deposits to make its lending operations cheaper. Direct and affinity deposits rose 12% during the quarter and the more here, the better. Higher deposits mean DFS' cost of credit gradually declines as deposits pay very little in the present environment. In addition, they simply provide additional capital to fuel loan growth so this shouldn't be overlooked.
Margins were up very nicely during the quarter as NIM moved 24bps higher to 9.94% and card yield moved 37bps higher to 12.42%. Both of these outpaced interest expense growth of 11bps and this is how DFS is going to make its money; as rates, spending and loans continue to move higher, DFS can collect higher spreads. This is perhaps even more important than overall book growth because margin expansion can be a very powerful driver of EPS growth and DFS is certainly setup well for that to occur this year and next year.
Credit metrics were basically flat in Q1 which is fine. More traditional lenders are getting hammered by energy exposure so flat may be the new up, as they say, for credit metrics. Not much to say here except that DFS continued to chug along and as long as we don't see deterioration in credit metrics, DFS will continue to be fine.
Things were also quite rosy on the expense front as a 3% bump was seen due to higher compliance costs. The good news is that if compliance is the only thing driving personnel costs higher, it will be short-lived. Compliance costs aren't going to continuously increase forever because at some point, you've got enough people to perform whatever tasks are necessary. Either way, revenue and cost growth are roughly in-line with each other so DFS should see some leverage over time as it has proven the ability to spend prudently.
DFS has one of the most effective buybacks I've seen in quite some time and in particular, for a name with the size and scale of DFS. The company has been retiring 2% of the float per quarter for a while now and Q1 did not disappoint. DFS retired another 1.8% of the float in Q1 and is poised to continue to do so for the foreseeable future. This alone can drive EPS 6% to 8% higher each year irrespective of any gains made from the operations of the business and that is a powerful story.
Even after ripping higher today off of the earnings beat, DFS is still only at 10 times this year's earnings. That's a very low valuation for a company that is growing earnings the way DFS is and - also very important - has the growth runway that DFS possesses. The combination of NIM increasing along with even modest loan growth should produce mid-single digit or better earnings growth but when you throw in the buyback, DFS' expectations are very low. I think DFS will be closer to 12% earnings growth this year than the 8% currently forecast and that means that even after a rally from $42 to $56, shares are still cheap. I'm definitely not done with Discover as sentiment has turned and that means DFS is set to make a move back to its 2014 highs in the mid-60s.
Disclosure: I am/we are long DFS.
I wrote this article myself, and it expresses my own opinions. I am not receiving compensation for it (other than from Seeking Alpha). I have no business relationship with any company whose stock is mentioned in this article.