A SunEdison (NYSE:SUNE) bankruptcy appears to be inevitable at this point. The near-unprecedented nature of SunEdison's collapse is a painful reminder of the solar industry's unpredictable nature. While the solar industry is far healthier than it has been just a few years back, SunEdison's implosion is proof that solar stocks are still incredibly risky. The sheer magnitude of SunEdison's failure will likely change the direction of the solar industry.
SunEdison's downward spiral was largely a result of the company's overly ambitious vision and aggressive financing schemes. Much of SunEdison success was dependent upon a stable market environment, which of course turned out to be far more volatile than imagined. While SunEdison's massive problems were far from evident when the company was flying high, they now appear obvious in hindsight. Major solar companies will likely learn from SunEdison's failures and pursue more prudent business models moving forward.
Tempering Expectations
SunEdison's hyperambitious business model ultimately turned out to be unworkable. In addition to establishing a presence in nearly all the major solar segments, SunEdison even made huge moves in the wind industry. SunEdison's vision of becoming a comprehensive renewable energy company clearly proved to be far too ambitious. While SunEdison's chances of a major turnaround are now nearly nonexistent, other major solar companies will likely benefit from SunEdison's collapse in the long-term.
Major SunEdison competitors like First Solar (NASDAQ:FSLR) and SunPower (NASDAQ:SPWR) should be able to gain even more market dominance due to SunEdison's waning presence. The collapse of one of the largest global utility-scale solar developers should put First Solar and SunPower in a far better position. Moreover, SunEdison's breakdown provides more evidence that First Solar and SunPower's more conservative growth strategies are superior in the long run.
The solar industry as a whole will likely move towards a healthier growth path as a result of the SunEdison debacle. SunEdison's failure to temper its expectations should serve as an invaluable lesson for other major solar companies moving forward. Even SolarCity (NASDAQ:SCTY) has started to pursue a more realistic growth path in light of recent industry events. While SunEdison still has more downside given its many major issues, companies like First Solar, SunPower, and SolarCity still have far more room to grow. These companies already appear to be pursuing more robust and durable business models, making them even more attractive investment opportunities.
The unprecedented nature of SunEdison's collapse will likely force major solar companies to reassess their business models.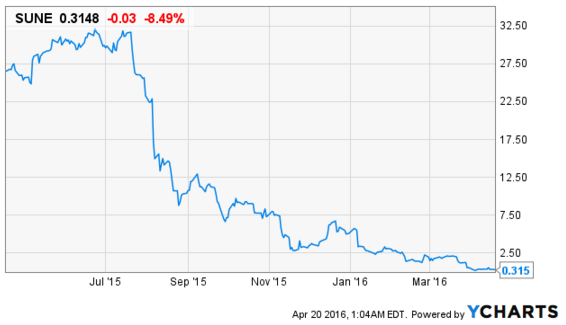 Source: YCharts
Overaggressive Financing
SunEdison has become one of the most indebted solar companies as a result of its overaggressive financing. The company now owes billions of dollars with little to no means of paying off its debt. While SunEdison's strategy of borrowing large sums of money in order to fund growth is viable in a stable financial environment was low capital costs, history has shown us that such financial conditions in the solar industry are fleeting.
Debt has been one of the primary causes for bankruptcies in the solar industry. SunEdison is just the most recent example of debt spiraling out of control. Given SunEdison's troubles with its core development business, legal issues, government investigations, and countless other distractions, the company has little hope of recovering on the financial front. In fact, SunEdison's troubles are even starting to impact its yieldcos.
The general solar industry also appears to be taking notes from SunEdison's failings on the financial front. SolarCity, for instance, is planning to become more reliant on its own generated cash for growth. While SolarCity's decision to become a more self-sustaining business has much to do with its own circumstances, the company was also likely influenced by SunEdison's situation. In addition, First Solar has chosen to stay on a more conservative growth path despite its outstanding performance over the past year. By reducing dependence upon outside financing, solar companies are putting themselves at far less risk of disaster.
SunEdison seems to be changing the course of the solar industry for the better. Moving forward, major solar companies will almost certainly be less tempted to pursue high-growth strategies heavily dependent upon extreme forms of financial engineering. While such a model could work well in optimal circumstances, such circumstances are rare in the solar industry. US solar companies are starting to put more value on relatively conservative and proven business models, which should be a positive for investors in the long-term.
Conclusion
Even at SunEdison's current low market capitalization of approximately $100 million, the company should still be avoided. SunEdison's problems only seem to be getting worse with each passing day. The company is very likely on the path towards bankruptcy given its liquidity and general business problems. The mounting legal problems facing SunEdison will only further complicate matters for the company. There are far better investment opportunities in other major US solar companies like First Solar and SunPower.
Disclosure: I am/we are long SCTY.
I wrote this article myself, and it expresses my own opinions. I am not receiving compensation for it (other than from Seeking Alpha). I have no business relationship with any company whose stock is mentioned in this article.
Editor's Note: This article covers one or more stocks trading at less than $1 per share and/or with less than a $100 million market cap. Please be aware of the risks associated with these stocks.