IBM (NYSE:IBM) reported its earnings yesterday, and judging by the market's reaction investors didn't much care for the results. Constant currency revenue declined 2% and global margins declined 1.8 percentage points. Operational earnings declined another 14% in constant currency as well. Management highlighted the transitions the company was going through, and harped on double-digit growth in cloud computing and other strategic initiatives.
IBM is a big, complicated company. Understanding some of the granular jargon on conference calls can be difficult for a non-tech person, myself included. But here's a big-picture explanation of what's happening: IBM and others used to provide contracted software to big companies. Those companies would then buy IBM equipment for data storage, and often times would add in consulting services. This was the "bread and butter" of IBM's business for the last decade or so.
The commoditization of data has changed that. Data has become a lot cheaper and more mobile recently. Companies don't need to keep huge data centers on hand anymore, and managers are increasingly apt to "rent" software on demand.
"The cloud" is now where most companies get software from. The cloud works for data, too: Companies no longer have to buy the equipment for data storage because they outsource that to cloud-based data providers as well. Sure, that data ultimately gets stored on equipment somewhere, but cloud-based data providers are less likely to buy equipment from IBM and more likely to just make their own.
IBM has been moving to cloud-based solutions, but it has been a little late to the game. Accenture and Amazon (NASDAQ:AMZN) are both leaders in cloud service and storage, respectively, and Salesforce.com (NYSE:CRM) has been the disruptive force in cloud-based enterprise software. IBM is a relatively late entrant to this game and the company has some catching up to do.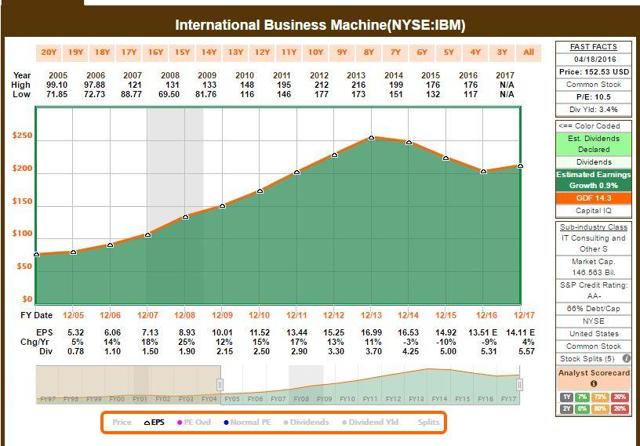 IBM Earnings chart. Courtesy of FAST Graphs.
This chart from FAST Graphs looks only at earnings per share. We can see that EPS peaked in 2013 at $17, and there hasn't been much relief since then. Expected 2016 EPS is $13.51, a total drop of over 20% from peak-to-trough. That's a huge change for a mega-cap company. The consensus expectation is for that trend to reverse by 2017, but that is merely an estimate and that will change as new data comes in.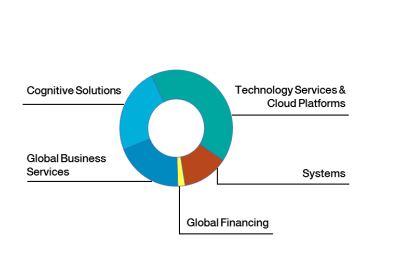 Courtesy of IBM Investor Relations.
Last quarter IBM saw a 2% decline in global business services, a 21% decrease in systems revenue, flat performance in cognitive solutions and 2% growth in technology services and cloud.
Those results do mask 50% revenue growth in the cloud (now up to $1.2 billion) and 45% growth in other fast-growing strategic imperatives, which now account for another $1.8 billion in revenue. Obviously, that's not enough to turn things around just yet, but it might be within a year or two.
Cash flow and valuation
Despite its recent difficulty, IBM remains a free cash-generating machine. For example, in 2015 IBM generated $17 billion in OCF and shelled out $4.1 billion in capex, leaving $12.8 billion in free cash flow. The dividend was $4.6 billion, or 36% of free cash flow. Indeed, since 2006 IBM has averaged 20% annual dividend growth, and there's still plenty of room for further growth. But that's also the case with a good handful of older tech companies, most of which do not have the same troubles that IBM does.
Is IBM undervalued? Yes, significantly so. Since 2006, shares have averaged 12.5 times earnings (which is cheap as it is), but right now shares are about 10.5 times trailing earnings. That's a 16% discount to the average valuation over the last business cycle.
But there are other big-tech companies in a similar value situation. My recommendation has been, and continues to be, networking giant Cisco Systems (NASDAQ:CSCO). Cisco has a similar yield with a similar dividend-to-FCF ratio, and trades at a similar relative valuation. The difference is that Cisco expects 4%-6% revenue growth over the long term and for that reason I continue to prefer Cisco.
Disclosure: I/we have no positions in any stocks mentioned, and no plans to initiate any positions within the next 72 hours.
I wrote this article myself, and it expresses my own opinions. I am not receiving compensation for it (other than from Seeking Alpha). I have no business relationship with any company whose stock is mentioned in this article.