Last month, I published an article on Seeking Alpha talking about oil production in the Permian Basin, the largest region for domestic oil output in the U.S. In that article, I suggested that the picture for the Permian is looking really good from the perspective of oil bulls and that investors should expect output in the region to fall a bit this year but not by as much as I had hoped in the past. Now that new data is out, courtesy of the EIA's (Energy Information Administration's) Drilling Productivity Report, I decided that now would be a great time to revisit the situation and see whether or not things are looking up still for investors looking to eventually buy into the United States Oil ETF (NYSEARCA:USO) or other oil-related investments.
Traveling back in time
In my last piece on the topic, I had to make some estimates about what the future would look like, based solely on historical data provided by the EIA. These estimates related to rig count changes, rig productivity improvement rates, and decline rates in the Permian. Previously, I had used the historical change in the rig count in the Permian to guess that we should see a drop of 9 units per month given the depressed oil environment. Well, during the month of March, the EIA stated that the actual decline in the Permian hit 19 units down to 152 rigs. At the moment, Baker Hughes (NYSE:BHI) figures there are 142 rigs but, given the fact that oil prices are rising once again, I still want to remain a bit conservative and guess that we won't see any further declines this month. For this reason, I'm assigning a monthly decline in the Permian of 10 units moving forward.
In addition to figuring out a reasonable decline in the rig count, I also had to estimate what looks reasonable from a rig productivity improvement rate. In the graph below, you can see the historical trend this has taken and, if the EIA is accurate, May's month-to-month improvement should come out to 2.18%. This, combined with an upward revision from previous months, has led me to increase the monthly improvement rate in the area up to 2.25% compared to the 1.5% improvement rate I used last month. This is a fairly large increase and will have a negative impact on my analysis.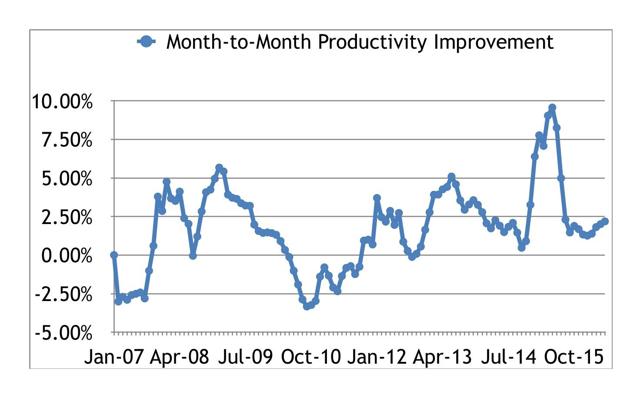 *Source: Created by author with data from the EIA's Drilling Productivity Report
The last indicator I had to analyze was the monthly decline rates in the Permian. In the graph below, you can see what this trend has looked like over the past several years (dating back to 2007). Based on the data provided, it appears as though it wouldn't be unreasonable to expect a monthly decline rate in the region of 3.75% but I also understand that there's a great deal of variability that can come into play here. For this reason, I'm going to have a conservative scenario where we are looking at a 3% monthly decline rate, a moderate one at 3.75%, and a liberal one at 4.50%. Last month, my conservative scenario came out to 3% as well, while my moderate and liberal scenarios have been revised down slightly from the 4% and 5% metrics I used in the past.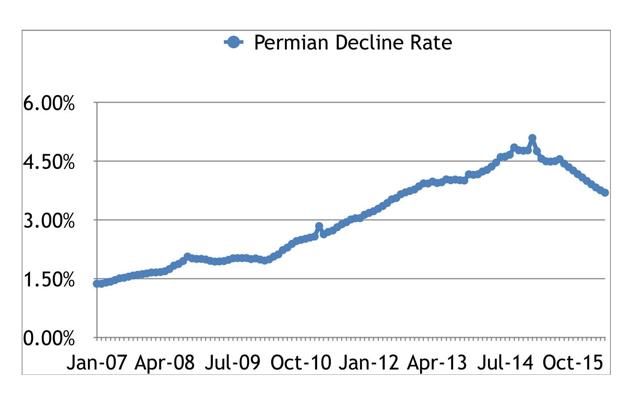 *Source: Created by author with data from the EIA's Drilling Productivity Report
Using my previous data, I was able to create the following table below. In it, you can see that my conservative forecast resulted in a slight increase in production this year, while my moderate and liberal forecasts implied a drop in oil output in the Permian. This was especially true in the case of the liberal (but least likely) forecast, which had production falling to 1,759,621 barrels per day.

*Source: Created by author with data from the EIA's Drilling Productivity Report
Times have changed
Now that I've been able to incorporate changes into my model, I was able to create the following table below. What you can see by looking at it is that, thanks to the revision in the rig count estimate, even the conservative forecast will result in oil production falling this year, even if by a little. However, because of the drop in decline rates that the EIA has forecasted, things don't look quite as positive for the moderate or liberal scenarios, both of which are calling for output declines this year but not compared to where they were slated to go last month.

*Source: Created by author with data from the EIA's Drilling Productivity Report
To put things in perspective, I created the table below, which shows my current forecast compared to my previous one. Under the conservative scenario, we should actually see oil production come in about 36,240 barrels per day below what I calculated last month. Under the moderate (and most likely) scenario, though, we should actually see output fall at a nice clip still but overall production will be 11,369 barrels per day above what I expected. Meanwhile, the liberal scenario would have a material change if it ends up being correct. Despite the downward revision in rig count on a month-to-month basis, oil production will be 53,579 barrels per day above last month's forecast.

*Source: Created by author with data from the EIA's Drilling Productivity Report
Takeaway
Right now, there are many things looking up for the oil market, including production trends in the Permian. If my model is accurate, we will see production in the region fall this year but it's also important to keep in mind that the changes I had to make to the data suggests there's a reasonable chance the decline will not be as large as I had hoped. This news is, overall, bullish in my mind but it carries with it a tinge of pessimism since additional revisions could ultimately harm long-oriented investors.
Disclosure: I/we have no positions in any stocks mentioned, and no plans to initiate any positions within the next 72 hours.
I wrote this article myself, and it expresses my own opinions. I am not receiving compensation for it (other than from Seeking Alpha). I have no business relationship with any company whose stock is mentioned in this article.