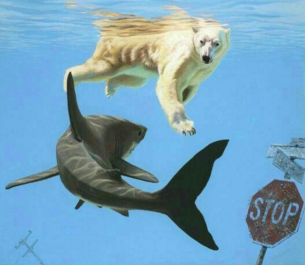 An article was recently published stating Apple (NASDAQ:AAPL) could destroy Fitbit (NYSE:FIT) today if it wanted to. Normally I wouldn't pay much attention to this headline. Yet, I recently initiated a long position in Fitbit. My position is the companies are not direct competitors at present. Based on clear price point and product differentiation, Apple and Fitbit serve two completely different masters. Thus, stating that Apple could destroy Fitbit holds the same amount of water as saying Fitbit could destroy Apple in my book. It's like who would win a fight between a bear and a shark. Its interesting folly, but folly nonetheless.
The primary thesis of the previous article was if Apple gave up its "premium" image, Fitbit would be doomed. Yet, Apple would never do that, ipso facto, Fitbit has nothing to fear from Apple. The following is my bull case for the best of breed fitness tracking trendsetter Fitbit.
Huge opportunity knocks
By 2019 worldwide shipments of all wearables will reach 173.4 million units, according to projections from International Data Corp., a market research firm. Wearable health and fitness tracking devices will make up a major chunk of that total. This presents a $45 billion opportunity with a five-year CAGR of 23%. I believe Fitbit is well positioned as the leader in fitness tracking wearables. Let me explain.
Pricing and product on point
Fitbit makes the best fitness tracker for the money. The company hit the target market bull's eye with its array of increasingly sophisticated devices ranging in price from $40 to $250. Anecdotal evidence of explosive sales has been well documented by various channel check methods. Fitbit has achieved product differentiation and gained brand recognition as a best-of-breed product and service. But that's not all.
More than just hardware
Fitbit Wellness is a business-to-business offering providing turnkey software and services to assist organizations in implementing effective and engaging wellness programs. Fitbit's Health Insurance Portability and Accountability Act (HIPAA) compliance provides added value to customers. With a majority of Fortune 500 companies yet to sign on, I expect to hear about numerous contract wins in the future. Corporations also are incentivized by getting a potential insurance premium cut.
Competition snubbed
Fitbit is the unquestionable leader in wearables with a dominant market share. However, short sellers believe this trend will soon evaporate due to increased competition from the likes of Apple and Xiaomi. I'm not so convinced. The Apple Watch, starting at $300, is simply priced too high for the bulk of the fitness tracker market. Congruently, the $17 price tag of the Xiaomi Mi Band is accompanied by what some view as a low-quality product. I believe neither the Apple Watch nor the Xiaomi Mi Band will materially impact Fitbit's solid market share. Furthermore, a major technical buy sign just occurred.
Bullish technical reversal
The stock recently fulfilled a major bullish technical formation referred to as a Continuation Diamond pattern.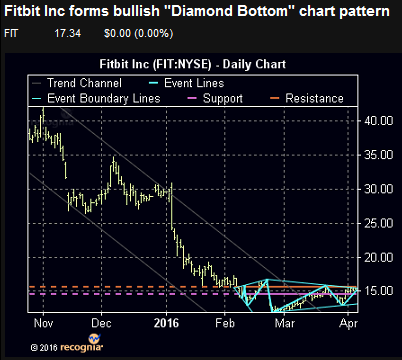 Source: Scottrade.com
Diamond patterns mostly form over several months in very active markets. Volume will remain high during the formation. The bullish Continuation Diamond pattern forms because prices create higher highs and lower lows in a broadening pattern. Then the trading range gradually narrows after the highs peak and the lows start trending upward. I see the stock at least breaching the $23.72 mark providing significant upside from the current stock price.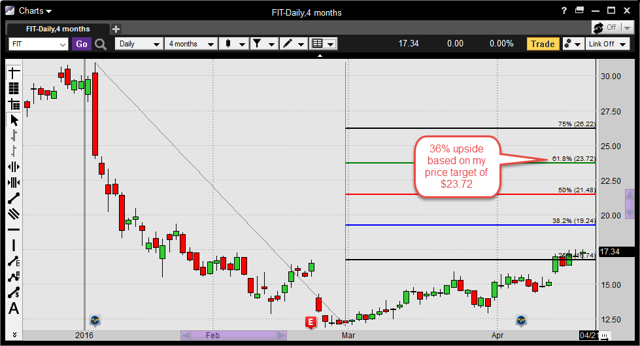 Source: Scottrade.com
The stock is currently trading with a forward P/E of 12.35 and is currently 65% off its 52-week highs. Further, the company has no debt and the lockup and secondary offering are clearly in the rear-view mirror.
The Last Word
2016 will be the year wearables become the rule rather than the exception. With such a high percentage of short sellers, a short squeeze may be imminent. In fact, any further news of a potential buyout could send the stock significantly higher, a feat that's not out of the question. Fitbit's paltry market cap of $3.6 billion makes the company a prime acquisition candidate. Fitbit represents a tasty bit-size morsel for tech firms looking to invigorate growth. Maybe Apple will destroy Fitbit by buying it out.
What's more, the company has a clear path to exponential growth and profitability. International sales opportunities, for example, are currently untapped. Fitbit also is investing heavily in research and development. The R&D efforts are focused on expansion of software and service offerings related to the devices and app. This opportunity has not been priced into the stock. The stock is now a speculative buy in my book.
Final thought
Please use this information as a starting point for your own due diligence. If you found this article interesting please click on the follow button above next to my name. I would greatly appreciate it. Those are my thoughts on the matter. I look forward to reading yours. Are Apple and Fitbit in direct competition? Do you agree with my bull case on Fitbit?
Disclosure: I am/we are long FIT.
I wrote this article myself, and it expresses my own opinions. I am not receiving compensation for it (other than from Seeking Alpha). I have no business relationship with any company whose stock is mentioned in this article.