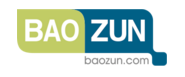 Baozun (NASDAQ:BZUN) is almost back to square one - the place where it was when I wrote my initial article in October 2015. The stock is up 15% since then, but it was significantly higher in November and early December 2015. The main reason for going back to its October levels is the bear market in China, which has pushed valuations of most Chinese ADRs to very attractive levels - although caution is advised given the wave of low go private offers. Baozun is trading at a significant discount to growth and I think that it has the potential to go up between 50% and more than 100% in the next two to three years. The company is riding the massive e-commerce growth wave in China and is well positioned to at least keep its market share in a rapidly evolving and growing market. There are some issues and risks, but I think that the risk/reward ratio is skewed to the long side.
E-commerce market remains in strong-growth mode
China's online retail sales were estimated at $672 billion in 2015, according to eMarketer. Macro headwinds are having a negative effect on offline retail sales, but e-commerce still looks very healthy and is expected to reach $1.21 trillion by 2017.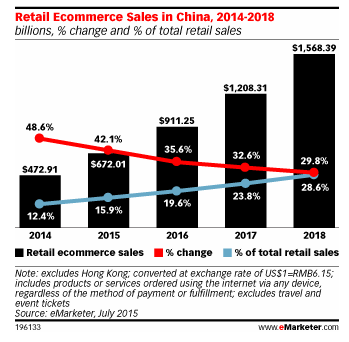 Source: eMarketer
Baozun too expects the growth to continue. The company has guided for GMV growth of 50% for 2016. The growth should be driven by same-store sales growth of current brands and additional upside could come from new brands, as they are showing strong interest in partnering with Baozun. The company's robust integrated e-commerce capabilities and product offerings that include major online marketplaces such as Tmall and JD.com(NASDAQ:JD) , as well as the help with social media and O2O strategies has attracted leading brands: Phillips, Nike (NYSE:NKE), Haagen-Dazs and Microsoft (NASDAQ:MSFT).
Q1 revenue outlook masks the underlying growth trends
The company's ongoing shift from a distribution model to a non-distribution model is masking the underlying growth trends in 2016. The company guided for 2016 GMV growth of over 50%, but it expects Q1 revenues to grow between 26% and 28%. Non-distribution model's revenues are recorded on a net basis, which should negatively impact total revenues in 2016, but we should see a positive effect on the bottom line, improved working capital efficiency and reduced inventory risk.
Current consensus for this year's net margin is 2.8%, compared to 1.85% in 2015, but I think that the market is underestimating the margin expansion potential based on the above-mentioned drivers and I expect the net margin to be in the 3% to 3.5% range this year. The company also has a (short) beat-and-raise guidance policy - it has guided for revenue growth of 42.5% and 38.5% respectively in the last two quarters and has delivered 58% and 49% respectively in Q3 and Q4 2015.
2016
2017
Analyst Consensus
ONeil Trader
Analyst Consensus
ONeil Trader
Revenue
$518.20
$540.00
$669.80
$729.00
Net Margin
2.80%
3.25%
6.60%
7.00%
Net Income
$14.51
$17.55
$44.21
$51.03
EPS
$0.27
$0.32
$0.82
$0.94
Source: Yahoo! Finance (re-calculated from RMB to U.S. dollar based on the current rate), author's estimates
Maikefeng is still a drag on the bottom line - it contributed RMB87 million to total GMV in Q4, representing a Y/Y increase of 388% and a sequential increase of 32%. Maikefeng's top line contribution in Q4 was RMB9 million compared to total costs of more than RMB30 million in the quarter. I expect a continued negative effect on the bottom line from Maikefeng this year and probably the next, but it should be a strong long-term top and bottom line growth driver for Baozun.
I expect continued strong organic growth from existing brands which should be in line with the growth of the overall e-commerce market and new brands should boost the growth rates beyond that of the overall market for Baozun. The SG&A leverage and the continued shift to a non-distribution model should positively affect margins in the following years, and I expect significant margin expansion over the next two to three years. Additional margin expansion beyond 2017 should be achieved with Maikefeng's transition to profitability. Baozun has also improved its portfolio of e-commerce solutions with the launch of a WeChat brand store platform in December. WeChat should improve user stickiness and loyalty for Baozun's customers and should drive higher long-term growth.
Another growth driver for Baozun in 2016 and beyond should be geographical expansion. In early April, the company announced its entry into Taiwan, starting with a launch of a leading global sports organization's online store for Taiwan and Hong Kong. I would not expect too much of an impact on the top and bottom line this year, but this is a move in the right direction. I would expect similar announcements for other Asian countries in the following years.
Potential drags on top line growth this year
In addition to the continued shift to a non-distribution model (which is net-positive for the company and which reduces inventory risk), there are a few potential drags on top line growth this year:
Macro headwinds are already having a negative effect on offline retail sales and the weakness could spill over to the online segment. There is no evidence of this happening yet and if it happens, I expect to see some growth deceleration going forward.
Auto vertical has already pressured GMV growth in 2015. GMV growth ex-auto was 77% in Q4 2015 compared to total GMV growth of 35.5%. However, the impact this year should be very limited, since auto accounted for less than 5% of total GMV in 2015 compared to 20% in 2014.
Management was asked about the potential take rate pressure in the following quarters since there is an increasing number of brands that are demanding a lower take rate from online platforms. Baozun's take rates in 2015 were very similar to those in 2014 and management thinks they should remain stable and dependent on demand and financial performance of merchants.
Valuation, upside potential and the low go private offer risk
Baozun is trading at a significant discount to growth. The company's current valuation is implying a decline in revenues, since its EV/sales ratio is 0.54. This means that even a modest net margin of 5% would yield a P/E ratio (net of cash) of approximately 10. And given the strong growth outlook and the secular tailwinds, both the P/E and the EV/sales multiples should be much higher. Looking at Baozun's historical EV/sales multiple, we can see that the EV/sales ratio was almost 2 when the company went public. An EV/sales multiple in a range of 1.5 to 2.5 would be more appropriate and even conservative for Baozun, which should grow its top line in the 25% to 50% range over the next few years. However, I will be more conservative and - my price target on Baozun is $9.5 and is based on a TTM EV/sales ratio of 0.8, which is slightly below the middle of its historical trading range. Applying the targeted ratio to 2016 estimates increases the price target to $12.10.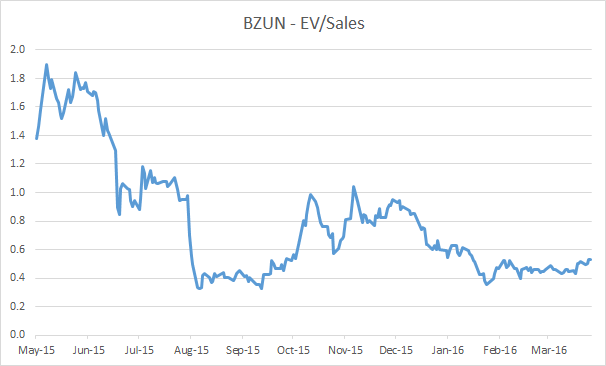 Source: Yahoo! Finance, Baozun earnings reports
Comparing the valuation to Jumei's and JD.com's, we can see that Baozun's current valuation is similar to Jumei's and that it's trading at a significant discount to JD.com.

Source: Yahoo! Finance, Baozun SEC filings, Jumei SEC filings, JD.com SEC filings
Baozun's TTM and forward EV/sales ratios are very close to Jumei's (NYSE:JMEI) and since Jumei is likely to go private at a price that is 10% higher than the current price, it seems that investors have pegged Baozun's valuation to Jumei's. I was really disappointed to see the low go private offer for Jumei - its major shareholders have taken advantage of poor market sentiment and have done a very poor job at protecting the interest of their minority shareholders. Jumei is one of the companies from China to go private at a price that was significantly lower than its IPO price ($7 versus $22). iDreamSky (NASDAQ:DSKY) was another, though its go private offer is just slightly below its IPO price. Autohome (NYSE:ATHM) was the latest company from China to announce a low go private offer ($31.50 per ADS compared to a $17 per share IPO two and a half years ago). Other examples are friendlier for minority shareholders: YY (NASDAQ:YY) - $68.50 go private offer versus an IPO price of $10.50, Qihoo 360 (NYSE:QIHU) - $77 go private offer versus a $14.50 IPO price. I think that the greed of Jumei's and, most recently, Autohome's owners has really hurt investor sentiment towards Chinese ADRs.
I do not have any evidence that Baozun's management is planning to take the company private in order to re-list it in China, but this is a risk investors have to take. Given this risk, I have a firm stop loss in place and do not intend to hold the stock if it goes too much against me. That way, I will be safer, since management is unlikely to announce a go private offer below the current share price - they have to claim that they are offering a premium. Even Jumei's offer was 26.6% above the prevailing market price. My stop loss is below $5, and if the stock drops to $5 and the company announces a Jumei-like deal with a premium of 25% to 30%, I can still break even or make a small profit and the total risk (if the stop loss is hit) would be around 30%, which compares favorably to the potential upside of at least 50% and potentially more than 100% over the next few years.
Conclusion
Baozun remains well positioned to drive significant top and bottom line growth in the following years and I think that the company is significantly undervalued relative to its growth prospects. The next catalyst for the stock should be the Q1 earnings report and another could be an increased share buyback program (the current one is $10 million - good for 3% of outstanding shares). The only significant risk I am seeing right now (at least when compared to the current valuation) is the potential low go private offer. Management has the necessary voting power to get the deal done, but there are no indications that they will do something like that as of this writing. Chairman's letter to shareholders last week is sort of an indication that the company has no plans to go private (why bother with it if you are preparing a go-private bid?). Because of the go private risk, I have a firm stop loss on Baozun, but intend to keep it long-term if it does not hit the protective stop loss order below $5.
Disclosure: I am/we are long BZUN.
I wrote this article myself, and it expresses my own opinions. I am not receiving compensation for it (other than from Seeking Alpha). I have no business relationship with any company whose stock is mentioned in this article.
Additional disclosure: This article reflects the author's personal opinion and should not be regarded as a buy or sell recommendation or investment advice in any way.