In January I wrote two Seeking Alpha articles that talked about why oil was going to fall below $30, how to profit from it, as well as a number of other predictions that have come to pass (oil bottoming around $27.50 and UWTI's reverse split).
Gold is also up nicely since my recommendation to go long. After setting a nice base in November and with the double-bottom confirmation in December, Gold has risen more than 20% and continues to climb.
This article will look at the where we are currently at in the gold and oil outlook and where I believe prices will likely be in the coming months.
Move over Doha, Kuwait strike takes center stage
After weeks of anticipation, all eyes were on Sunday's special meeting in Doha, Qatar, as oil producers were set to discuss a temporarily freeze in oil production.
Because of the worldwide glut and with prices dropping to 12-year lows ($27) back in January, the special meeting gave investors some optimism as oil found some life and momentum to rise to nearly $45.
But I wasn't drinking the Kool-Aid and as it turns out, there was no freeze agreement like I suspected all along. And if some reason there was an agreement -- which wasn't very likely in my opinion -- it wouldn't have made much of a dent in the supply glut with Saudi Arabia and Russia pumping at record levels.
After the announcement was made, Brent tumbled as much as seven percent on Monday before almost turning positive by the end of the day.
The reason for the comeback was because of an oil strike in Kuwait that finally made news around the world.
The three-day strike -- which is now over -- cut the oil output from 2.8 million barrels per day to 1.1 million Monday and 1.5 million on Tuesday.
The strike was certainly a short killer as it came on top of other news around the world about power outages and fires which cut back production in Venezuela (200K bpd) and Nigeria (400K bpd). Along with refinery season, oil prices once again found new life as it continued moving higher Tuesday.
But all of that is short lived now that the strike in Kuwait is over. Oil was down two percent in early trading after it was announced that both sides came to an agreement. I believe oil will continue to fall as Kuwait works its way back to producing 2.8 million bpd. This is also why a big drop hasn't immediately followed.
Talk is cheap
After oil set decade lows in January, countries around the world began throwing out erroneous statements in order to prop up the price of oil.
But now with two of the biggest catalysts are out of the way, oil's short-term run looks all but over.
Yes, there has been several positive developments that have recently taken place as I'll explain, but all of that won't fix the immediate oil glut until 2017.
Last week, the U.S. oil rig count continued its downward trend with now just 351 rigs according to Baker Hughes.
The overall count is down more than 50% from last year and represents the lowest total count (including gas rigs) since Baker Hughes started compiling the data.
Another case for the bulls is that U.S production continues to fall as the rebalancing effort continues to take place.
According to the latest EIA data, domestic production came in at 8.95 million barrels per day last week. This means that for the second consecutive week, production has dipped below nine million bpd which hasn't happened in more than a year. The chart below outlines the domestic production.

While this is good news for oil bulls, production needs to continue to fall (likely around 8.25 million) before the market starts seeing some balance.
In the bears' case, there continues to be a weak global economic outlook on top of the record levels of crude output and rising inventories (538.6 million barrels). On top of that, the conflicts between those outside and inside OPEC will continue to put prices under pressure as countries continue to battle for market share.
I believe that Brent will likely fall into the $35 zone over the next several months before another OPEC meeting is set to take place in June. Unless something dramatically is announced, my end of year target still sits between $43 and $45 for Brent.
GOLD
Gold has been on a tear over the last four-to-five months and has shown at times that it's not going to slow down anytime soon.
After forming a double bottom in December, gold has soared after breaking out of a three-year downtrend as you can see in the image below.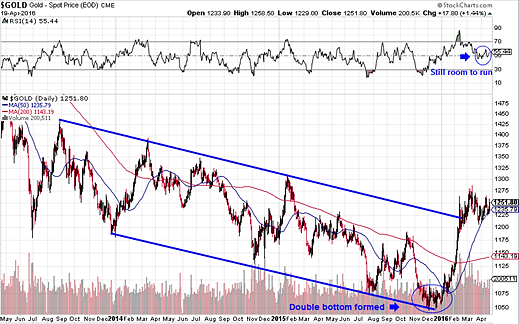 Since the double bottom reversal in December, Gold is up nearly 25% but has since flattened over the past month.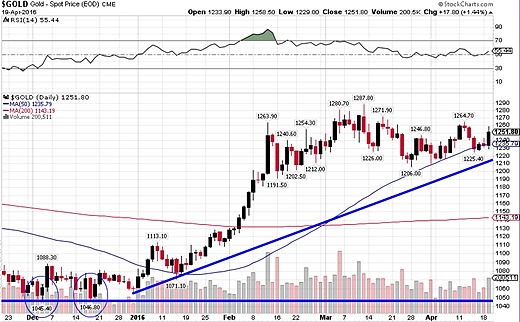 With the U.S dollar trading at near a one-year low, I believe it's ripe for a rebound and will thus hurt the rebound in oil, as well as in gold.
As we've seen over the years, gold is a safe-haven investment, especially during economic uncertainty. But after the market chaos earlier this year, the market has found its footing for the time being.
Looking at gold, if you haven't already set a trailing stop loss, I would set a stop loss at 1,206. After that, there isn't a lot of support until the 1,070- 1,100 range.
Bottom line: I would lock in some profits if you haven't already done so in both oil and gold. I'm bearish short-term on oil, but a long-term bull. You can play both sides on oil with plays such as DWTI ("short") and UWTI ("long").
I believe gold still has a little bit of room left to run (likely test 1,300) before another good pullback comes along.
Disclaimer: Link
Follow me on Twitter and StockTwits
Disclosure: I/we have no positions in any stocks mentioned, but may initiate a long position in DWTI over the next 72 hours.
I wrote this article myself, and it expresses my own opinions. I am not receiving compensation for it (other than from Seeking Alpha). I have no business relationship with any company whose stock is mentioned in this article.