"Bull markets are born on pessimism, grow on skepticism, mature on optimism, and die on euphoria."
Sir John Templeton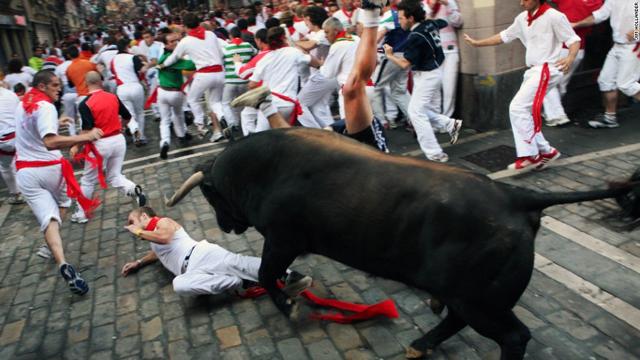 Introduction
A clear transformation in the stock market has taken place. Former leaders are now laggards, including growth stalwarts like Netflix (NASDAQ:NFLX) and biotech stocks, which went form the market's best performing sector to one of its worst in the blink of an eye. In contrast, former laggards, including emerging market equities, commodities and commodity stocks compromise the new market leadership. This transformation in leadership has historically signaled the final innings of the current bull market. Thus, investors, who have become accustomed to the rinse, wash and repeat price actions cycle of the markets, should prepare for a very different investment landscape than the environment they have been operating in since 2011.
Thesis
Former leaders should be sold on rallies while former out-of-favor stocks should be bought on corrections.
Earnings Reports Underwhelm
While I remain bullish on International Business Machines (NYSE:IBM), and believe they are an attractively priced value stock that will benefit from a rebound in international growth, the company's shares sold off on its most recent earnings report, after rallying strongly from their 2016 low.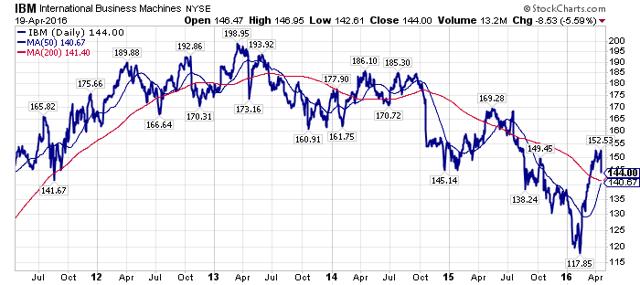 Intel Corporation (NASDAQ:INTC) has showed a similar downward long-term price trajectory after peaking in late 2014, and their latest quarterly earnings report was viewed with a sense of apathy by most investors as the troubles of the personal computer sector are well known.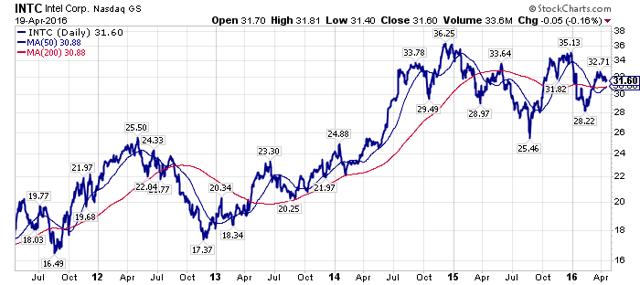 IBM and Intel are old growth companies whose stock prices raced ahead of their business prospects in the current bull market. Netflix is a relatively newer technology company that happens to be struggling with the same stock price racing ahead of its growth dilemma.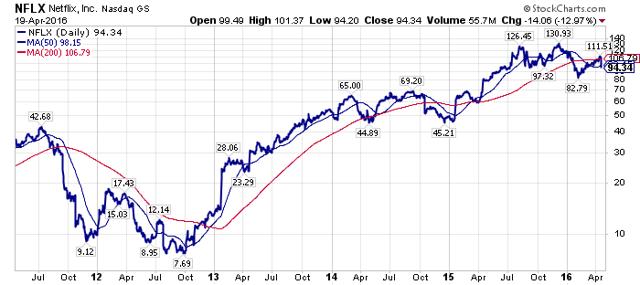 Even growth darling Tesla Motors (NASDAQ:TSLA), fresh off its Model 3 order surge backlog, has not been able to make new bull market highs thus far.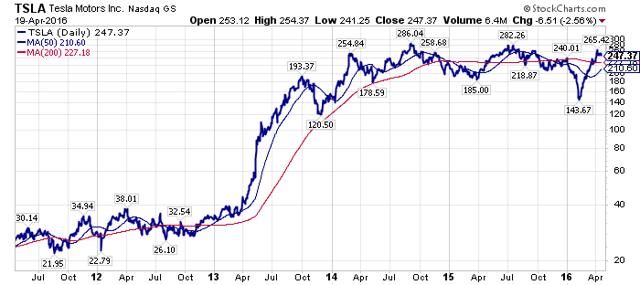 Near universally loved growth stocks Disney and Nike (NYSE:NKE) are in the same boat, unable to make new highs.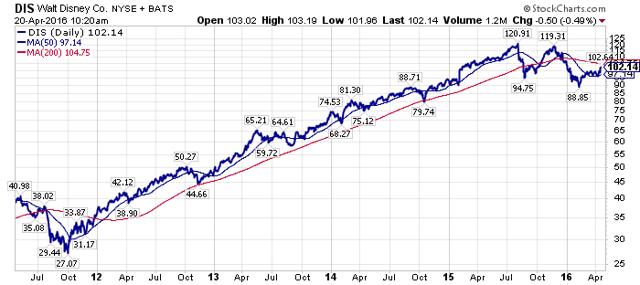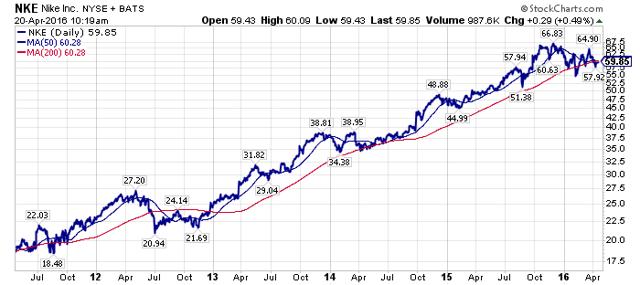 For every Visa (NYSE:V), which is the rare large-cap growth stock that has made a new high, there is an Apple (NASDAQ:AAPL), Amazon (NASDAQ:AMZN) or Costco (NASDAQ:COST), businesses that continue to operate at a high level, but whose stock prices has struggled. The end result of all these companies fighting and failing, to make new highs is that the S&P 500 Index, as measured by the SPDR S&P 500 Index ETF (NYSEARCA:SPY), has traded sideways for over a year.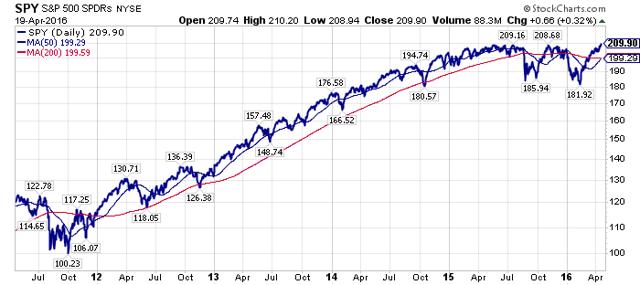 Biotech Stocks Have Reversed Course
Biotech stocks were the best performing sector over the course of the current bull market, until they hit an air pocket in 2015. The deep drawdown, and the weak recovery thus far, as measured by both the iShares NASDAQ Biotechnology Index (NASDAQ:IBB) and iShares the SPDR S&P Biotech Index ETF (NYSEARCA:XBI), means that one of the markets main growth pillars remains under pressure.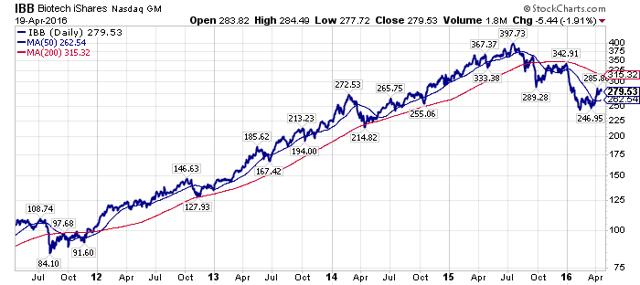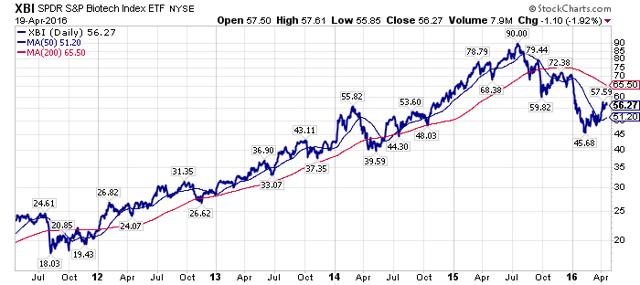 Leading large-cap biotechnology names like Amgen (NASDAQ:AMGN) and Gilead Sciences (NASDAQ:GILD) have held up relatively better, masking the carnage in individual companies like Valeant Pharmaceuticals (NYSE:VRX), which remains down 87% from its 2015 high.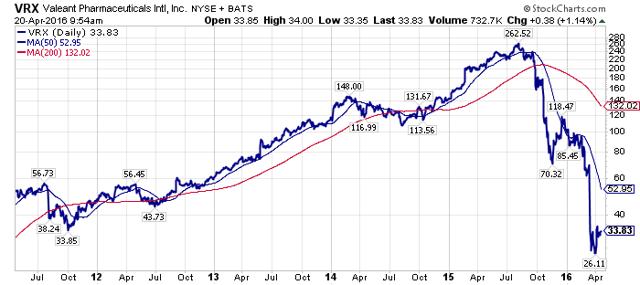 Valeant Pharmaceuticals has fallen so far and was held in such high regard by many value-oriented hedge fund managers that I'm now researching the company as a long candidate for " The Contrarian" Portfolios.
Out-Of-Favor Stocks Are Now In Favor
The fall of growth stocks has left a void in market leadership that has been seized by the most downtrodden assets, including commodities, commodity stocks and emerging market equities. The SPDR S&P Metals and Mining Index (NYSEARCA:XME) has surged 59% in 2016, yet it still remains down 65% over the last five years.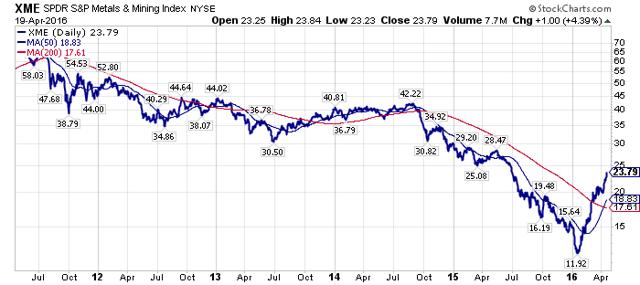 Deep value, distressed stocks that were on the brink, like U.S. Steel (NYSE:X), have rebounded strongly as resilient demand from developed markets has combined with an under-reported cyclical recovery in emerging markets, particularly China, to drive these company's shares higher. U.S. Steel is up 152% in 2016, yet remains down 60% over the last five years.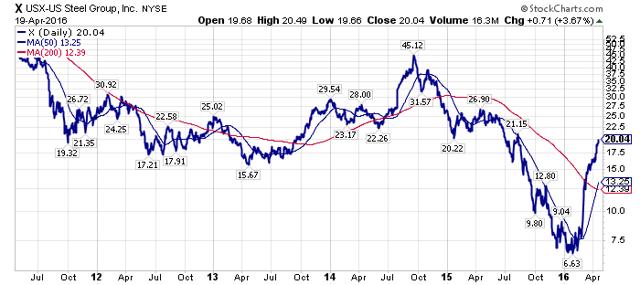 Emerging markets, which severely underperformed their developed market counterparts, have officially turned the corner in 2016, as the chart of the iShares MSCI Emerging Markets ETF (NYSEARCA:EEM) shows.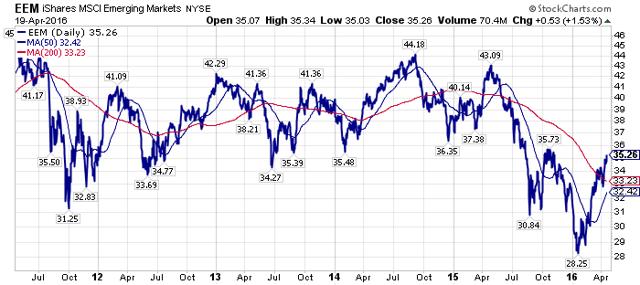 China continues to quietly move higher, and investors have started to notice, pushing the iShares FTSE China 25 Index ETF (NYSEARCA:FXI) 23% above its 2016 low.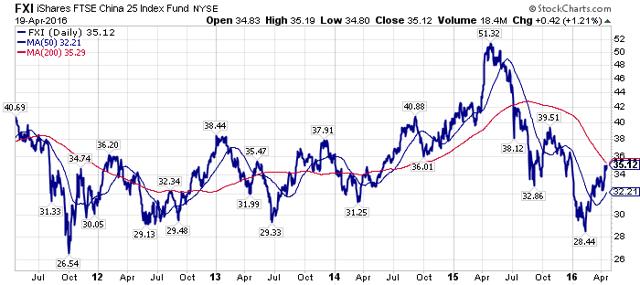 A revival in China has helped emerging markets and developed markets, like Australia and Canada, that depend on commodity exports. The iShares MSCI Australia Index ETF (NYSEARCA:EWA) and the iShares MSCI Canada Index ETF (NYSEARCA:EWC) are both showing their most relative strength in five years.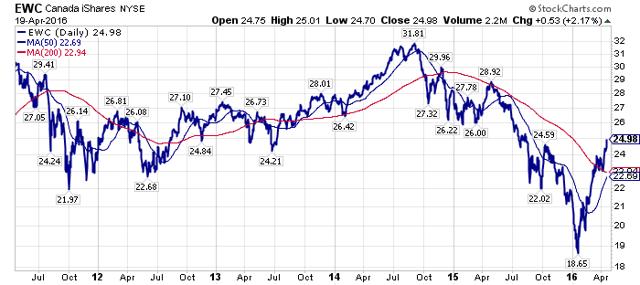 Interest Rates Are Likely To Rise
As the cyclical bull market in inflationary assets gathers steam, interest rates are likely to rise. This has not happened yet, as shown by the chart of 10-year U.S. Treasury Yields, which remain near their recent and all-time lows.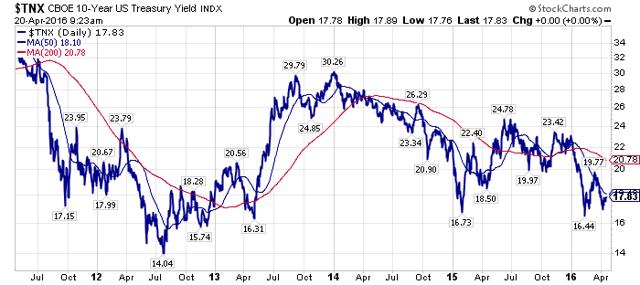 Intrepid traders and speculators could consider shorting the iShares Barclays 20+Year Treasury Bond Fund (NYSEARCA:TLT), which is still very close to its all-time highs.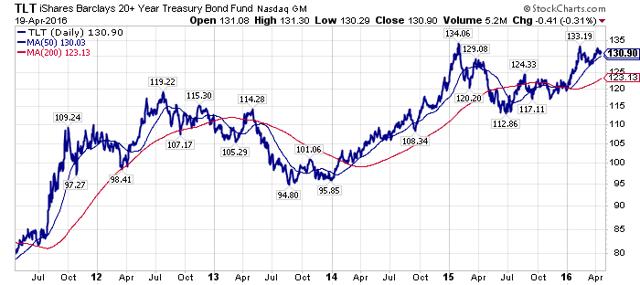 Betting on a rise in interest rates has been a fool's wager over the course of this bull market, and over the course of the last thirty years, but the conviction in lower interest rates makes for an interesting contrarian opportunity, in my opinion.
Rising Rates Are Likely To End The Stock Bull Market
Falling interest rates have been a boost to risk assets globally as investors have increasingly reached for yield. The yield bubble has officially burst as investors have questioned the promises of yield-oriented investments like Kinder Morgan (NYSE:KMI), TerraForm Power (NASDAQ:TERP) and TerraForm (NASDAQ:GLBL). In contrast, utilities, which are a traditional yield investment, have remained near their record highs, as evidenced by the charts of the Utilities Select Sector SPDR ETF (NYSEARCA:XLU) and iShares Dow Jones US Utilities ETF (NYSEARCA:IDU).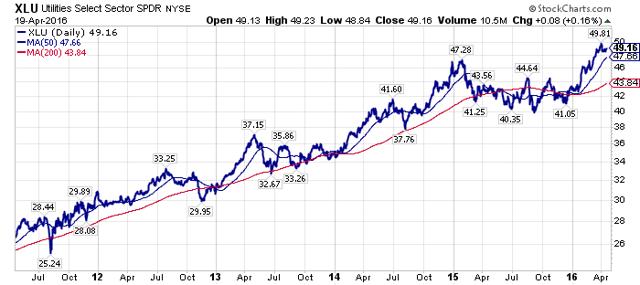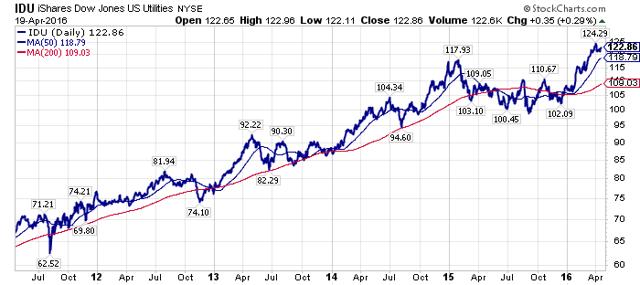 The top holdings in both of these utility ETF's are NextEra Energy (NYSE:NEE), Duke Energy (NYSE:DUK), Southern Company (NYSE:SO), Dominion Resources (NYSE:D), American Electric Power (NYSE:AEP), Exelon (NYSE:EXC), PG&E Corp. (NYSE:PCG), PPL Corp. (NYSE:PPL), Sempra Energy (NYSE:SRE), and Public Service Enterprise (NYSE:PEG).
Aside from Exelon, which has struggled, all of these utility stocks have performed well, with many of the company's shares gaining over 100% in total returns over the past five years. For utility investors, it has been a perfect climate of low coal and natural gas prices, combined with declining interest rates. What if commodity prices rise and interest rates rise?
Conclusion - Investors Should Prepare For The End Of The Bull Market
With risk assets surging across the globe, the Goldilocks scenario of low interest rates and low inflation is in the process of being threatened. Historically, a surge in inflationary assets has led to rising interest rates, which then put pressure on stocks and bonds. Thus, with valuations at nosebleed levels, investors should at least consider what would happen to the lofty asset prices today if interest rates were to embark on a sustained path higher. In an environment of rising rates, alternative investment approaches that have been out-of-favor, like long/short equity strategies, and commodity focused strategies, could regain their lost prominence as important allocations in investor portfolios.
Disclosure: I am/we are long IBM, KMI, GLBL, TERP, X, AND SHORT AMZN, AND SPY.
I wrote this article myself, and it expresses my own opinions. I am not receiving compensation for it (other than from Seeking Alpha). I have no business relationship with any company whose stock is mentioned in this article.
Additional disclosure: Every investor's situation is different. Positions can change at any time without warning. Please do your own due diligence and consult with your financial advisor, if you have one, before making any investment decisions. The author is not acting in an investment adviser capacity. The author's opinions expressed herein address only select aspects of potential investment in securities of the companies mentioned and cannot be a substitute for comprehensive investment analysis. The author recommends that potential and existing investors conduct thorough investment research of their own, including detailed review of the companies' SEC filings. Any opinions or estimates constitute the author's best judgment as of the date of publication, and are subject to change without notice.